Social Networking for Employment in India

Background
Among developing countries, India is well-poised to harness the capabilities of Web 2.0 and social networking for development purposes.
India is the world's largest democracy, and has a free, thriving media in which diversity of expression and opinion is encouraged. India, unlike the oppressive regimes in China and Iran, does not closely monitor or censor Internet activity.
India has the advantage of being an English-speaking country in a world, and on a worldwide web, where English is the dominant language. English may not be widely known in rural areas and among the less privileged, who predominantly speak local languages, but India's use of English is widespread compared to most other developing countries. This facilitates greater access to web resources.
India has a thriving information technology sector. There is much less access to technology in rural areas, but existing infrastructure provides a strong base from which it can expand. Additionally, the technology-oriented knowledge and abilities of skilled workers in India increase the potential of spreading technological access and skills to poorer sectors.
India's blogosphere is well-established and very active. In fact, Asia's most active bloggers are in India, according to a study conducted by Synovate AsiaBUS that measures the frequency bloggers write on their blogs or contribute to other blogs.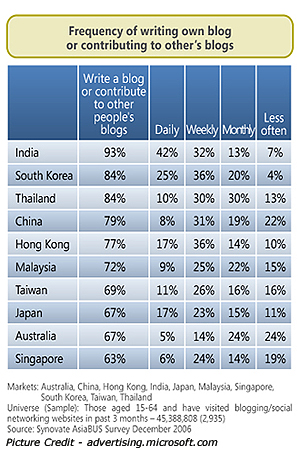 http://www.indianweb2.com/2007/08/india-contribution-in-web-20/
Amit Dasgupta, General Manager of Global Business Services for IBM India, is optimistic about the potential of Web 2.0 to facilitate development in India. At the 2007 Web2forDev Conference he said:
"Web 2.0 offers so many compelling advantages compared to older technologies, that I foresee an extensive use of this new technology. In order to develop effective knowledge sharing applications for the agriculture sector for example, academic and research institutions, government agencies, NGOs, commercial organizations and users must collaborate since integration of data from multiple sources is necessary to provide meaningful information and content. Moreover, dissemination of this knowledge is crucial for successful deployment of these applications. The challenges for geographically dispersed organizations working in different fields, to jointly work together to address the requirements for such solutions are real, but could be resolved by leveraging the Web 2.0 framework which facilitates collaborative development of functionally richer applications."
http://blog.web2fordev.net/2007/09/23/leveraging-web-20-to-develop-better-applications-for-rural-communities-in-india/
For a case study of information-sharing through the Internet in India's agriculture sector, please click
here
.
Case Study: babajob.com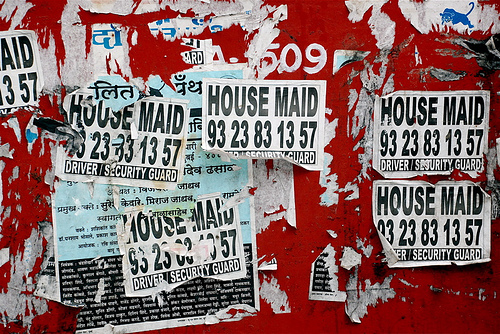 Development Issues Addressed
India's informal employment sector comprises about 370 million workers, making up 92% of the country's total workforce, according to the National Sample Survey from 1999-2000. The informal sector contributes about 60% of India's national domestic product (NDP). Yet poverty remains an intractable problem among the demographic that serves as the base of this sector, even in India's bustling urban centers, largely due to unemployment. Studies indicate that urban unemployment stems not from a lack of market demand for labor, but the lack of an efficient network to connect potential employers with job seekers.
Babajob.com, dubbed "Village LinkedIn" by its founder and CEO Sean Blagsvedt, is an innovative social networking tool that connects job seekers from India's large informal sector to middle- and upper-class Indians looking to hire maids, cooks, drivers, security guards, construction workers, and other wage laborers. It is employment-oriented networking with a social conscience and a practical function.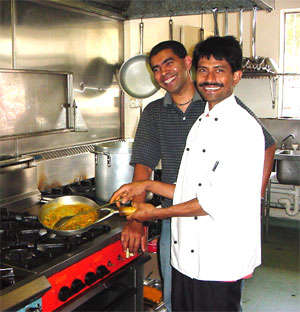 Blagsvedt is one of many technology sector workers who feel increasingly compelled to use their skills to address the glaring poverty and social inequities that they see around them in India. Many of these workers are Indians who have been educated and/or born in the West and return to India for work. Blagsvedt first moved to India to help establish an in-house research institute for Microsoft. Eventually, he felt a need to do something with a social purpose. "In India, you can't escape the feeling that you're really lucky," he said in an interview with the New York Times. "So you ask, 'What are you going to do about all the stuff around you? How are you going to use all these skills?'"
Duke economist Anirudh Krishna discovered that the poor in India remain poor not because of a lack of better employment opportunities, but because they don't have the connections to find better jobs. Sean Blagsvedt came across this research, and confirmed this finding with what he saw for himself in Bangalore. He also witnessed the parallel complaint among Bangalore's growing middle-class about the difficulty of finding hired help.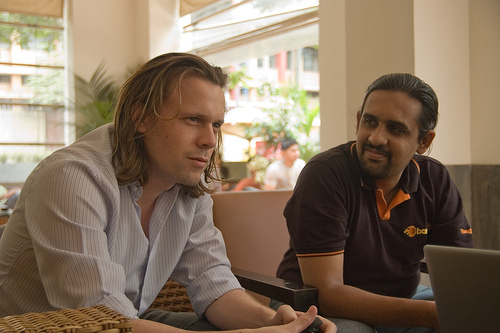 Babajob founder and CEO, Sean Blagsvedt
Blagsvedt eventually quit his Microsoft job and, with his stepfather and fellow Microsoft alum, Ira Weise, created Babajob to be an innovative private enterprise, designed to facilitate economic development and poverty reduction by addressing the inefficiency of the informal economy. This service is confined to Bangalore as of now, but it will be rolled out in other Indian cities once the model is better established.
Weise, Babajob's Managing Director, explained their basic model via email:
"Research has shown that one of the main causes of poverty is the loss of a job by a head of household, and the main way by which a poor person can escape poverty is through finding a job. Research also showed that most employers prefer to hire someone who is recommended by a friend.
Word of mouth is the usual way in which jobs are found in the informal sector. If I need a driver I might ask the watchman at my apartment if he knows anyone looking for work as a driver. The watchman's brother may know someone looking for work as a driver, whom I interview and hire. I feel comfortable interviewing (and possibly hiring) the friend of my watchman's brother because he is known to a 'friend of a friend.'
The 'word of mouth' way of finding someone looking for work is closely related to how an Internet social network works. On the social network web site I can not only see my friends, but I can see the friends of my friends. Thus, if someone is looking for work on a social network I should be able to see if any of my friends, or their friends, know the job seeker.
In nutshell, we've created an Internet employment service built around a social network."
Watch a video of Blagsvedt explaining Babajob further:
http://www.podtech.net/home/4043/startups-in-bangalore-babajob
The Innovation
India enjoys access to cutting-edge information technology, thanks in large part to a booming IT sector fueled by growing ranks of technology workers. But this technology has been accessible only to educated and relatively well-off Indians, while the poor lack the resources, literacy and skills to benefit from the Internet. Babajob addresses the poor's lack of access to computers by setting up booths where job-seekers can come get help setting up their online profiles. Employees take photos of the applicant and help them fill out the resume that will be posted on the website.
This is a sample resume taken from the website:
Position: Cook (Part Time)
Employer: Mrs. Rani
Job Category: Cook
Time Period: Aug, 2003 to Oct, 2007
This person is looking for a job as a: Cook
This person is looking for a job and prefers to work: Fulltime
She has digitally scanned references; her purpose statement is terse:
"I have 4 years experience in cooking . I can cook all types of foods and I can work from morning 8am - 11pm."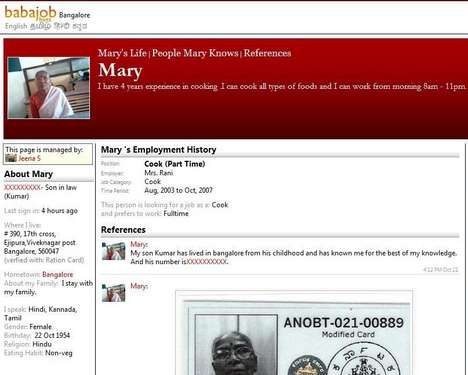 Babajob pays people, whether Internet café owners, individuals or NGOs, to find job-seekers and register them. Additionally, Babajob pays those who successfully connect an employer and an employee. Usually connections are made by a friend of the employer and a friend of the employee already listed on Babajob.
Weise explains:
"The problem with using an Internet web site to find informal workers is that they don't have access to a computer. We try to solve this by sharing the revenue we collect for an employee search fee (500 rupees after a 300 rupee rebate) with those people who make hiring possible through our business model. We pay 200 rupees to the person who has registered the job seeker, whom we call a "mentor." We've contacted churches, NGO's and Internet cafes to act as mentors and register job seekers whom they come in contact with in the course of their daily activities. We also pay 100 rupees to the people who connect the employer to the employee. In the example above, we would pay the watchman and his brother 100 rupees each for connecting me to the driver I hired, assuming all are in our database."
Babajob is connected to a sister social networking site, Babalife, frequented by a wealthier, more educated demographic. Everyone who has a profile on Babalife is automatically listed on Babajob, so the employer side of the network is conveniently built in to Babajob. When the site first launched, Babajob built up its employee database by sending workers directly to job-seekers in the streets with fliers advertising its services. So far, as of December 2007, about 2000 job-seekers have signed up on Babajob.
View Babajob's slideshow going into further detail about the service: baba slideshow introducing-babalife-and-babajob2243.ppt
The online community has also been made available through SMS. According to Weise, "there are 200 million SMS users in India, but only 2 million broadband connections."
Weise thinks the Babalife and Babajob networks are more compelling than any comparable programs currently offered in India, and gives five reasons:
1) It uses local languages, starting with Tamil, Kannada, and Hindi.
2) Its blog can accept videos and pictures. A blog creator can control who can view his or her blog, and also see who has viewed it.
3) Every part of a user's home page can be accessed via SMS. Via SMS a user can see any changes that friends make on their home pages, and stay in constant contact.
4) A user can control not only his or her personal information, he/she can also control who see each part of their home page.
5) The project has integrated an employment service into our SN, so users can find employees through the SN and also be compensated for helping their friends find jobs.
Watch a short CNN-IBN news clip featuring an interview with a satisfied Babajob user:
Funding Structure and Monitoring and Evaluation
Babajob is a private enterprise, connected to a sister social networking site, Babalife. By definition, the financial goal of Babajob, once better established, is to generate profit. Like most other online ventures, the website is largely funded through advertising. Specifically, their source of income is from employers' advertisements. It is a new venture that is still developing, and many aspects of the business model will evolve over time.
Originally, Blagsvedt and Weise did not plan for Babajob's employees to play a role in registering job seekers, although at present, this is how they are operating. Ideally, "connectors" and "mentors" will be taking over that role. Weise admits, "Our biggest challenge has been to register job seekers who don't have access to PCs, and who don't know anyone with access to a PC. Our success depends on our ability to get the job seekers registered."
So far Babajob has about 2000 job seekers and 800 employers in its database. But Weise points out a problem in making successful connections through this growing database:
"Since most job seekers will only work within a few miles of their home (due to the horrible traffic in Bangalore which moves at under 8 MPH) an employer in one part of the city can't hire a job seeker who may live in another part of the city. We suspect that our biggest problem in terms of successful placements is the fact that our job seekers are clustered in one area near our office, while prospective employers (who have heard about us from newspaper, TV and radio stories) are scattered all over Bangalore."
To ameliorate the situation, Babajob plans to advertise in local languages on cable television and in movie theaters. The ads will inform job seekers that they can text message Babajob, who will then call them and register over the phone. Weise and Blagsvedt think this will be a cost effective and sustainable system of registration.
They have not invested much of their limited start-up funds in advertising for Babalife.com, relying instead on word of mouth to grow that part of the social networking business. Babalife will earn revenue solely from advertising.
Babajob is not yet profitable, as it does not charge any fees for searching services. However the site plans to start charging search fees in the near future. This will enable Babajob to rebate employers 300 rupees (7.50 USD) when they successfully hire someone through the site and report back to Babajob whom they've hired. As this functionality has not yet been operationalized, they do not have any statistics on employment success rates.
For now, Weise and Blagsvedt are testing the Babajob model in Bangalore and India, but plan to expand worldwide if it proves successful. The site has been designed to be easily translated into other languages because of India's own language diversity. Babajob has already received inquiries from Brazil, Mexico and the UK.
Weise sums up Babajob's vision:
"If someone were to ask me how we're using new media to improve the employment opportunities of low-income workers, I would answer that we want to first, utilize Internet social networks and our online database of job seekers and employers to replace the inefficient 'word of mouth' process through which nearly all low-income job seekers are found and hired.
There are 28 major languages (and even more ethnic groups) in India, and a migrant IT worker from Bihar working in Bangalore would like to hire a migrant cook from Bihar who both speaks his language and shares his culture. With dozens of different ethnic groups in each Indian city, it is impossible for word-of-mouth to allow these two parties to find each other.
Our second goal in adopting new media is to use the Internet connections between social network users to further the employment search and hiring process. A social network is ideally suited to illustrating the connections between individuals, and allowing an employer to determine if an individual job seeker is known to anyone in his or her social circle."
NWG.