How China's Grassroots NGOs use Web 2.0 to facilitate their work.
Over the past few years China has experienced the advent of Web2.0 and the rise of Chinese Nongovernmental Organizations. At the same time, a youthful middle class has emerged that has grown up in in this rapidly evolving environment. Together, the elements have given rise to a new Chinese variety of NGO, the "Grassroots NGO."
The primary characteristics of the Grassroots NGO are low operating costs and strong dependence on Internet technology. The "one kilogram project" is a typical example. This project offers a useful way to explore China's Grassroots NGOs, and how they use Web 2.0 to motivate large groups of volunteers to take action in different areas of concern (such as environment, health, education, and services for the disabled).
I
Case Study: the "one kilogram project" for school children in China's rural areas.
1) The "One Kilogram Project" (referred to as "1kg" below)
With the slogan "one more kilogram in your backpack," 1kg is a volunteer project that focuses on the improvement of quality of life and education for children in impoverished areas of China. It is organized by a group of youth who have extensive experience as both volunteers and travelers. Its official website is
http://www.1kg.cn
2) The idea of the 1kg
is simple:
Travelers pack 1kg of inexpensive educational materials in addition to their luggage, to give away to someone who needs it along the way. Many children in rural areas cannot even afford a pencil eraser.
The simple process
of passing/communicating/sharing not only helps children in need, but also enriches the travelers' experience.
3) How to participate in 1kg?
The 1kg project recommends three steps:
1. Passing - Prepare 1kg of books or stationery for underprivileged kids you may meet in your journey;
2. Communicating - Talk to and play with the kids and get to know them;
3. Sharing - Share your travel experiences with people via the 1kg online forum and spread the words among friends and around.
II
Background
:
According to the Ministry of Civil Affairs of the People's Republic of China, by the end of 2006, there were 346,000 registered Non- Government Organizations in China. China's NGOs, usually called People's Organizations (minjian zhuzhi) or Social Groups (she hui tuan ti), have increased steadily in number over the past several years. But while they may be multiplying, they do not necessarily flourish at the outset.
In the meantime, China's Internet industry continues to develop rapidly. In 2006, the number of Chinese Internet users exceeded 150 million, with 50% of the users between the ages of 18 and 35.
China's rising young middle class tends to spend less time watching television and more time on the Internet. They are also the major driving force in the Web 2.0 Internet community.
III Web2.0 and Grassroots NGO development in China
Web 2.0 has played an important role in China's Grassroots NGOs, helping to lower the cost of operation and promote recruitment, publicity and communication.
1kg is a perfect example, using a variety of Web 2.0 services to lower its operating cost and promote its project. These include:
1) Its blog:
http://1kg.blogbus.com
This is a way to publish and update information and news releases.
The blog allows members from all over China to publish their stories and publicize their activities at the same time.
2) Group communication
Through the use of instant messenger such as MSN, QQ, and Skype.
3) Its flickr site:
http://www.flickr.com/photos/1kg
The group uses the popular photo-sharing website to exhibit photos of travel and other events.
4) The map service
www.mapabc.com
(a Chinese version of google map)
This is used to tag places members have visited and post photos, videos and information on the map.
5) The children's book list:
http://www.douban.com/group/onekg/
This is China's largest book review website, where people recommmend and review kids' books.
6) Cooperation with other organizations through other projects.
a. Twin books project:
http://www.twinbooks.cn/
Buy one book for your kid, send another copy of the same book to a kid in rural area. Build a connection among kids in the cities and the rural areas through book sharing.
2. davinci project:
http://www.hada.cc
This project produces code that contains nonprofit ads that can be added to personal blogs to provide information about public welfare projects, such as charity,environmental protection, and child education in rural areas.
7) Provide Wireless Application Protocol service (WAP)
Its website subscribers can access its website from a mobile phone or PDA, and update their travel stories.
IV Evaluating the 1kg project:
There has been no formal external evaluation of the 1kg project, but some relevant data is listed below:
1) More than 200 volunteers from all over China have joined.
2) They have organized more than 20 travel events through this project's initiative in 2004.
3) They have donated more than 10,000 school supply items and 3000 books (15 books per volunteer)
4) In addition to donation, the project organizes other activities to assist impoverished students, such as "I have a dream," "Write a booklist," and "Have a lesson for the children"
The 1kg members have been visiting schools in provinces inculudes:Guizhou, Hunan, Guangxi, Hebei, Anhui, Sichuan, Shanxi.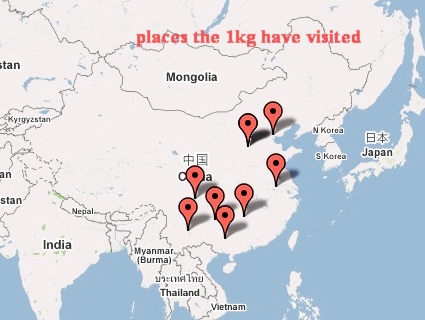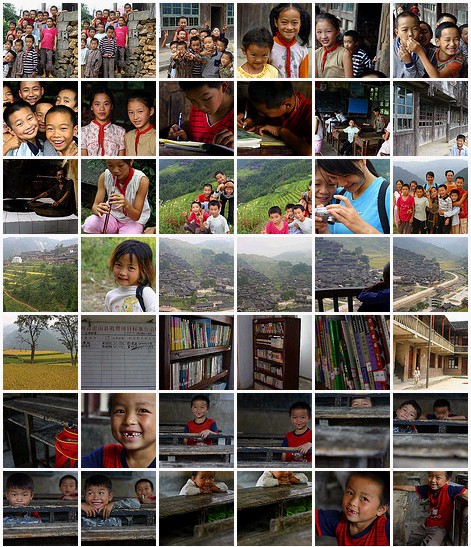 V Funding Strategy of 1kg:
$O operating cost, thanks to Web 2.0
Most NGOs can use the Internet and Web 2.0 applications to reduce their operating costs in one way or another. But for a nationwide grass-roots NGO project like 1kg with no stable funding source or sponsor, new Internet technology and Web 2.0 applications are vital to their survival. The network of people on the Internet and the project's popularity in the virtual community contributed immensely towards saving money and recruiting volunteers.
Most of 1kg's members are from China's middle class, the so-called white-collar professionals who like to spend their spare time traveling or engaging in outdoor activities.
Unlike many NGOs that usually pay a small stipend to their volunteers, 1kg does not pay, and its well-off volunteers share the expenses, just like friends hanging out and sharing a dinner bill.
The operating costs, such as transportation fees, are paid by the volunteers.
In addition, the events organized by 1kg are mainly dependent on donations from its volunteers and other donors in their network.
Anzhu, the founder of 1kg, said the organization does not stress the idea of contributions, but instead advocates the concept of "mutual benefit".
Here are some other examples of their funding strategy:
1) Photo exhibits were held in three major cities: Beijing, Shanghai, and Guangzhou. Each exhibit cost about 1000 RMB (135 US dollars) All of the expenses were paid by the volunteers who organized the events.
2) One 1kg member from Shanghai donated 1500RMB (200 US dollars) for a photo exhibit held in the city of Wuhan.
2) Promotional envelopes with the 1kg logo on it (1000 units), were printed with the help of a friend of a 1kg member', free of charge.
The group's WAP (mapping) service was designed by the company (
www.moabc.com
) free of charge, with the help of the 1kg members' personal networks.
3) Although 1kg is cautious about cooperation with for-profit businesses, it does not preclude the possibility. It previously cooperated with a national IT (information technology) newspaper for one of its local photo exhibitions. And 1kg stresses that future cooperation with the IT newspaper will be determined by the local branch of 1kg in the given city.
4) 1kg also collaborates with other business, with exchanges of links to some outdoor product stores. It holds events and gatherings in certain bars and shopping malls.
5) 1kg has also discussed plans such as the sale of t-shirts and small gifts as a fundraising vehicle. But the group fears that a commercialized strategy would complicate the simplicity of its current financing structure.
YD