Daniel Clark
at Columbia University
Hi, welcome to Daniel Clark's website.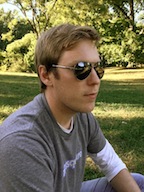 I completed my Master's in Electrical Engineering at Columbia University in February 2014. At Columbia, I focused on methods and approaches in electrical engineering, including signal processing and computational neuroscience. I am currently a research programmer at the Child Mind Institute in New York.
Resume:
Resume/CV
Research:
Fall 2013: Exploring the Diderot programming language and its applications to the visualization of neural models, Columbia University
Summer 2013: Understanding and predicting human-centric threats for intelligence, surveillance, and reconaissance applications, Air Force Research Laboratories
Spring 2013: Investigating topographic neural development of the visual system, Columbia University
Patents:
External Links:
I'm also an avid guitarist. Some of my music is available online.
Music Links:
Contact Email: djc2184@columbia.edu