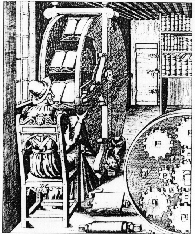 G5001: The Early Modern Book Website
This course is designed (hah!) to explore various aspects of the production, circulation and reception of books in early modern England (and, yes, we will talk about the implications of our names and schemes of periodization). The course begins in high theory and moves to low technology (a movement itself making a theoretical point). The focus on the material and institutional conditions of writing is designed to enrich and complicate (though inevitably, I suppose, there will be more complication than enrichment) our understanding of writers and writing in early modern England, seeking to place both within the inevitably collaborative economies of intellectual and social life.
Once when you were bored with all this "bookie" stuff, you could have heard the New York Knick song but now, even better, you can hear the Nottingham Forest crowd singing "We All Follow the Forest" or "Steve Stone" (my annual nominee for a Columbia honorary degree). Cool, huh?
Or you can visit Soccernet's Nottingham Forest page and The Magical FOREST.