Doodle Poll: How to Create Polls, Schedule Meetings, and More
Whether you're running a student organization or working on a group project for a class, you will inevitably have to organize a large group meeting. Setting up meetings is time-consuming and tedious and the process can take days if not weeks. It's made even more difficult now that everyone in different locations because of the pandemic. Fortunately, we can use Doodle to make scheduling less of a drag.
Doodle is a meeting tool that helps you find a time that works for everyone in your group without and endless back and forth. The core feature Doodle offers is the ability to create a meeting poll. You select a set of dates and times for the meeting, send them to the meeting participants, and let them vote for the times that work best. The benefit of using Doodle versus email is that all the manual coordination involved in figuring out everyone's availability is done on a single webpage instead of a long email thread.
In this article we'll provide step-by-step instructions on how to use Doodle. Here are the topics we'll cover.
Doodle was built all the way back in 2007, so there are a number of outdated tutorials on the web that you'll want to avoid. The videos and screenshots in this article reflect the most recent version of Doodle.
Create a Poll
To schedule your meeting the first thing you'll want to do is setup a poll. Creating a poll on Doodle is straightforward and doesn't require account registration.
Click the Create a Doodle button on the home page.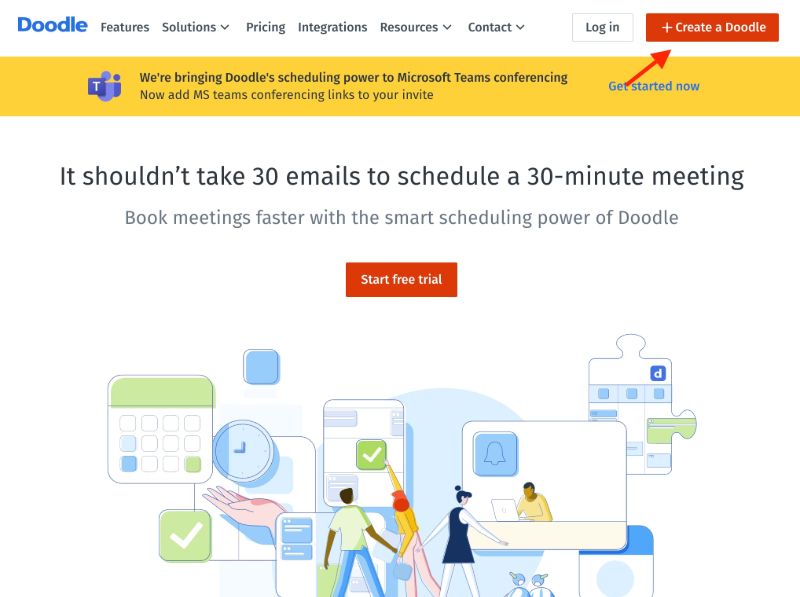 On Step 1 of 4 enter the name of the event under Title. On this page you can optionally add a meeting Location either as free form text or by selecting a video conferencing app such as Skype or Google Hangouts. Add an optional Note to provide handy info for the meeting such a dial-in instructions.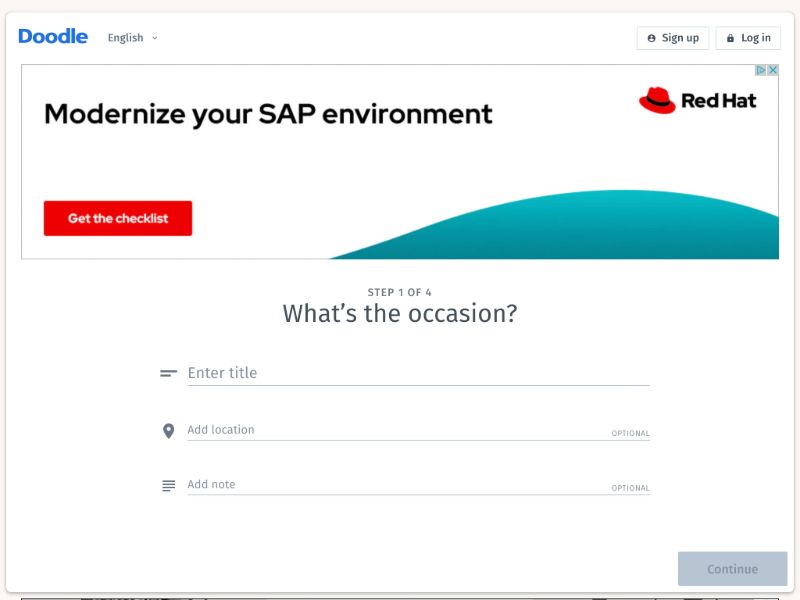 On Step 2 of 4 you'll see a calendar where you can select the time options for the poll (if you see a prompt that says Connect your calendar you can ignore it by clicking Later). Click on the calendar where you want to add a time option. You'll need to select at least 1 time option to proceed to the next step. Once you've added a time you can move it by dragging it to a new calendar slot. To delete a time, click the X in the corner of its box. The default event duration is set to 30 minutes, but you can increase or decrease it in increments of 15 minutes by dragging the bottom border of the time block. If you prefer typing in the time options, you can access the Month view by clicking the Month link below the main heading. Personally I find this is typically more work than clicking times on the calendar so I don't recommend it. If for some reason you want to create a non-scheduling poll (out of scope for this tutorial), click Text to add text options instead of time options. This type of poll might be relevant if for example you are taking votes on which restaurant to cater lunch from.
On Step 3 of 4 you will see various settings you can toggle to customize your poll. Activating Hidden poll hides participants' names and votes from each other, which might be preferable if you're posting the poll to a public forum and want to maintain privacy. Another useful setting you may want to consider is Set deadline. This feature lets you a set a hard stop date on responding to the poll, and is a nice way to nudge your participants to respond sooner. Unfortunately, it's only available to paying customers.
On Step 4 of 4 you're prompted to enter your Name and Email. Your name will appear as the first participant in the poll, and the email you enter will receive notifications with poll updates.
Congratulations, you've finishing creating your poll! Now it's time to share your poll with the people you want to collect responses from. The easiest way to share is to copy and paste the Doodle link under Invite participants. You can also have Doodle send the link as an email by clicking the Email link and entering email addresses for the people you want to invite. Note that this requires signing up for an account.
You've finished the hard part, now you can sit back and wait for the responses to come in. Each time someone responds to your poll you'll receive an email with an update.
Respond to a Poll
Meeting invitees can respond to a poll to indicate which times they are available to meet. Before you can respond you'll need the poll creator to share their Doodle link with you. No registration is required to respond.
Open the Doodle link which was shared with you by the poll creator.

Once you've opened the link, enter your name in the bottom row in the table. Then click the time options when you're available to meet. Click the Send button to submit your response. If the poll hasn't been set as hidden, you can view other participants' responses in the rows above the response row. This may be helpful when there is a VIP in the group whose attendance is so important that it warrants adjusting your own schedule so everyone can make the meeting. If the poll has dozens of options, it may be easier to use the Calendar view so you don't have to scan through multiple pages of options. Click Calendar above the table and you'll be shown the same options in a Calendar view. As in the Table view, you'll need to enter your name and click time options before you can submit your response.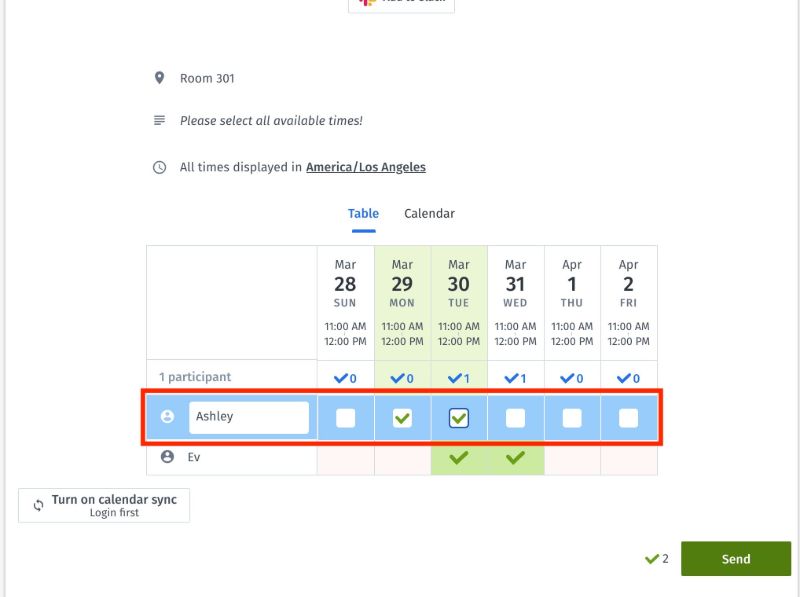 Edit a Poll
As the poll creator, you can edit a poll if you're logged in to your Doodle account.
Open your Doodle link.
At the top of the page click the Edit button.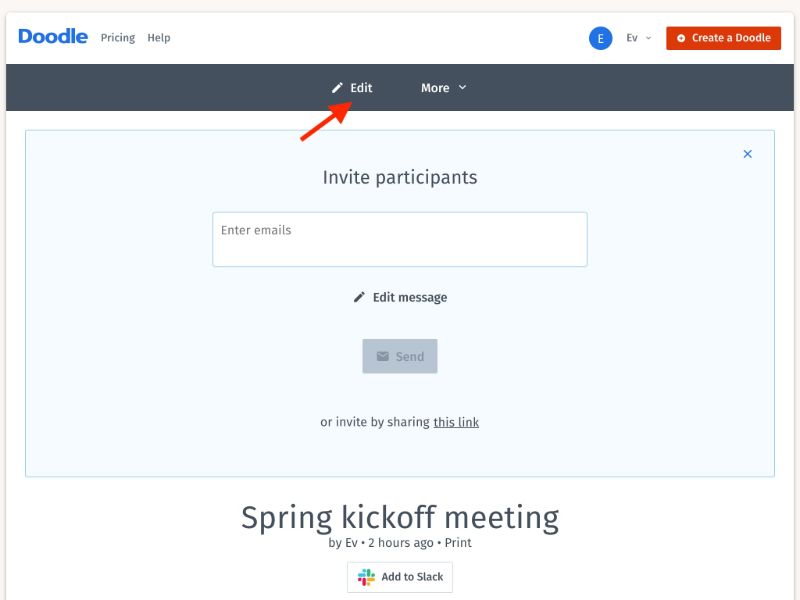 You'll be taken back to Step 1 of the same wizard you used when you created the poll. Note that if you remove any of the time options that have already been voted on, Doodle will show you a warning. If you continue their votes for those times will be deleted.
Schedule a Meeting
Once all your participants have responded to the poll, it's time for the poll creator to choose the final meeting time.
Open your Doodle link.

At the top of your poll page, click the Choose final option button.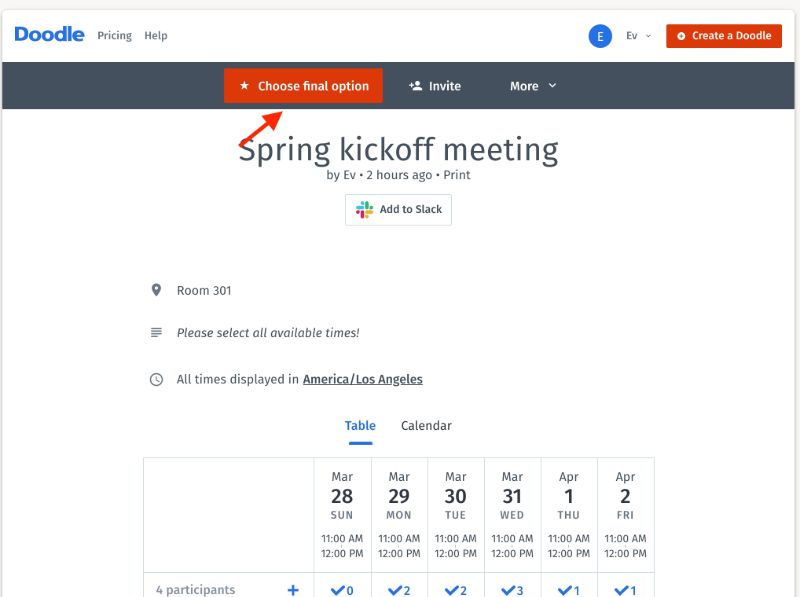 You'll see a yellow row at the top of the table labeled Final options. The column with the most votes is selected by default, but you can change it by clicking any of the stars in the yellow row. Click Done to confirm your final meeting time. You can see how many people voted on each time by looking at the count in the row above the yellow row, and you can see who voted on which times in the rows below the yellow row. Note that Doodle allows you to select more than (or none) of the time options but generally speaking this isn't productive. When you're scheduling a meeting you'll want to select a single time.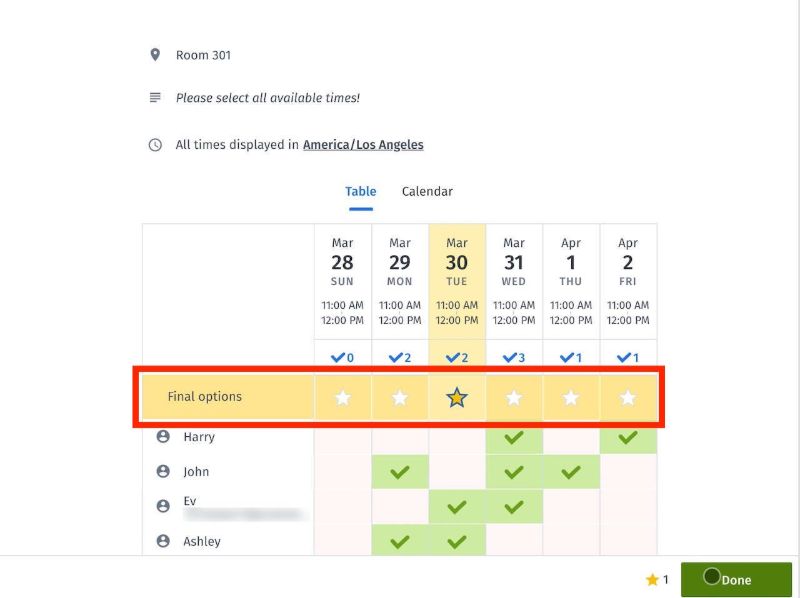 You'll be prompted to share the poll results. If you're logged in, you can enter email addresses for Doodle to email the results to. Otherwise you can share the poll results with your Doodle link.
Create an Account (optional)
While you aren't required to create an account to use Doodle, there are a couple benefits. For one, when you connect your calendar Doodle shows your availability when creating new polls. It's a neat time saver to avoid having to tab back and forth between windows every time you set up a poll. You also need to create an account if you want to edit your poll or edit other participants' responses.
From the homepage click Log in in the top right corner.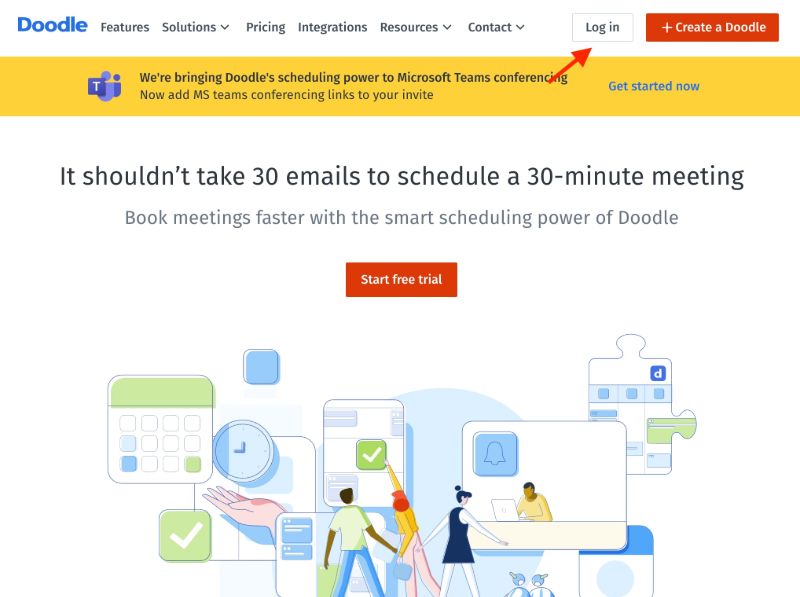 Click the Sign up link.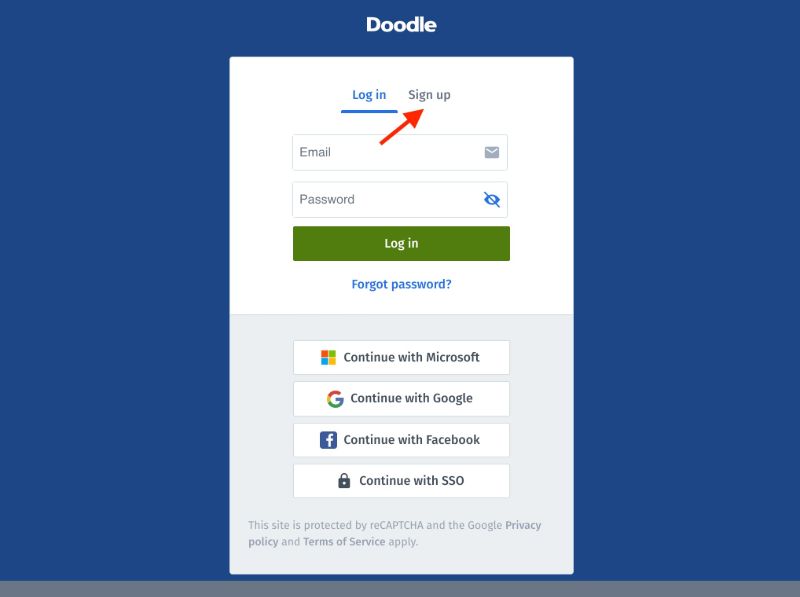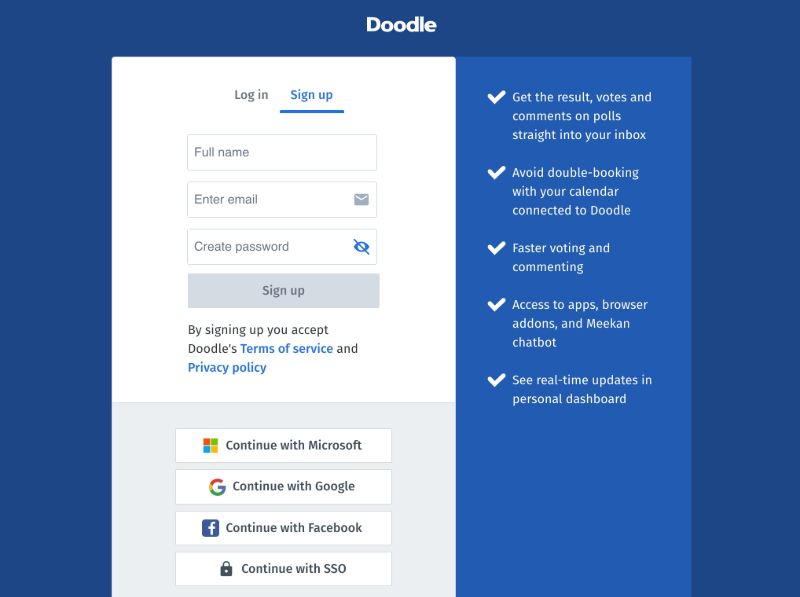 FAQ
What is a Doodle link?
A Doodle link is a URL that points to a Doodle webpage where poll participants can vote on their preferred meeting times. Once you create a poll on Doodle, you'll see a URL at the top of the page with a Copy button to the right. Copy the link and paste it into any communication channel (email, SMS, Whatsapp, Messenger, etc.) to invite people to vote on your poll.
Does Doodle handle time zone conversion?
Yes, when participants view a poll Doodle will adjust the time options based on their location. This means that participants in different time zones may see different times. These times are all the same when converted to the poll creator's time zone.
How do I delete a Doodle poll?
Open your Doodle link. Then click the More menu at the top of the page, and click the Delete option. You'll be asked to confirm deletion. Click Delete in the popup and your poll will be gone.
Does Doodle support 1-on-1 meetings?
Yes, Doodle has a 1:1 feature which allows people to book meetings directly on your calendar. However, it's one of the product's weaker features so I'd suggest choosing a calendly free option.
Can I use Doodle on Whatsapp?
Yes, you can share a Doodle poll on Whatsapp the same way you would on any other communication channel. Just copy the link from your poll page, paste it into Whatsapp, and send it as a message.
Is Doodle Poll still free?
Yes, you can technically use Doodle without paying money, but you'll end up paying for it with your patience. Doodle has handicapped their free version to the point where most people have no choice but to pay for a premium plan. As a free user you're constantly bombarded with banner ads. On top of that they've stripped their free plan of basic features like calendar sync, Zoom integration, and the ability to ask participants for their email address.
What can I use instead of Doodle?
While Doodle is generally sufficient if you're on the premium plan, there are better alternatives if you don't feel like paying or prefer a more modern tool. Of all ones I've tested, the one I recommend most is zcal - it's like doodle poll only free, easier to use, and it has a comprehensive feature set that covers all scheduling scenarios.