▲
← Back to main Frankfurt High School 1959-61 page
Frankfurt High School Student Directory 1960-61
Frank da Cruz
fdc@columbia.edu
2 October 2019 20:03:51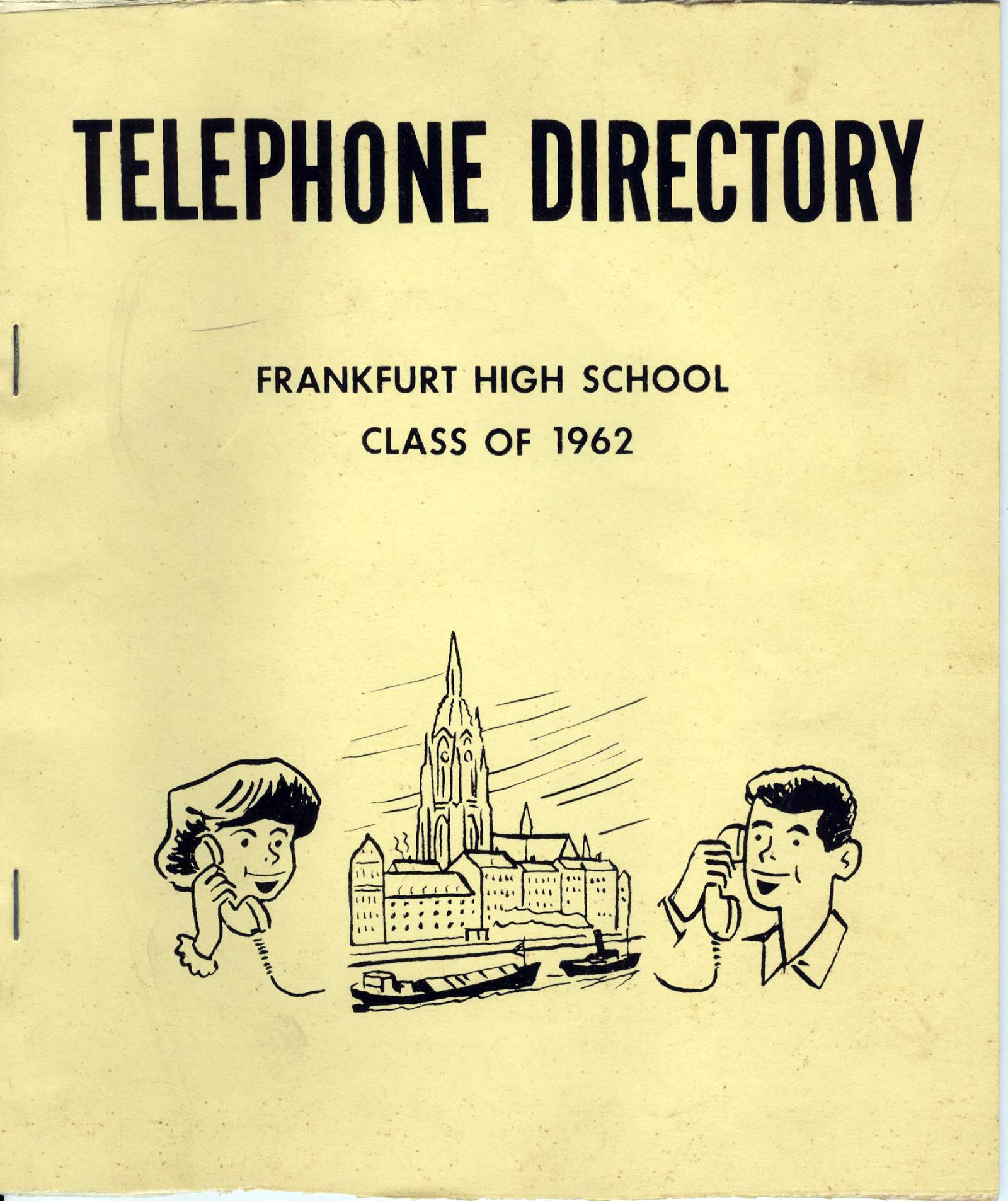 The
Frankfurt High Shool student directory for 1960-61
was put together by Bill Sandalls, Debby Miller, Laurel Lee Mortimer, and Scott Swedberg. It has 904 entries, which have been exported into this table. Various spelling errors are fixed and German town names are corrected. Unlike the original directory,
you can sort
this one by different columns so now you can see everybody in 11th grade together, or everybody who lived in (say) Bad Godesberg, or all the dorm students, etc,
just click on the desired heading
(in the first line of the table with the grey background). For sorting purposes Atterbury, Betts, Edwards, and Gibbs are now grouped under Frankfurt, since that's where they were. "Frankfurt" by itself means (presumably) that the student lived within walking distance, whereas (for example) "Frankfurt Edwards" means they came to school daily by bus from Drake-Edwards. Non-Frankfurt places where non-dorm students lived (Höchst, Babenhausen, Butzbach...) would also have involved a bus ride. By the way, it's not a mistake that Billie Baird's grade is listed as 13; she was a postgraduate student! Anyway, I'm sure I didn't catch every error, so please send any corrections to me at the address above.
| Name | Grade | Residence | Contact |
| --- | --- | --- | --- |
| Abel, Jean | 10 | Frankfurt | none |
| Acker, Ann | 12 | Kiel | dorm 7 day |
| Adams, Bill | 10 | Bad Vilbel | 2133-715 |
| Adams, Frank | 12 | Frankfurt | 527636 |
| Alban, Glenna | 12 | Frankfurt | 522634 |
| Aldrich, Lee | 11 | Bad Homburg | 6254 |
| Alford, Glenda | 11 | Frankfurt | 522655 |
| Alleman, Sue | 11 | Frankfurt | 523035 |
| Allen, Lilian | 10 | Hanau | 8721 |
| Allison, Lee | 10 | Büdingen | 737 |
| Amatuzio, Pat | 12 | Babenhausen | 605 |
| Amman, Phillip | 11 | Wildflecken | dorm 5 day |
| Anderson, Ed | 12 | Hanau | 5943 |
| Andrews, Terry | 11 | Frankfurt | 554905 |
| Angulo, Katie | 12 | Gießen | 5242 |
| Anthony, Antje | 11 | Frankfurt | none |
| Anthony, Barbara | 12 | Frankfurt | none |
| Ariail, Adrienne | 11 | Frankfurt | 551652 |
| Armento, Ronnie | 10 | Langen | 2727 |
| Arnold, Spencer | 12 | Hanau | none |
| Ashkins, Peggy | 12 | Bad Godesberg | dorm 5 day |
| Ashley, Sandy | 11 | Darmstadt | 77605 |
| Ash, Raymonda | 11 | Nieder-Weisen | 3976 |
| Backus, Sharon | 12 | Babenhausen | 613 |
| Baez, Ana | 10 | Gießen | 5373 |
| Baez, Carmen | 10 | Gießen | 5373 |
| Bailey, Skip | 11 | Frankfurt | 521024 |
| Baird, Billie | 13 | Frankfurt | 554456 |
| Baird, Pat | 10 | Frankfurt | 554456 |
| Baker, Donna | 12 | Gießen | dorm 5 day |
| Baker, Jacque | 11 | Frankfurt | 527612 |
| Baker, Robert | 10 | Hanau | 5746 |
| Baker, Sandra | 12 | Gelnhausen | 3463 |
| Baker, Sharon | 10 | Hanau | 5746 |
| Ballard, Lynne | 12 | Warsaw, Poland | dorm 7 day |
| Ball, Shirley | 11 | Gießen | 5227 |
| Bancker, Adrian | 10 | Rhein Main | 69-8138 |
| Banks, Anne | 12 | Bad Godesberg | dorm 5 day |
| Barker, Sharon | 11 | Rhein Main | 69122 |
| Barr, Kathy | 11 | Hanau | 5514 |
| Bartels, Sandy | 12 | Bad Nauheim | 4315 |
| Bartholomew, Linda | 12 | Hanau | 20903 |
| Bartkoski, Cathy | 11 | Frankfurt Gibbs | 527943 |
| Bartkoski, Victor | 10 | Frankfurt Gibbs | 527943 |
| Barton, Dave | 11 | Rhein Main | 69-6293 |
| Bates, Sandra | 10 | Frankfurt | 554962 |
| Bates, Tom | 10 | Gelnhausen | 2643 |
| Baugh, Renea | 12 | Höchst | none |
| Beacker, Russel | 10 | Gießen | dorm 5 day |
| Beams, Jonney | 11 | Fulda | dorm 5 day |
| Beare, David | 11 | Frankfurt | 527467 |
| Beatie, Chuck | 12 | Frankfurt | 521004 |
| Beaty, Joe | 11 | Frankfurt | 65452 |
| Beavers, Judy | 10 | Frankfurt | 524740 |
| Becker, Stephan | 10 | Bad Godesberg | dorm 5 day |
| Beirne, Marty | 11 | Darmstadt | 27391 |
| Bell, George | 12 | Bad Godesberg | dorm 5 day |
| Bell, Larry | 10 | Koblenz | none |
| Bell, Robert | 11 | Rhein Main | 2546 |
| Bell, Sandra | 10 | Bad Godesberg | dorm 5 day |
| Benbow, John | 11 | Rhein Main | 698160 |
| Bennett, Peggy | 12 | Darmstadt | 75142 |
| Berardi, Jerry | 10 | Frankfurt | 521692 |
| Bertolet, Maryland | 12 | Frankfurt | 522478 |
| Besser, Sharon | 12 | Hanau | 6815 |
| Bessley, John | 10 | Hanau | none |
| Betit, Eugene | 11 | Frankfurt | none |
| Birdsong, Gay | 12 | Bad Vilbel | 2134 |
| Blakeman, Ingrid | 10 | Frankfurt | 779724 |
| Blake, Marilyn | 11 | Sprendlingen | 7852 |
| Blake, Steven | 11 | Bad Vilbel | 713-2163 |
| Blasini, Manuel | 11 | Frankfurt | 528031 |
| Blevins, Mavis | 12 | Frankfurt | 525808 |
| Blevins, Nancy | 12 | Frankfurt | 522272 |
| Blinn, Bruce | 11 | Darmstadt | 77168 |
| Blower, Renate | 12 | Gießen | dorm 5 day |
| Blow, Linda | 11 | Bad Vilbel | 2151 |
| Boales, John | 10 | Frankfurt | 527815 |
| Bolster, Steve | 11 | Frankfurt | 527948 |
| Boos, Arthur | 11 | Helsinki, Finland | dorm 7 day |
| Borck, Dianne | 12 | Frankfurt | 524189 |
| Bordan, Anne | 12 | Rhein Main | 696367 |
| Bordas, Dave | 11 | Langen | 2731 |
| Boruta, Gerta | 10 | Oberursel | 06171 |
| Boss, Eugene | 12 | Aschaffenburg | 29757 |
| Bos, William | 10 | Frankfurt Edwards | 527674 |
| Boudreaux, Mary Jane | 11 | Langen | 2760 |
| Boyd, Dick | 12 | Langen | 2552 |
| Bradley, Susan | 12 | Frankfurt | 527067 |
| Brake, Jean | 10 | Frankfurt Edwards | 527458 |
| Brandt, Dick | 12 | Wildflecken | dorm 5 day |
| Brandt, Priscilla | 10 | Wildflecken | dorm 5 day |
| Bray, Dillard | 11 | Frankfurt | 522286 |
| Brent, Lee | 12 | Hanau | 8632 |
| Brooks, Bill | 10 | Aschaffenburg | 29724 |
| Brown, Brigitta | 12 | Hanau | 8632 |
| Brown, Charles | 10 | Frankfurt | 557326 |
| Brown, Gwen | 11 | Darmstadt | 76894 |
| Brown, Lewis | 10 | Buchschlag | 8269 |
| Brown, Lynn | 11 | Darmstadt | 75894 |
| Brown, Sheilah | 11 | Wetzlar | 3732 |
| Brown, Shirley | 11 | Büdingen | 700 |
| Bryant, Anne | 11 | Großen Buseck | none |
| Bryant, Larry | 10 | Darmstadt | 8497 |
| Bryceland, Barbara | 12 | Bad Nauheim | 4159 |
| Bryceland, Pat | 12 | Bad Nauheim | 4159 |
| Buchanan, Mary | 10 | Aschaffenburg | 296360 |
| Buechel, Sandy | 10 | Hanau | 21552 |
| Buechel, Sylvia | 10 | Hanau | 21552 |
| Bull, Jerry | 11 | Frankfurt | 551146 |
| Burke, Sharon | 12 | Bad Godesberg | dorm 5 day |
| Burkhart, Jim | 11 | Frankfurt | 522953 |
| Burnett, Jan | 10 | Büdingen | 898 |
| Burton, Jim | 11 | Rhein Main | 69576 |
| Burton, Larry | 10 | Rhein Main | 69576 |
| Bury, Melinda | 12 | Schönberg | 2430 |
| Bury, Steve | 10 | Schönberg | 2430 |
| Busch, Lea | 10 | Aschaffenburg | 6284 |
| Butcher, Steve | 12 | Frankfurt Edwards | 527-556 |
| Campbell, Patricia | 12 | Darmstadt | 7-6745 |
| Camp, Bonnie | 11 | Friedburg | 7115 |
| Campion, Carol | 12 | Rhein Main | 2761 |
| Cannon, Mickey | 11 | Frankfurt | 528348 |
| Cano, JoAnn | 12 | Bad Nauheim | 4417 |
| Canter, Marshall | 10 | Rhein Main | 698154 |
| Caparoso, Jeanie | 10 | Gießen | 4579 |
| Caperton, Joan | 10 | Frankfurt | 528022 |
| Caputo, Kathryn "Boots" | 11 | Stockholm, Sweden | dorm 7 day |
| Caranci, Sandra | 11 | Frankfurt | 592097 |
| Carapezzo, Carol | 10 | Neu-Isenberg | 3414 |
| Cardin, Michael | 10 | Warsaw, Poland | 7465 |
| Carels, Peter | 11 | Rhein Main | 474 |
| Carey, Elaine | 12 | Mörfelden | 2173 |
| Carlanda, Clydene | 10 | Frankfurt | 524177 |
| Carleton, Ann | 11 | Frankfurt | 315121 |
| Carlson, Pamela | 12 | Frankfurt | 522186 |
| Carnes, Kay | 10 | Kassel | dorm 5 day |
| Carney, Linda | 12 | Darmstadt | 76761 |
| Carr, Fred | 10 | Frankfurt | 522185 |
| Carrigan, Al | 12 | Stockholm, Sweden | dorm 7 day |
| Carter, Jack | 10 | Frankfurt | 315124 |
| Carter, Sonnie | 11 | Rhein Main | 69528 |
| Case, Richard | 11 | Frankfurt | 522606 |
| Casperson, Brendan | 10 | Hanau | none |
| Castleman, Gary | 12 | Rhein Main | 698336 |
| Catlin, Sharon | 11 | Rhein Main | 698203 |
| Catoe, Lewis | 11 | Frankfurt | none |
| Cattoche, Robert | 11 | Frankfurt | 591163 |
| Caudell, Carolyn | 11 | Butzbach | 2034 |
| Challman, Tim | 10 | Gelnhausen | 2809 |
| Charles, Barbara | 10 | Frankfurt Edwards | 527988 |
| Chase, Pati | 11 | Gelnhausen | 2067 |
| Chavis, Larry | 10 | Butzbach | 2798 |
| Childers, Robert | 10 | Ober-Mörlen | dorm 5 day |
| Childless, Nelda | 11 | Babenhausen | 600 |
| Chodakowski, Greg | 11 | Bad Godesberg | dorm 5 day |
| Christensen, Joy | 11 | Fulda | dorm 5 day |
| Chun, Evelyn | 10 | Frankfurt | 523238 |
| Clancey, Ellen | 10 | Gelnhausen | 3826 |
| Clark, Annita | 10 | Darmstadt | 76840 |
| Clark, Ethel | 10 | Rhein Main | none |
| Clark, Gerrie | 12 | Frankfurt | 527212 |
| Clark, Judy | 10 | Darmstadt | 77608 |
| Clark, La Rue | 11 | Hanau | 5996 |
| Clark, Margaret | 12 | Rhein Main | 69383 |
| Cobb, Judith | 10 | Frankfurt | 706930 |
| Cobs, Kathleen | 11 | Darmstadt | 77657 |
| Coleman, Bob | 10 | Bad Godesberg | dorm 5 day |
| Coleman, Tom | 12 | Bad Godesberg | dorm 5 day |
| Collier, Roy | 11 | Frankfurt | 523444 |
| Colón, Elizabeth | 10 | Hanau | 5026 |
| Colón, Miriam | 11 | Hanau | none |
| Colón, Teresa | 10 | Hanau | none |
| Condit, Ruth | 11 | Rhein Main | 69102 |
| Conely, Charles | 10 | Frankfurt | 527019 |
| Connell, Brigitte | 10 | Friedburg | 7286 |
| Connell, Louise | 10 | Friedburg | 7286 |
| Cooley, Sharon | 10 | Babenhausen | 2163 |
| Corey, Ralph | 11 | Groß-Gerau | none |
| Cornelius, Linda | 10 | Frankfurt Gibbs | 527639 |
| Cosby, Philip | 10 | Frankfurt | 523281 |
| Cotham, Monty | 12 | Oberursel Camp King | 3462 |
| Coulombe, Jane | 12 | Bad Nauheim | 4229 |
| Cox, Guy | 11 | Frankfurt Edwards | 527572 |
| Coyle, Michaeleen | 12 | Mörfelden | none |
| Crabb, Sherry | 10 | Frankfurt | 512823 |
| Craig, Marjorie | 10 | Aschaffenburg | none |
| Cranston, Chris | 12 | Frankfurt | 552554 |
| Crawford, Thomas | 10 | Fulda | dorm 5 day |
| Crites, Alana | 10 | Frankfurt | 522127 |
| Croft, Vivien | 11 | Gießen | 4333 |
| Cronian, Mike | 10 | Frankfurt | 522050 |
| Cubello, Sylvia | 12 | Frankfurt | none |
| Cuevas, Lynette | 10 | Hanau | 5412 |
| Cummings, Sissio | 12 | Bad Homburg | 3018 |
| Cutter, Bob | 10 | Frankfurt | 526021 |
| Cutter, William | 12 | Frankfurt Edwards | 526021 |
| Czakowski, Paul | 10 | Babenhausen | 657 |
| Czarnik, Audre | 10 | Frankfurt | 523320 |
| Czsick, Joyce | 11 | Aschaffenburg | 29651 |
| da Cruz, Frank | 11 | Frankfurt | 524253 |
| Dale, Jack | 10 | Bad Godesberg | dorm 5 day |
| Dale, Pat | 10 | Hanau | 586 |
| Daniel, Bill | 10 | Gelnhausen | 2890 |
| Danner, Toni | 10 | Frankfurt | 511261 |
| Darnell, Linda | 10 | Bad Nauheim | 4124 |
| Davey, Bill | 11 | Frankfurt | 524116 |
| David, Hans | 11 | Hanau | 5148 |
| Davies, David | 12 | Aschaffenburg | 25941 |
| Davies, Lynn | 10 | Aschaffenburg | 25941 |
| Davies, Susan | 12 | Aschaffenburg | 25941 |
| Davies, Suzanne | 11 | Frankfurt | 511274 |
| Davis, Doug | 10 | Frankfurt Gibbs | 527904 |
| Davis, Jerry | 10 | Helsinki, Finland | dorm 7 day |
| Davis, Linda | 10 | Hanau | 5516 |
| Davis, Skip | 11 | Aschaffenburg | 24180 |
| Davoine, Jean | 12 | Frankfurt | 558529 |
| Dawes, Margaret | 11 | Frankfurt | 527486 |
| Day, Daniel | 12 | Bad Godesberg | dorm 5 day |
| Day, Janet | 10 | Hanau | 5173 |
| DeBruler, Diane | 11 | Rhein Main | 698346 |
| DeByle, Barbara | 11 | Kassel | dorm 5 day |
| Deegan, Ami | 11 | Frankfurt | 523078 |
| DeGrasse, Bob | 12 | Rhein Main | 2740 |
| Dehart, Goldie | 11 | Hanau | 6111 |
| Delaack, Jerry | 10 | Hanau | 5552 |
| De Milt, Joan | 10 | Butzbach | 3524 |
| De Milt, Michael | 10 | Butzbach | 3524 |
| Dennis, Frank | 10 | Rhein Main | 69385 |
| Desmond, Craig | 11 | Frankfurt | 555238 |
| Dickey, Daryle | 11 | Darmstadt | 77796 |
| Dickson, Gale | 11 | Hanau | 5170 |
| Disdier, Sherry | 11 | Wildflecken | dorm 5 day |
| Dishneau, Karen | 11 | Hanau | 6120 |
| Ditchkus, Larry | 10 | Darmstadt | 77129 |
| Dobler, Carolyn | 10 | Frankfurt | 557619 |
| Dobler, Carolyn | 12 | Frankfurt | 557619 |
| Dolson, Katharine | 10 | Frankfurt | 554750 |
| Donald, Debbie | 11 | Gelnhausen | 2039 |
| Donald, Jean | 11 | Gelnhausen | 830 |
| Donaldson, Matthew | 12 | Frankfurt | 527890 |
| Dougherty, Joan | 10 | Hanau | 5576 |
| Douglas, Deborah | 10 | Rhein Main | 215 |
| Dowling, Margaret | 12 | Aschaffenburg | none |
| Dozier, Florence | 12 | Hanau | none |
| Dreyer, Joan | 12 | Frankfurt | 520658 |
| Driggers, Alice | 11 | Hanau | 5710 |
| Duffy, Molly | 10 | Frankfurt | 522635 |
| Dumas, Judy | 10 | Hanau | 5192 |
| Duncan, Barbara | 10 | Hanau | 5886 |
| Duncan, Pam | 11 | Frankfurt | 528372 |
| Dunn, Judy | 11 | Bad Vilbel | 713-2164 |
| Durant, Patricia | 10 | Liberia, Africa | dorm 7 day |
| Durant, Ron | 10 | Rhein Main | none |
| Dutra, Marilou | 10 | Langendiebach | none |
| Eager, Judy | 10 | Butzbach | 2986 |
| Ebejer, Johnene | 12 | Hanau | 5776 |
| Eberly, Dianna | 10 | Frankfurt | 511294 |
| Eckland, David | 10 | Bad Godesberg | dorm 5 day |
| Edler, Bill | 11 | Bad Vilbel | 7132187 |
| Ehman, Gary | 11 | Lisbon, Portugal | dorm 7 day |
| Eichncr, Jack | 11 | Frankfurt | 522901 |
| Eisenstadt, Stephanie | 10 | Rhein Main | 2181 |
| Emery, Pat | 11 | Frankfurt | 557171 |
| Emery, Robert | 10 | Rhein Main | 3479 |
| Eschrig, Pete | 11 | Gelnhausen | 2060 |
| Eskildsen, Karen | 10 | Bad Godesberg | dorm 5 day |
| Estes, Jaci | 12 | Rhein Main | 69621 |
| Estrada, Myrna | 11 | Babenhausen | 2161 |
| Ethridge, Russell | 10 | Frankfurt | 520262 |
| Evanoski, Anthony | 12 | Darmstadt | none |
| Evanoski, Marion | 11 | Darmstadt | none |
| Evans, William | 10 | Fulda | dorm 5 day |
| Faehze, Renate | 10 | Butzbach | 3073 |
| Fagins, Albert | 12 | | |
| Faison, Eddie | 12 | Aschaffenburg | 29742 |
| Falconer, Gloria | 12 | Eppstein | 789 |
| Farland, Pat | 11 | Frankfurt | 520752 |
| Farrow, Freddie | 12 | Gießen | dorm 5 day |
| Faulk, Dee | 12 | Frankfurt | 520652 |
| Fawcett, Joel | 11 | Rhein Main | 2708 |
| Fedor, Bill | 11 | Oberursel | 3272 |
| Felder, Mary | 10 | Langen | 2772 |
| Fentress, Kathy | 11 | Frankfurt | 520272 |
| Field, Conrad | 11 | Gelnhausen | 3081 |
| Fielder, Carole | 12 | Frankfurt | 527627 |
| Fishpaul, Virginia | 10 | Hanau | 5473 |
| Fletcher, Magdelone | 10 | Rhein Main | 697096 |
| Flourney, John | 11 | Frankfurt | none |
| Flynn, Peggy | 11 | Frankfurt | 524994 |
| Folsom, Linda | 10 | Gelnhausen | 2803 |
| Fontaine, Carol | 12 | Darmstadt | 70563 |
| Ford, Dabney | 10 | Frankfurt | none |
| Ford, Joe | 12 | Frankfurt | none |
| Forestell, Roger | 10 | Frankfurt | 528211 |
| Fox, Sharon | 11 | Hanau | 481 |
| France, Richard | 10 | Darmstadt | 76922 |
| Frangedakis, Liz | 12 | Frankfurt | 522397 |
| Fraser, Carole | 10 | Gelnhausen | 3459 |
| French, Tim | 11 | Frankfurt Edwards | 522104 |
| Friberg, Karl | 10 | Helsinki, Finland | dorm 7 day |
| Frost, Jack | 12 | Frankfurt | 520295 |
| Frost, Ray | 12 | Frankfurt | 520295 |
| Fuentes, Maria | 10 | Frankfurt | 525473 |
| Fuller, Le Ann | 10 | Aschaffenburg | 29626 |
| Futrell, Bob | 10 | Rhein Main | 69626 |
| Galt, John | 11 | Frankfurt | 7470 |
| Galt, Neal | 11 | Frankfurt | 522310 |
| Gamel, Skip | 11 | Frankfurt | 523909 |
| Garcia, Hector | 11 | Butzbach | 3791 |
| Garnes, Calvin | 11 | Hanau | 5414 |
| Garrett, David | 10 | Fulda | dorm 5 day |
| Gay, Jerry | 11 | Butzbach | 3790 |
| Gehbauer, Gisela | 11 | Frankfurt | none |
| Geiser, Carol | 11 | Frankfurt | 528393 |
| Generali, Bibby | 11 | Rhein Main | 69453 |
| Gernand, Michelle | 12 | Bad Godesberg | dorm 5 day |
| Giass, Tom | 12 | Wetzlar | 4213 |
| Giethman, Kay | 11 | Frankfurt Edwards | none |
| Gilhouson, Norma | 10 | Hanau | 5559 |
| Gilliland, Billy | 12 | Frankfurt | 525303 |
| Gilmore, Michael | 11 | Frankfurt | 523483 |
| Giuliano, Carl | 11 | Fulda | dorm 5 day |
| Glover, Kathy | 11 | Darmstadt | 77708 |
| Gobble, Sharon | 12 | Hanau | 6152 |
| Godman, Leslie | 12 | Rhein Main | 69763 |
| Goings, Chuck | 10 | Langen | 2143 |
| Goldenberg, Marc | 10 | Frankfurt | 523098 |
| Golden, Bernadette | 10 | Butzbach | 2187 |
| Goldsmith, Robert | 12 | Frankfurt | 551148 |
| Gooden, Betty | 11 | Frankfurt | 523098 |
| Goodwin, Cherie | 10 | Frankfurt Edwards | 522054 |
| Graham, Larry | 11 | Frankfurt | 527546 |
| Graham, Ona Lee | 10 | Bad Vilbel | 2182 |
| Graham, Sue | 11 | Fulda | dorm 5 day |
| Granlund, Jenny | 10 | Walldorf | none |
| Gray, Robert | 10 | Überlingen, Bodensee | dorm 7 day |
| Greco, Barry | 12 | Frankfurt Edwards | 522383 |
| Greenfield, Alan | 10 | Frankfurt Atterberry | 554742 |
| Green, Margaret | 10 | Frankfurt | 753522496 |
| Greer, John | 12 | Fliegerhorst | 890 |
| Greye, Barbara | 10 | Bad Nauheim | 4462 |
| Griffin, Regina | 10 | Rhein Main | 697027 |
| Grigg, Linda | 10 | Gelnhausen | 3094 |
| Grimes, Carolyn | 11 | Frankfurt Edwards | 528047 |
| Grimes, Marjorie | 11 | Frankfurt Edwards | 528047 |
| Grisham, Pam | 11 | Frankfurt | 521995 |
| Gross, Inge | 11 | Büdingen | 525 |
| Gruber, Bryan | 11 | Kassel | dorm 5 day |
| Guptill, Susan | 10 | Darmstadt | 77156 |
| Gustafson, Sherryl | 11 | Frankfurt | 529302 |
| Gustafson, Terry | 11 | Frankfurt | 529302 |
| Hackett, Ben | 11 | Rhein Main | 69657 |
| Haigh, Jean | 10 | Rhein Main | 696372 |
| Haines, Kathi | 10 | Frankfurt | 523087 |
| Hales, Eilenia | 11 | Butzbach | 2844 |
| Haley, Larry | 12 | Darmstadt | 76850 |
| Hall, Douglas | 12 | Frankfurt | 552968 |
| Hall, Mike | 12 | Hessian | 2578 |
| Hall, Shelly | 11 | Bad Godesberg | dorm 5 day |
| Hamby, Peggy | 11 | Langen | 2544 |
| Hamilton, Judy | 11 | Gießen | 5315 |
| Hamilton, Susan | 11 | Rhein Main | 69326 |
| Hammond, Brad | 12 | Frankfurt | none |
| Hand, Floyd | 10 | Frankfurt | 513560 |
| Harkins, Jack | 11 | Tunis, Tunisia | dorm 7 day |
| Harned, Butch | 11 | Gelnhausen | 2093 |
| Harned, Owen | 12 | Gelnhausen | 2093 |
| Harrell, Vernon | 11 | Darmstadt | 72882 |
| Harrison, Jim | 11 | Gelnhausen | 3827 |
| Harris, Woody | 12 | Steinbach | none |
| Hawes, Gary | 10 | Frankfurt | 522366 |
| Healey, Denny | 11 | Frankfurt | 552269 |
| Hedrick, Judy | 11 | Oberursel | 2061 |
| Heffner, Joann | 11 | Frankfurt | 521281 |
| Heller, Virginia | 11 | Frankfurt | 529252 |
| Hennessy, Donna | 11 | Mörfelden | 2247 |
| Hennessy, Mary | 10 | Gießen | 4406 |
| Henry, Joan | 11 | Bad Hersfeld | dorm 5 day |
| Henson, Ken | 11 | Wildenrath | dorm 7 day |
| Hepfl, George | 10 | Höchst | 315137 |
| Hercier, Bonnie | 12 | Butzbaoh | 3192 |
| Hernández, José | 10 | Hanau | 5789 |
| Hernández, Ricardo | 11 | Hanau | 5789 |
| Hetzel, Gail | 10 | Frankfurt | 724843 |
| Hidalgo, Antonio | 11 | Bad Nauheim | 4345 |
| Hidalgo, Noel | 10 | Bad Nauheim | 4345 |
| Hildebrand, Bernd | 11 | Frankfurt | 522816 |
| Hill, Gary | 11 | Höchst | 315132 |
| Hill, Jackie | 12 | Kaiserslautern | 5011 |
| Hill, Joe | 12 | Gießen | 5540 |
| Hill, Marti | 11 | Frankfurt | 551527 |
| Hill, Neil | 11 | Frankfurt Edwards | 522158 |
| Hill, Ralph | 10 | Aschaffenburg | 25950 |
| Hines, Bobbie | 11 | Frankfurt | 524088 |
| Hinners, John | 10 | Frankfurt | 706956 |
| Hinton, Leon | 10 | Hanau | 5231 |
| Hirshfeld, Ross | 12 | Bad Vilbel | 2131 |
| Hoeg, Nancy | 12 | Frankfurt | 553778 |
| Hogan, Tina | 10 | Frankfurt | none |
| Holloway, Dentous | 12 | Aschaffenburg | none |
| Holloway, Doris | 11 | Aschaffenburg | none |
| Holloway, Elaine | 12 | Aschaffenburg | 29857 |
| Holt, Hannelore | 10 | Frankfurt | 29478 |
| Holt, James | 11 | Gelnhausen | 3480 |
| Holt, Werner | 11 | Aschaffenburg | 25478 |
| Hoofnagle, Jay | 12 | Bad Godesberg | dorm 5 day |
| Hooper, Cathy | 11 | Rhein Main | 698394 |
| Howard, Dan | 12 | Frankfurt | 521256 |
| Howell, Richard | 11 | Bad Hersfeld | dorm 5 day |
| Howell, Ruth | 10 | Langen | 2530 |
| Howells, Peter | 10 | Frankfurt Edwards | 527848 |
| Howe, Nancy | 11 | Frankfurt | none |
| Hudson, Alan | 10 | Frankfurt | 528370 |
| Huff, Charles | 10 | Gelnhausen | 1218 |
| Huffman, Billie Jean | 11 | Darmstadt | 77668 |
| Huffman, Cheryl | 10 | Frankfurt | 523124 |
| Hughes, Linda | 11 | Babenhausen | 513 |
| Hughes, Patricia | 12 | Walldorf | none |
| Huitt, William | 11 | Frankfurt | 554717 |
| Hulse, John | 12 | Hanau | 5601 |
| Hults, Ann | 12 | Kassel | dorm 5 day |
| Hunnicutt, Jerald | 11 | Gelnhausen | 3830 |
| Hunter, Steven | 11 | Hanau | 6125 |
| Hutchinson, Chris | 10 | Frankfurt Gibbs | 5725397 |
| Hycener, Joyce | 11 | Hanau | 5102 |
| Hynds, Caroline | 11 | Mörfelden | 2282 |
| Inks, Peter | 11 | Butzbach | 3773 |
| Irby, John | 11 | Hanau | none |
| Irlenborn, Pete | 12 | Darmstadt | 72353 |
| Irvine, Ann | 12 | Frankfurt | none |
| Isaacs, Elaine | 11 | Frankfurt | 552554 |
| Isenhath, Merry | 12 | Hanau | 2382-760 |
| Isenstead, Eric | 11 | Frankfurt | 551267 |
| Ives, Pam | 10 | Frankfurt | 522512 |
| Jackson, Kathleen | 11 | Hanau Neu Argonner | 5268 |
| Jackson, Martha | 10 | Frankfurt Edwards | 527941 |
| Jackson, Sara | 12 | Hanau Neu Argonner | 5830 |
| Jacobs, Jerry | 11 | Frankfurt | 524642 |
| Jaekels, Dallas | 10 | Gießen | 4492 |
| James, Connie | 11 | Babenhausen | 504 |
| James, Walter | 11 | Langen | 3808 |
| Jamison, Tom | 11 | Aschaffenburg | 29728 |
| Jenkins, Sharon | 11 | Hanau | 77193 |
| Jerry, Dianne | 11 | Bad Homburg | 5517 |
| Johnson, Douglas | 10 | Frankfurt | 526995 |
| Johnson, Iva Lou | 12 | Hanau | 6161 |
| Johnson, Jenny L. | 11 | Hanau | 5130 |
| Johnson, Johnnie | 12 | Frankfurt | 524694 |
| Johnson, Karen | 11 | Gießen | 5262 |
| Johnson, Loreen | 12 | Darmstadt | 76984 |
| Johnson, Olli | 10 | Darmstadt | 8676 |
| Johnston, John | 10 | Frankfurt | 523309 |
| Johnston, Walter | 11 | Langen | 2754 |
| Jones, Billy | 11 | Büdingen | none |
| Jones, William | 12 | Hanau | 5235 |
| Jordan, Larry | 12 | Langenselbold | none |
| Jorgensen, Jerry Lou | 12 | Belgrade, Jugoslavia | dorm 7 day |
| Joslin, Sandra | 10 | Hanau | none |
| Julian, Willy | 10 | Frankfurt Gibbs | 527858 |
| Kadlec, Jane | 11 | Frankfurt | 556788 |
| Kauz, Elka | 11 | Frankfurt | 520933 |
| Kay, Carol | 11 | Darmstadt | none |
| Kellerman, Skip | 10 | Frankfurt | 522659 |
| Keller, Mary Frances | 12 | Frankfurt | 315103 |
| Kelley, Charlene | 11 | Darmstadt | 76886 |
| Kelley, William | 10 | Büdingen | 808 |
| Kelly, James | 10 | Rhein Main | 8455 |
| Kelly, Sandra | 10 | Rhein Main | 8455 |
| Kelston, Dave | 11 | Frankfurt | 553657 |
| Kemp, Josee | 12 | Gießen | dorm 5 day |
| Kencke, Ray | 11 | Gießen | 5491 |
| Kennon, Anne | 11 | Fulda | dorm 5 day |
| Kerekes, Attila | 10 | Frankfurt | 521450 |
| Kerley, Dennis | 11 | Bad Vilbel | 2146 |
| Kimball, Barbara | 11 | Darmstadt | none |
| King, Carolyn | 12 | Frankfurt | 721728 |
| King, Dorothy | 11 | Langen | 2576 |
| Kinnison, William | 12 | Gießen | dorm 5 day |
| Kish, Ernest | 11 | Frankfurt | 524744 |
| Klepper, Bob | 11 | Bad Godesberg | dorm 5 day |
| Klinger, Doris | 10 | Frankfurt Edwards | 527539 |
| Knapp, Bo | 12 | Bad Hersfeld | dorm 5 day |
| Knapp, Carol | 10 | Langen | 2511 |
| Knouse, Debbie | 10 | Aschaffenburg | none |
| Knouse, Karen | 10 | Aschaffenburg | none |
| Koepke, Angela | 11 | Frankfurt | 76944 |
| Kosechata, Evie | 10 | Bad Nauheim | 4121 |
| Kranich, Bill | 12 | Bad Godesberg | dorm 5 day |
| Kranich, Chloris | 10 | Bad Godesberg | dorm 5 day |
| Kyarsgaard, Karl | 11 | Darmstadt | 76889 |
| Laack, Suzanne | 10 | Hanau | 20968 |
| Lacey, Richard | 10 | Frankfurt | 591366 |
| Lamb, Diane | 10 | Frankfurt | 527286 |
| Lancaster, Larry | 11 | Hanau | 6164 |
| Lane, Mike | 11 | Kassel | dorm 5 day |
| Langan, JoAnne | 11 | Frankfurt | 523367 |
| LaPaille, John | 10 | Darmstadt | 76861 |
| Lapin, Bob | 11 | Frankfurt | 523367 |
| Lassner, Monica | 10 | Frankfurt | 556857 |
| Laster, Ruby | 11 | Hanau | 5162 |
| Laverentz, Alrita | 10 | Frankfurt | 521321 |
| Layson, Linda | 11 | Gelnhausen | 542 |
| Le Beau, La Vera | 12 | Bad Nauheim | 4126 |
| Lefler,Tom | 10 | Frankfurt | 551594 |
| Leftwick, Bob | 10 | Bad Homburg | none |
| Lehenbauer, Brigitte | 11 | Gelnhausen | 3813 |
| Leidecker, Gary | 11 | Kelsterbach | 528 |
| Lelekis, John | 12 | Frankfurt | 521996 |
| Leonard, George | 11 | Frankfurt | 555180 |
| Lewis, Barbara | 11 | Gießen | dorm 5 day |
| Lewis, Billy | 11 | Frankfurt Gibbs | 524675 |
| Lewis, Dianne | 12 | Frankfurt Gibbs | 524675 |
| Liddington, Donna | 10 | Buchschlag | 2114 |
| Lightsey, Skip | 12 | Bad Godesberg | dorm 5 day |
| Lindatrom, Bob | 12 | Aschaffenburg | 25946 |
| Lindsey, George | 10 | Frankfurt | 528024 |
| Liotta, Andrea | 12 | Frankfurt | 528230 |
| Little, Dodie | 11 | Butzbach | 3101 |
| Little, William | 11 | Aschaffenburg | 29494 |
| Locke, Donna | 10 | Darmstadt | 77753 |
| Lockyer, Bob | 11 | Frankfurt | 524296 |
| Logan, Andrew | 12 | Frankfurt | 553065 |
| Loman, Katherine | 10 | Frankfurt | 774758 |
| Lomax, Art | 12 | Wildflecken | dorm 5 day |
| Lombardi, Donna | 12 | Afghanistan | dorm 7 day |
| Looney, William | 10 | Wildflecken | dorm 5 day |
| Loranger, Dave | 11 | Frankfurt | none |
| Loranger, Janene | 10 | Frankfurt | 528200 |
| Lossing, Donald | 11 | Aschaffenburg | none |
| Lowe, Luis | 11 | Frankfurt | 522676 |
| Lowman, Sandy | 11 | Frankfurt | 522095 |
| Lucas, Sherry | 11 | Gießen | dorm 5 day |
| Ludwig, Suzanne | 11 | Hanau | 5881 |
| Luedtke, Edward | 12 | Frankfurt | none |
| Lumsden, Larry | 10 | Frankfurt | 520306 |
| Luna, Douglas | 11 | Frankfurt | 527266 |
| Lybarger, Mike | 11 | Rhein Main | 698114 |
| Lyle, Lynda | 12 | Frankfurt | 559508 |
| Mackey, Walter | 10 | Frankfurt Edwards | 520354 |
| Madigan, Larry | 10 | Frankfurt | 557187 |
| Magnusson, John | 12 | Cascais, Portugal | dorm 7 day |
| Mahoney, Daniel | 11 | Rhein Main | 69106 |
| Mahoney, Maureen | 10 | Rhein Main | 69106 |
| Maleady, Peter | 12 | Oberursel | 06171-3431 |
| Malone, Tom | 11 | Frankfurt | 62501 |
| Marcus, Roger | 10 | Bad Godesberg | 65060 |
| Marlette, Cheryl | 12 | Bad Vilbel | 2188 |
| Marling, Judith | 11 | Hanau | 863 |
| Marra, Don | 11 | Butzbach | dorm 5 day |
| Marsden, Melinda | 12 | Rhein Main | 69298 |
| Martell, Himar | 10 | Frankfurt | none |
| Martin, Joe | 11 | Frankfurt Edwards | 528061 |
| Mason, Bob | 10 | Fulda | 5582 |
| Maughan, George | 11 | Hanau | 6893 |
| May, Dennis | 11 | Aschaffenburg | none |
| Mayers, Ann | 10 | Frankfurt | 553999 |
| May, Ronnie | 11 | Aschaffenburg | none |
| McAlhany, Domald | 10 | Frankfurt Betts | none |
| McCaffrey, Tom | 11 | Frankfurt | 556265 |
| McCall, Barry | 11 | Frankfurt | 526383 |
| McCall, Joseph | 10 | Frankfurt | 520383 |
| McCall, Russell | 10 | Frankfurt | 527953 |
| McDaniel, Harriett | 10 | Gießen | 5424 |
| McDaniel, Marsh | 10 | Gießen | 5424 |
| McDonald, Sheila | 12 | Frankfurt | 592093 |
| McDougald, Ronnie | 10 | Kassel | dorm 5 day |
| McGaffigan, Bernard | 11 | Langen | 2747 |
| McGranaghan, Patricia | 10 | Hanau | 5259 |
| McHugh, Frank | 10 | Frankfurt Edwards | 52748 |
| McIntire, Jill | 11 | Hanau | 6 |
| McIntyre, Sue | 10 | Frankfurt | 512757 |
| McKee, Stan | 11 | Aschaffenburg | dorm 5 day |
| McKeithon, Barbara | 10 | Rhein Main | 698136 |
| McKendrick, Pat | 11 | Bad Godesberg | dorm 5 day |
| McKinney, Leslie | 11 | Rhein Main | 698136 |
| McLaughlin, Betty | 11 | Stockholm, Sweden | dorm 7 day |
| McLaurin, Shelten | 11 | Frankfurt | 551162 |
| McLees, Zaok | 10 | Frankfurt | 555290 |
| McNeer, Scott | 10 | Butzbach | 2936 |
| McRoberts, Bill | 11 | Darmstadt | 20836 |
| McTaggart, Penny | 10 | Darmstadt | 75182 |
| McTaggart, William | 11 | Darmstadt | 75182 |
| Melloh, Kathy | 11 | Frankfurt | 558886 |
| Meppen, Bonnie | 10 | Lahr | dorm 7 day |
| Metzger, Larry | 10 | Koblenz | 34085 |
| Meyer, Charles | 10 | Frankfurt | 552445 |
| Milde, David | 10 | Darmstadt | 77690 |
| Miller, Almollene | 11 | Frankfurt | 524122 |
| Miller, Carol | 12 | Darmstadt | 77663 |
| Miller, David | 10 | Bad Homburg | 6225 |
| Miller, Debby | 11 | Bad Godesberg | dorm 5 day |
| Miller, Mary Ann | 12 | Rhein Main | 69190 |
| Miller, Nancy | 11 | Darmstadt | 77663 |
| Mills, Michael | 10 | Bad Nauheim | 4133 |
| Mitchell, Mary | 10 | Langen | 6196 |
| Miyares, Mary Ann | 10 | Frankfurt | 511252 |
| Mock, Mary Lynne | 10 | Darmstadt | 77769 |
| Montgomery, Virgil | 10 | Hanau | 5662 |
| Moody, Polly | 11 | Hanau | none |
| Moon, Mike | 10 | Buchschlag | 8402 |
| Moore, David | 11 | Darmstadt | 76914 |
| Moore, Evelyn | 10 | Frankfurt | 527304 |
| Moore, Grady | 10 | Frankfurt | 554746 |
| Moore, Jim | 12 | Frankfurt | 552298 |
| Moore, Richard | 10 | Hanau | 20929 |
| Morehouse, Virginia | 11 | Butzbach | 3808 |
| Morgan, Harold | 12 | Gießen | 5201 |
| Morgan, Mark | 10 | Frankfurt | 522513 |
| Morris, Geraldine | 10 | Bad Nauheim | 4266 |
| Morrison, Richard | 12 | Aschaffenburg | 52686 |
| Morris, Pam | 11 | Frankfurt | 778015 |
| Mortimer, Laurel Lee | 11 | Frankfurt | 520317 |
| Moxness, Karen | 12 | Bad Godesberg | dorm 5 day |
| Moye, Mary | 11 | Hanau | 5427 |
| Moyer, Eric | 11 | Rückingen | none |
| Mozzacchi, Betty | 10 | Babenhausen | 676 |
| Muffet, James | 11 | Hanau | 6147 |
| Mullins, Mike | 11 | Frankfurt Gibbs | 527692 |
| Murphey, Sam | 10 | Darmstadt | 75124 |
| Muston, Kurt | 12 | Frankfurt | 527257 |
| Mutter, Spence | 10 | Frankfurt Gibbs | 527667 |
| Myers, Michael | 10 | Darmstadt | 76743 |
| Myers, Ramella | 11 | Frankfurt Gibbs | 527772 |
| Myers, Rick | 12 | Fulda | dorm 5 day |
| Myers, Rodger | 11 | Fliegerhorst | none |
| Neafus, Joliene | 11 | Gießen | dorm 5 day |
| Neal, Monique | 11 | Bad Godesberg | dorm 5 day |
| Neeld, Sharon | 12 | Frankfurt | 524487 |
| Nestler, John | 10 | Frankfurt Gibbs | 528224 |
| Neuman, Kenneth | 10 | Frankfurt | none |
| Newlan, Loy | 12 | Hanau | 5190 |
| Nichols, Billie | 10 | Frankfurt | 527387 |
| Noe, Roena | 10 | Wildflecken | dorm 5 day |
| Nolen, Eruce | 11 | Frankfurt | 52788 |
| Oberman, Barbara | 11 | Frankfurt | 312019 |
| Obitz, Fred | 12 | Frankfurt | 556694 |
| Obley, Bill | 11 | Frankfurt | 522590 |
| O'Callaghan, Lorena | 12 | Hanau | 5712 |
| O'Callaghan, Margaret | 12 | Hanau | 5712 |
| O'Connell, Bill | 11 | Babenhausen | 726 |
| O'Connell, Mary Ann | 12 | Babenhausen | 726 |
| O'Donnell, Pat | 12 | Langen | 2540 |
| O'Leary, Frank | 12 | Frankfurt Edwards | 523591 |
| O'Leary, Patty | 12 | Frankfurt Edwards | 523591 |
| O'Nan, Michael | 12 | Frankfurt Edwards | 527400 |
| Oren, Cheryl | 11 | Bad Godesberg | 62902 |
| Orthner, Hans | 12 | Oberursel | 3235 |
| Osborne, Robert | 12 | Brussels, Belgium | dorm 7 day |
| Osgood, Pamela | 10 | Frankfurt | none |
| Owens, Barry | 10 | Hanau | 5587 |
| Pabón, Angela | 12 | Aschaffenburg | 29612 |
| Pabón, Maria | 10 | Aschaffenburg | 29612 |
| Palik, Meredyth | 12 | Frankfurt | 552629 |
| Palmer, Carol | 12 | Rhein Main | 698218 |
| Palmer, Johnny | 10 | Rhein Main | 698218 |
| Palumbo, Tony | 11 | Frankfurt Edwards | 527617 |
| Parker, Barry | 10 | Bad Godesberg | dorm 5 day |
| Parker, Joanna | 11 | Frankfurt | 522649 |
| Parker, Lester | 11 | Büdingen | dorm 5 day |
| Parker, Richard | 10 | Aschaffenburg | 24948 |
| Parmenter, Joan | 12 | Langen | 2533 |
| Parmenter, Nancy | 10 | Langen | 2533 |
| Parnell, Marion | 12 | Frankfurt | 552753 |
| Parrot, Jim | 11 | Bad Vilbel | 713-2136 |
| Parsons, Monika | 11 | Gelnhausen | 2059 |
| Pavick, Paul | 10 | Hanau | 5844 |
| Pavlis, Richard | 11 | Frankfurt Gibbs | 527851 |
| Payne, Susan | 11 | Rhein Main | 699162 |
| Pearson, Jessie | 10 | Gelnhausen | 2027 |
| Peden, Marie | 10 | Friedburg | 7284 |
| Pell, Bob | 12 | Bad Vilbel | 2132 |
| Pell, Ginny | 11 | Bad Vilbel | 2132 |
| Pera, Jim | 10 | Frankfurt | none |
| Perdue, Donna | 10 | Bad Nauheim | 3025 |
| Person, Martha | 12 | Djursholm, Sweden | dorm 7 day |
| Persons, Larry | 10 | Frankfurt | 522789 |
| Peters, Sheila | 10 | Hanau | 6885 |
| Philips, Jan | 10 | Frankfurt | 65478 |
| Phillips, Ann | 10 | Sprendlingen | 8245 |
| Phillips, Burel | 11 | Frankfurt | 524035 |
| Phillips, Jean | 10 | Gießen | dorm 5 day |
| Phillips, Sara | 12 | Hanau | 5152 |
| Piknash, Darlene | 10 | Gelnhausen | 2057 |
| Piñero, Alma | 11 | Hanau | 6108 |
| Piñero, Elba | 12 | Hanau | 6108 |
| Piñero, Myrna | 10 | Hanau | 6108 |
| Pitkin, Dorthy | 10 | Frankfurt | none |
| Pitkin, Margie | 11 | Frankfurt | none |
| Pollarli, Kenneth | 10 | Frankfurt Edwards | 528073 |
| Porter, Jack | 10 | Frankfurt | 526989 |
| Portfolio, Donald | 12 | Hanau | 5075 |
| Posey, Charles | 10 | Aschaffenburg | 29606 |
| Povendo, Michael | 11 | Frankfurt | 555449 |
| Powell, Susanne | 10 | Rhein Main | 69524 |
| Power, Fiona | 10 | Oberursel | 3450 |
| Price, James | 11 | Darmstadt | 77647 |
| Price, Julie | 11 | Gießen | 5388 |
| Price, Kitty | 12 | Büdingen | 882 |
| Price, Pat | 10 | Frankfurt | 527397 |
| Price, Ronald | 10 | Gießen | 82873 |
| Prince, Andy | 12 | Frankfurt | 554146 |
| Puetzmann, Pete | 12 | Friedburg | none |
| Pumfrey, Marilyn | 11 | Brussels, Belgium | dorm 7 day |
| Quarti, Ronald | 10 | Rhein Main | 698206 |
| Rackley, James | 11 | Gelnhausen | 5851 |
| Raforth, Bob | 11 | Rhein Main | 698686 |
| Raine, Tom | 11 | Frankfurt Edwards | 522387 |
| Randle, Susan | 11 | Rhein Main | 69124 |
| Rankin, Tom | 11 | Bad Nauheim | 4330 |
| Rannnels, Bob | 11 | Mörfelden | 2063 |
| Ransom, Don | 12 | Büdingen | dorm 5 day |
| Raschke, Mike | 12 | Kassel | dorm 5 day |
| Raunswinter, Donna | 10 | Babenhausen | 588 |
| Rau, Ted | 11 | Hanau | none |
| Ravenscroft, Linda | 10 | Frankfurt Gibbs | 511438 |
| Ray, Linda | 11 | Frankfurt | 521572 |
| Ready, Gail | 10 | Frankfurt | 438279 |
| Rebello, Janet | 10 | Darmstadt | 70564 |
| Reed, Bob | 10 | Friedburg | 7133 |
| Reed, Lisa | 12 | Hanau | 5511 |
| Reed, Rose | 10 | Friedburg | 7133 |
| Reedy, Charles | 10 | Gelnhausen | 2874 |
| Rees, Phyllis | 12 | Frankfurt | 551509 |
| Reiner, Mary | 11 | Frankfurt | 551842 |
| Reinhard, Carol | 10 | Rhein Main | 69420 |
| Repuyan, Lilia | 11 | Hanau | 5563 |
| Revey, Fat | 11 | Frankfurt | 520327 |
| Reynolds, Brenda | 10 | Frankfurt Edwards | 527481 |
| Reynolds, Linda | 10 | Frankfurt Edwards | 527481 |
| Richards, Charlotte | 10 | Rhein Main | 696742 |
| Richardson, Fred | 12 | Frankfurt Gibbs | 527648 |
| Rigsby, Georgia | 11 | Frankfurt | 524676 |
| Rivera, Carlos | 12 | Frankfurt | 523394 |
| Rivera, Eddie | 12 | Gelnhausen | 2834 |
| Roberson, Genell | 11 | Bruchköbel | none |
| Roberts, Bill | 10 | Butzbach | 5530 |
| Robertson, Arline | 11 | Frankfurt | 520794 |
| Robertson, Terry | 12 | Frankfurt | 520794 |
| Robinson, Lucy | 11 | Aschaffenburg | 29595 |
| Robinson, Tom | 12 | Darmstadt | 77845 |
| Rodríguez, José | 11 | Babenhausen | 2204 |
| Rogala, Mike | 10 | Büdingen | 5410 |
| Rosendahl, Pete | 11 | Frankfurt | 554502 |
| Ross, Franz | 12 | Oberursel | 3188 |
| Roth, Michael | 11 | Frankfurt | 521980 |
| Ruelos, Rick | 10 | Butzbach | 3784 |
| Ruelos, Wayne | 10 | Gießen | 118039 |
| Sabens, Linda | 10 | Hanau | 5212 |
| Sakai, Carolyn | 11 | Oberursel Camp King | 3270 |
| Salisbury, Loralee | 11 | Darmstadt | 76767 |
| Samson, Bernd | 10 | Frankfurt | 500557509 |
| Sandage, Paulette | 11 | Bad Nauheim | 4444 |
| Sansing, Sandra | 10 | Gelnhausen | 3032 |
| Sargent, Colleen | 11 | Oberursel Camp King | 3263 |
| Sarver, Cheran | 10 | Frankfurt | 523226 |
| Sawin, Deanna | 12 | Frankfurt | 527860 |
| Sawyer, Marina | 12 | Hanau | 5747 |
| Scarfia, Sandy | 11 | Gießen | none |
| Schneider, Cheryl | 11 | Gießen | dorm 5 day |
| Schon, Mathias | 11 | Frankfurt | 554167 |
| Schrader, Sylvia | 12 | Frankfurt | 527929 |
| Schubert, Carl | 10 | Gießen | dorm 5 day |
| Schuchardt, Michael | 11 | Wildflecken | dorm 5 day |
| Schuster, Evelyn | 11 | Hanau | 6819 |
| Schutt, John | 11 | Frankfurt | 525102 |
| Scott, Sharon | 12 | Frankfurt | 527991 |
| Scruggs, Feter | 11 | Frankfurt | 783848 |
| Scruggs, James | 10 | Frankfurt | 783848 |
| Search, Virginia | 10 | (unknown) | none |
| Seeven, Judith | 10 | Gießen | 5518 |
| Selgado, Mary Lou | 10 | Darmstadt | none |
| Sellers, Michael | 10 | Frankfurt Gibbs | 523866 |
| Sendalls, Bill | 11 | Hamburg | dorm 7 day |
| Shaffer, Bob | 12 | Bad Godesberg | dorm 5 day |
| Shaffer, Dorothy | 10 | Gießen | 5542 |
| Shaffer, Frank | 10 | Frankfurt Edwards | none |
| Sheppard, Lawrence | 10 | Hanau | 6866 |
| Sherwood, Tim | 11 | Aschaffenburg | 29657 |
| Shield, Joanne | 12 | Frankfurt | 521984 |
| Shoudel, Anne | 11 | Frankfurt | 528486 |
| Shouse, Ann | 10 | Langen | 2776 |
| Sickler, Arthur | 10 | Hanau | none |
| Simenson, Bonnie | 11 | Bad Godesberg | dorm 5 day |
| Singletary, Thomas | 10 | Hanau | 24124 |
| Siryk, Natalie | 12 | Frankfurt | 524465 |
| Skelton, Carol | 12 | Frankfurt | 522459 |
| Skipper, Gene | 10 | Gelnhausen | 2894 |
| Slade, Lawrence | 10 | Wildflecken | dorm 5 day |
| Slater, Marty | 11 | Gießen | 5519 |
| Slaughter, Ralph | 10 | Frankfurt | none |
| Sleeker, Bob | 11 | Frankfurt Edwards | 522403 |
| Sloan, Ludwig | 10 | Fulda | dorm 5 day |
| Smith, Barbara | 12 | Frankfurt | 558923 |
| Smith, Benny | 10 | Gießen | 5261 |
| Smith, David | 10 | Hamburg | dorm 7 day |
| Smith, John | 10 | Fulda | dorm 5 day |
| Smith, Kenna | 10 | Neu-Isenberg | 2227 |
| Smith, Phil | 10 | Aschaffenburg | 2967 |
| Snyder, Stephen | 12 | Gießen | none |
| Spaarks, Jack | 10 | Frankfurt | 520307 |
| Spencer, Suzanne | 12 | Gießen | 4464 |
| Sprinkle, Marsha | 11 | Frankfurt | 555902 |
| Stallings, Penny | 11 | Walldorf | none |
| Swedberg, Scott | 11 | Frankfurt | 556819 |
| Taft, Marsha Jo | 11 | Bad Homburg | 5495 |
| Tambornino, Donna | 12 | Frankfurt Edwards | 522318 |
| Taylor, Dave | 12 | Hanau | 5610 |
| Taylor, Dianne | 12 | Rhein Main | 6981860 |
| Taylor, Erika | 10 | Frankfurt | 520320 |
| Taylor, Gwynne | 10 | Frankfurt | none |
| Taylor, Kathleen | 12 | Rhein Main | 698209 |
| Taylor, Ronnie | 12 | Fulda | dorm 5 day |
| Tener, Jo Ann | 10 | Rhein Main | 69666 |
| Thacker, John | 12 | Darmstadt | 77128 |
| Theil, Ingrid | 12 | Fulda | dorm 5 day |
| Thesleff, Eva | 11 | Brussels, Belgium | dorm 7 day |
| Thompson, Bill | 10 | Mörfelden | 2501 |
| Thomson, Anita | 11 | Offenbach | 882273 |
| Thorson, Roger | 11 | Frankfurt | 521551 |
| Tillman, James | 11 | Frankfurt | 555905 |
| Toffton, Peggy | 11 | Langen | none |
| Topp, Linda | 10 | Frankfurt | 774925 |
| Topp, Sue | 11 | Frankfurt | 774925 |
| Torrance, Hugh | 11 | Frankfurt Gibbs | 524923 |
| Townley, Eileen | 12 | Frankfurt | 528027 |
| Tozier, Dave | 12 | Frankfurt | 528391 |
| Traylor, Brigitte | 10 | Hanau | none |
| Trilano, Julie | 11 | Darmstadt | 76855 |
| Trollinger, John | 12 | Darmstadt | 25948 |
| Turlington, John | 10 | Frankfurt | 523477 |
| Turner, Gerry | 12 | Babenhausen | 630 |
| Urquhart, Dorothy | 12 | Butzbach | 2024 |
| Van Hellens, Rolf "Pat" | 10 | Hamburg | dorm 7 day |
| Vaughan, Patsy | 12 | Bad Vilbel | 713-2179 |
| Vaughan, Sandy | 10 | Bad Vilbel | 713-2179 |
| Vaughn, Janice | 12 | Frankfurt | 522587 |
| Vaughn, Jill | 11 | Frankfurt | 522587 |
| Vogt, Gerry | 12 | Frankfurt Gibbs | 522414 |
| Voigt, Helgard | 11 | Frankfurt | 522414 |
| Walker, Marcia | 11 | Rhein Main | 698362 |
| Walker, Michael | 10 | Rhein Main | 698362 |
| Walling, Jan | 12 | Frankfurt | 525752 |
| Wall, Mitchell | 10 | (unknown) | none |
| Ward, John | 12 | Gießen | 4454 |
| Watkins, Gloria | 10 | Büdingen | 805 |
| Watson, Irma | 11 | Fulda | dorm 5 day |
| Watts, Eugene | 11 | Friedburg | 7114 |
| Watts, Pam | 10 | Friedburg | 7114 |
| Waugh, Van | 12 | Frankfurt | 522349 |
| Weaver, Sue | 12 | Bad Godesberg | dorm 5 day |
| Weber, Chuck | 12 | Rhein Main | 69736 |
| Weber, Frank | 11 | Frankfurt | 527169 |
| Welch, Frances | 11 | Frankfurt Edwards | 522344 |
| Wendlick, Sherrill | 10 | Frankfurt | 524997 |
| Weyer, Joseph | 12 | Griesheim | none |
| Wheeler, Carole | 11 | Butzbach | none |
| Whelan, Richard | 11 | Frankfurt | 523029 |
| White, Jan | 12 | Gießen | 4407 |
| White, Lester | 10 | Bad Nauheim | 4332 |
| Whitley, Frieda | 12 | Frankfurt | 527714 |
| Wignall, Margaret | 11 | Frankfurt | 52839 |
| Wiley, Robert | 10 | Wildflecken | dorm 5 day |
| Wilkson, Susanna | 11 | Kassel | dorm 5 day |
| Williams, Carol | 10 | Frankfurt | 523323 |
| Williams, Jeanne | 10 | Buchschlag | 8330 |
| Williams, Michael | 10 | Hanau | 5424 |
| Williamson, Elizabeth | 10 | Bad Godesberg | dorm 5 day |
| Williscroft, Beverly | 11 | Darmstadt | 537 |
| Willls, Linda | 10 | Hanau | 5121 |
| Wilson, Gary | 10 | Hanau | 5968 |
| Wilson, Mike | 11 | Buchschlag | 8398 |
| Winn, Shirley | 10 | Hanau | 5585 |
| Wiseman, Mary Ann | 10 | Aschaffenburg | 29762 |
| Withers, Leslie | 10 | Butzbach | 3817 |
| Withers, Margaret | 11 | Butzbach | 3817 |
| Withey, Peggy | 11 | Frankfurt | 558760 |
| Witta, Mary | 10 | Hanau | 5498 |
| Wojnaroski, Marleen | 10 | Frankfurt | 520318 |
| Wolfe, Hiram | 12 | Butzbach | 2993 |
| Wolfson, Becky | 10 | Gelnhausen | none |
| Wolk, Eric | 11 | Frankfurt | 528201 |
| Wolk, Stephen | 10 | Frankfurt | 528201 |
| Wood, Diana | 10 | Frankfurt Edwards | 527971 |
| Wood, Roy | 11 | Darmstadt | none |
| Woodruff, Wendy | 11 | Bad Vilbel | 2152 |
| Woods, Robert | 10 | Frankfurt | 522083 |
| Woodworth, Susanna | 11 | Bad Vilbel | 2448 |
| Wooten, Katherine | 11 | Hanau | 25567 |
| Worrall, Jay | 11 | Kobustein | none |
| Wortman, Bill | 11 | Bad Nauheim | 4447 |
| Wright, France | 11 | Darmstadt | 77128 |
| Wright, Pete | 12 | Hanau | 5768 |
| Wright, Shirley | 12 | Butzbach | 5484 |
| Wyckoff, Mary | 11 | Frankfurt | 558683 |
| Yakesh, Raymond | 11 | Rhein Main | 69253 |
| Yarger, Orval | 11 | Frankfurt | 553164 |
| Yates, Pat | 11 | Gießen | 5598 |
| Youngblood, Jerry | 11 | Frankfurt | 527336 |
| Youngdahl, Linda | 10 | Frankfurt | 522273 |
| Younger, Joe | 12 | Frankfurt | 527238 |
| Young, Susan | 10 | Frankfurt | 522896 |
| Youst, Jim | 10 | Hanau | none |
| Zachidny, Barry | 12 | Frankfurt Edwards | 555496 |
| Zigellaub, Hannah | 10 | Frankfurt | 725763 |
| Zimmerman, Jerrold | 10 | Oberursel | 3250 |