Drift-Resonant Fluctuations Observed in CTX
The Collisionless Terrella Experiment, or CTX, consists of a large vacuum vessel, a strong electromagnet, and a microwave power source, used to create and heat a plasma confined to a dipole magnetic field. Electron-cyclotron-resonance-heating, ECRH, is used to create an "artificial" radiation belt.
Below, a time-frequency spectrogram illustrates the complex waves that are excited in CTX. When the wave-spectrum satisfies the conditions for chaos, energetic electrons are ejected radially from the dipole magnetic trap.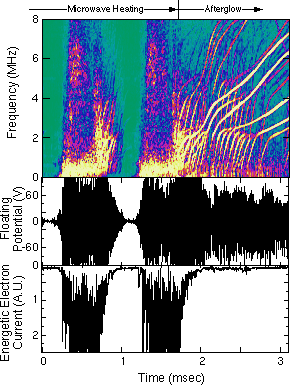 ---
Professor Michael E. Mauel
Department of Applied Physics
Columbia University
Room 210 S. W. Mudd Building
New York, NY 10027 U.S.A.

Phone: (212) 854-4455
Fax: (212) 854-8257

Email: mauel@columbia.edu


Last Update: September 4, 1995