Data through 2023/01/17. Last modified 2023/01/19.
Data source: The Disaster Center (1950-1997), Daniel McCarthy of NWS SPC paper (1997-1998) and NOAA's Storm Prediction Center (2000-2022).
Note: As Danniel McCarthy writes, the increase in the number of tornadoes in 1950-2000 can be attributed to better knowledge of tornadoes and tornado formation and a high interest in tornado observation.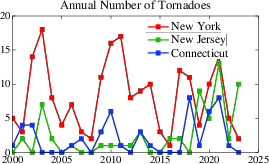 The figure has been revised following NOAA's data change. They give a note "Tornado numbers are preliminary and subject to revision." on their web page.
Data through 2022/12/31. Last modified 2023/01/03.