DPalmStd: Diacritical Sanskrit Standard fonts
for the Palm Pilot*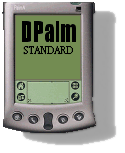 About
DPalmStd is a Palm Pilot font built for compatibility with Pierre Robillard's Sanskrit Diacritical fonts. (For full cross-platform compatibility Robillard's fonts should be used, and are available from the link above.)
Use
The DPalmStd font can be used alone to display pre-composed text files (from either the PC or Macintosh) in any of the numerous text readers available for the Palm (using Font Hack 123). It can also be used for composition on the Palm Pilot in any of the applications -- built-in or third-party, using the Graffiti handwriting recognition patch or the custom keyboard map for the Palm keyboard (both provided).


Below are usage diagrams for the DPalmStd Palm Keyboard (using Keyboard Localizer).

DPalmStd Keyboard Reference Card

Obtain
Available in two files, the Sanskrit data files ** and the helper applications.