Stew's Oldsmobiles
---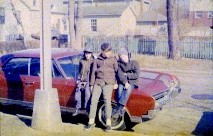 Back in late 1965 my father bought an Autumn Bronze (Maroon) 4 door 1966 Oldsmobile Delta 88. I was under 10 years old. Eventually, my brother and I learned how to drive in that Delta. My friend Mark and I also learned how to fix cars using the 66 Olds and his father's 67 Catalina as our guinea pigs. With all that attention from teenagers with nothing better to do, the car ran like a fine 310+ HP Swiss watch. In the last years of it's life we gave it the nickname 'the beast' since it looked like crap and ran phenomenally (I wish I had some pictures!). In around 1979 my dad couldn't stand the way it looked anymore. He wouldn't even keep it for the one mile commute to the railroad station. When we got rid of it the car had already clocked over 100k miles.
Since the car was mechanically near perfect, I couldn't bear to dump the whole car. I began a search for a suitable body to transplant the drivetrain. I found the perfect car. It was a 1966 Olds Starfire which had a decent body (no major accidents), faded Lucerne Mist (light blue) paint, a somewhat worn interior and was mechanically a disaster. During the gas crisis someone had yanked out the 370hp 425cu in 4-bbl dual exhaust engine and replaced it with a 330cu in 2-bbl single exhaust engine. Strangely enough the correct 4-bbl intake manifold was in the trunk. Besides that the transmission, brakes and suspension were shot. The car was downright dangerous. After some negotiating I got the car for $400. The Delta and Starfire were mechanically identical (except for the 4-bbl carb, intake manifold, dual exhaust, cam, compression ratio, and valves). We transferred every unboltable component from my fathers Delta 88 to the Starfire. We took the springs, front & rear control arms, front spindles, rear axle, entire braking system, 425cu in engine with a correct 4-bbl carb, correct left dual exhaust manifold (purchased new from Oldsmobile), cooling system, transmission, driveshaft, and more. We even rebuilt the engine, of course on a college student's budget (see pictures). This is how the car looked after we were done.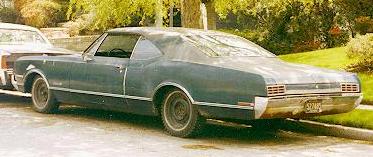 After I started working and earning real money, I did a bit more work. I painted the car and had the interior done. In about 1986, I also bought a 66 Dynamic 88 parts car just for it's 3.23 posi rear. The car came with a real 4-bbl engine (with forged crank), and a 4-speed manual transmission. The car came from Delaware and hadn't been driven in about two years. The drive to NY was fun! I installed the posi in the Starfire, removed and stored every 4-speed component (No they are not for sale, click here for more pictures), a rear quarter panel and anything else worthwhile on the car. When we were done with the Dynamic there was not much left (it had four tires and could roll).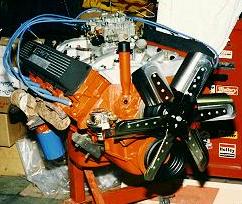 We rebuilt the Dynamic engine with a Kenne Bell cam, various Mondello components, forged pistons, ported heads, heavy duty valve springs, an Edelbrock 04B intake, a Holley double pumper, exhausting through Hush Trush mufflers and more. The engine normally runs great, except in this recording there is a slight misfire (listen -193k). After installing it in the Starfire and breaking it in (without rejetting the carb for the engine) on a hot August day, with the car nearly overheating, and a box of tools and a case of beer in ice in the trunk, we ran it on the dragstrip at Englishtown, NJ. Our best was 14.7 sec at 94mph. We figure with the carb rejetted and on a normal day we could run 14.2-14.3 sec. Our street 0-60 averages around 5.3 sec. Update: In October 2001, I ran the car on a cool damp evening, with a mild bog off the line, my "Direct Connection performance computer" showed 1/4 mile at 14.5 seconds at 99mph.
Before I got married in the late 1980s, we did some additional body work on a rusted rear quarter panel, and the Starfire was hit in the left front (by someone making a right turn from the left lane, I was going straight ahead in the right lane!). Not much has happened since and the car sits about 85% restored. (I need to take some pictures). I still drive it on nice days, for a total of about 300 miles per year.
---
last updated 2001-Dec-27, by Stewart Feuerstein - sff@columbia.edu