Sig Gissler
sg138@columbia.edu www.columbia.edu/~sg138

phone: 212-854-7327
fax: 212-854-3342



Teaching materials

Student work

last updated: 5/12/2009




Administrator, Pulitzer Prizes

Journalism professor, Columbia University

Specialist in race and media ethics

Teacher of the year, 1998

Presidential Teaching Award, 2002

Former editor, The Milwaukee Journal

Senior fellow, Media Studies Center, 1994

Journalism fellow, Stanford University, 1976
Sig Gissler, award-winning journalist and former editor of The Milwaukee Journal, is the administrator of the Pulitzer Prizes and a special faculty member of the Graduate School of Journalism at Columbia University. Joining the faculty in 1994, he taught the school's core reporting-and- writing course for 13 years. He also created a 15-week seminar on coverage of race and ethnic issues in urban America and taught it for eight years. Since 2006, he has been co-teaching a multimedia journalism course called "New Media Newsroom."

Gissler served as the school's academic dean from January to July, 1997, and in 1998 was voted "distinguished teacher of the year" by the school's students. In 1999, under the banner of "Let's Do It Better," Gissler founded the school's Workshops on Journalism, Race & Ethnicity for news media professionals, raising more than $1 million in Ford Foundation support and serving as the workshop director for two years.

In 2002, he was named to his Pulitzer post and also received a Presidential Teaching Award, one of five out of 300 Columbia professors nominated.
Born and reared in Chicago, Gissler has worked as a reporter, editorial writer, editor and senior newspaper executive. He holds a degree in American civilization from Lake Forest College and did graduate work in political science at Northwestern University.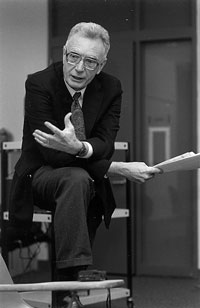 Gissler in race seminar
Gissler joined The Milwaukee Journal in 1967, after serving as executive editor of the Waukegan (Ill.) News-Sun. In 1975, he was awarded a journalism fellowship at Stanford University, returning to The Journal to become editorial page editor. He was appointed editor of the paper in 1985. Eight years later, after completing a 26-year career at The Journal, Gissler was named a senior fellow at the Freedom Forum Media Studies Center where he conducted an extensive analysis of media coverage of racial issues in America.
While editor of The Journal, Gissler increased newsroom diversity and in 1991 launched a year-long examination of racial issues in Milwaukee. He also organized a community forum on inner city unemployment that led to increased minority hiring by major companies. As a journalist, Gissler was wide ranging. He covered five national political conventions and undertook major foreign reporting assignments, from India to Latin America to the former USSR.
Gissler is a member of the International Press Institute and the American Society of Newspaper Editors, serving on ASNE committees on diversity and on journalism education. A former Pulitzer Prize juror, he was named Wisconsin "publisher of the year" in 1987, 1991 and 1992, and has won numerous awards for editorial writing and reporting. He was an adviser to the Poynter Institute's "Diversity Beyond 2000" project on race and journalism.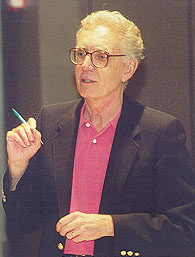 Gissler was a visiting professor at Stanford University in the summer of 1993 and was awarded a teaching fellowship at Indiana University in 1994. He has lectured widely on media issues and challenges, often focusing on the First Amendment, journalism ethics, newsroom diversity and the coverage of race and ethnicity. In 1997, he addressed an international conference looking "Beyond Racism," sponsored by the Southern Education Foundation. He served as a consultant to an NBC News project on race relations and has appeared on radio and television programs to discuss ethical issues and coverage of minority communities. In 2005, he traveled to China to discuss journalism education with Chinese students, professors and media leaders. He also has contributed to journalism publications and other periodicals and is working on a book about the interplay of race and media.
As Pulitzer administrator, Gissler has presided over extensive expansion of the Prizes into online journalism.
-30-
Teaching materials