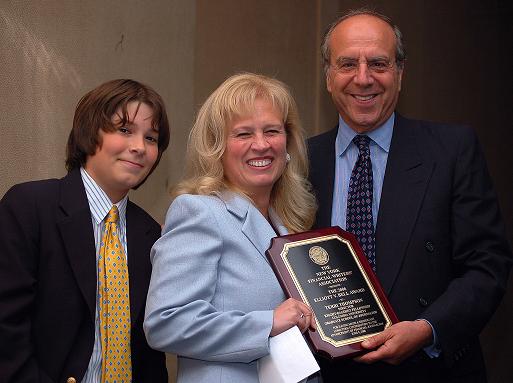 Terri Thompson became director of the Knight-Bagehot Fellowship in Economics and Business Journalism at Columbia Graduate School of Journalism in 1993. Founded in 1975 with a mission to improve the quality of business journalism, the Knight-Bagehot program provides full tuition and living stipends for mid-career journalists to attend an academic year of rigorous study in business, economics and finance at Columbia. Today, it is the only degree-granting journalism fellowship specializing in business, and, under Thompson's leadership, the endowment supporting the program quadrupled, 119 journalists received fellowships and hundreds more participated in Bagehot-sponsored educational events.
In her 20 years as a business journalist, she has reported, written and/or edited for the Coralville (Iowa) Courier, Purchasing Magazine, Business Week, Institutional Investor, U.S. News & World Report and Lear's.
A graduate of New York University and Columbia Graduate School of Journalism, and a 1981 Bagehot Fellow at Columbia, she is the author of Biz Kids' Guide to Success: Money-Making Ideas for Young Entrepreneurs (Barron's, 1992) and editor of Writing About Business: The New Columbia Knight-Bagehot Guide to Economics and Business Journalism (Columbia University Press, 2000).
A former president of New York Financial Writers' Association, and the recipient of numerous journalism awards, including the NYFWA's Elliott V. Bell award for making a significant, long-term contribution to the profession of financial journalism, Thompson lives in Manhattan with her son, Daniel Rosenthal.