The most important thing in my life is my family, which consists of my wife Christine, daughter Caroline (now 9), son J.R. (now 7), and daughter Lauren (now 5). I really ought to have some pictures posted here . . .
My main hobby is music -- I play piano and organ (I currently play organ in church each week) and bass guitar. I'm now playing bass with the band Throwback, and we're playing out with some regularity these days, mostly in northern New Jersey. I also occasionally play with Garry Mettler, the G Man. I also do some singing (although I haven't had much time for this lately) --- mainly barbershop style (I'm a lapsed member of SPEBSQSA). I used to play trombone (high school and some in college), but no time for it these days. Now I'm spending a fair amount of my time teaching piano to my kids. Before I moved to the New York area, I was playing bass in a band called X Bar Joe (get it?), which was originally formed from members of the statistics department at the USC, but with my departure, the band has divested itself of statisticians. I played on the demo tape, featured on the band's MP3 site.
And here's a picture of my car, which was born in 1966. Automatic transmission 289, bench seats, factory air (the air doesn't work, but most everything else does). I've owned it since 1991. It was a "daily driver" (my main means of transportation to and from work) for many years but now it sits in the garage awaiting a full renovation.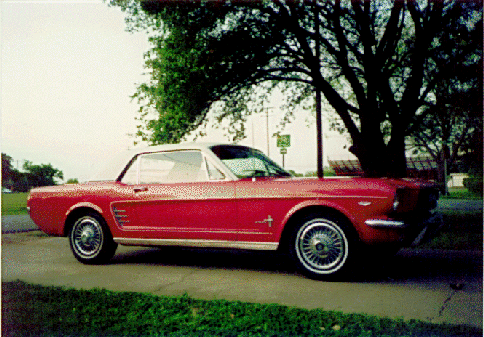 <!P><! And if that's not enough, there's also a picture of my> <!A HREF="grad.gif"><!family on graduation day><!/A><! in August 1994. This was also moving day to South Carolina.> <!P><! Other interests include ><!A HREF="mc.html"><!motorcycling><!/A><!, reading, and music (piano, bass guitar,> <!A HREF="http://timc.pop.upenn.edu"><!barbershop quartet singing><!/A> <!).> <!P> <!IMG ALIGN=top SRC="wavy.gif">
Back to Todd's Home Page