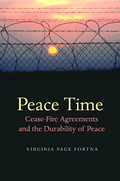 Click Cover to Order
Virginia Page Fortna. Peace Time: Cease-Fire Agreements and the Durability of Peace.
Princeton University Press, 2004.

Why do cease-fire agreements sometimes last for years while others flounder barely long enough to be announced? How to maintain peace in the aftermath of war is arguably one of the most important questions of the post--Cold War era. And yet it is one of the least explored issues in the study of war and peace. Here, Page Fortna offers the first comprehensive analysis of why cease-fires between states succeed or fail. She develops cooperation theory to argue that mechanisms within these agreements can help maintain peace by altering the incentives for war and peace, reducing uncertainty, and helping to prevent or manage accidents that could lead to war.

To test this theory, the book first explores factors, such as decisive victory and prior history of conflict, that affect the baseline prospects for peace. It then considers whether stronger cease-fires are likely to be implemented in the hardest or the easiest cases. Next, through both quantitative and qualitative testing of the effects of cease-fire agreements, firm evidence emerges that agreements do matter. Durable peace is harder to achieve after some wars than others, but when most difficult, states usually invest more in peace building. These efforts work. Strong agreements markedly lessen the risk of further war. Mechanisms such as demilitarized zones, dispute resolution commissions, peacekeeping, and external guarantees can help maintain peace between even the deadliest of foes.

Replication Data
The Cease-Fires Data Set
Endorsements and Reviews

"Peace Time deserves a prominent place in [the] new scholarship on war. The book is an outstanding example of creativity, scholarly attention to a normatively important question, hard-headed integrity as well as of the creative employment of multiple methods. . . . Fortna has produced an important book."--H.E. Goemans, Japanese Journal of Political Science

"This is a first-rate work of political science. Page Fortna does something all too rare in contemporary international relations research. She asks a normatively important question--what factors determine the success or failure of a peace agreement following an interstate war?--and then develops a compelling answer based on a systematic and careful consideration of relevant evidence. Both as an example of research methods and for its substantive conclusions it should be a natural choice for graduate and advanced undergraduate seminars."--James D. Fearon, Stanford University

"Addressing an extremely timely and important subject, this book will generate considerable interest from both the academic and policy community. Page Fortna offers a compelling analysis of the duration of peace and of the ability of belligerents and outsiders to affect the risks of a renewed war. Peace Time not only taught me a lot but also generated several new ideas I would like to pursue. I look forward to assigning it in both my undergraduate and graduate classes."--Suzanne Werner, Emory University

Cover Image

The photo was taken in the Golan Heights. The book's case studies include the cease-fires between Israel and Syria. The image nicely reflects peace, tense as it is, holding between these two states.