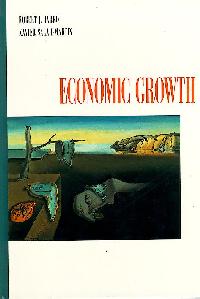 We are now thinking about the cover for the second edition. Please check the two options and send me an e-mail with your choice.

Table of Contents
Introduction, pp.1-9.
Chapter 1: Growth Models with Exogenous Saving Rates (the Solow - Swan Model), pp.14-58.
Chapter 2: Growth Models with Consumer Optimization (the Ramsey Model), pp. 59-95.
Chapter 3: The Open Economy and other Extensions of the Ramsey Growth Model, pp. 96-139.
Chapter 4: One-Sector Models of Endogenous Growth, pp. 140-170.
Chapter 5: Two-Sector Models of Endogenous Growth (with Special Attention to the Role of Human Capital), pp.171-211.
Chapter 6: Technological Change: Models with an Expanding Variety of Products, pp. 212-239.
Chapter 7: Technological Change: Models with Improvements in the Quality of Products, pp.240=264.
Chapter 8: The Diffusion of Technology, pp. 265-284.
Chapter 9: Labor Supply and Population, pp. 285-329.
Chapter 10: Data on Economic Growth, Growth Accounting, pp. 330-381.
Chapter 11: Empirical Analysis of Regional Data Sets, pp. 382-413.
Chapter 12: Empirical Analysis of a Cross Section of Countries, pp. 414-461.
Appendix on Mathematical Methods, pp. 462-517.
References, pp. 518-528.

Index, pp. 529-539.