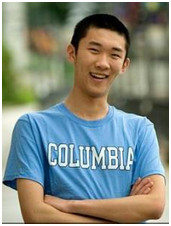 Zhenrui Liao
Biography
I am a third-year student in Electrical Engineering at Columbia University's School of Engineering and Applied Sciences. My interests are in Signal Processing, Machine Learning, and Neuroscience. I am currently working on unifying these interests by pursuing a combined BS/MS degree in Electrical Engineering, with a concentration in Systems Biology and Neuroengineering.
From a young age, I have been interested in how things worked, and perhaps less innocently, what happened to them when they were broken. It is this interest that led me to both electrical engineering and the biological sciences. After my undergraduate, I hope to pursue an MD-PhD in Computational Neuroscience, in order to apply the computational and analytical methods of electrical engineering, including information theory and control theory, to study learningand neural networks, both as it applies to biological brains and neuroscience, and as it applies to artificial neural networks and machine learning.
Research
Worked on signal processing and neuroimaging datasets
Implemented background noise (neuropil) removal/ mitigation algorithm in Python
Developed algorithms for automated segmentation and registration of regions of interest (ROIs)
Developed code for analysis of behavior data and calcium imaging data, including use of machine learning and clustering algorithms such as Principal Component Analysis, Independent Component Analysis, K-means clustering, and Non-negative Matrix Factorization
Experienced and IACUC certified to perform animal work including rodent handling, survival rodent surgery, and behavior experiments
Experienced with wet lab techniques including confocal imaging, optogenetics and contextual fear conditioning
Publications
Liao, Zhenrui. (2015) Review: Optogenetic Methods in Neuroscience Research. Columbia Science Review. 13(2): New York (accepted).
Teaching / Tutoring
I enjoy teaching and tutoring and have over five years' experience mentoring students at the high school level and beyond.
Positions held
Graduate Teaching Assistant, Imperial College Department of Electrical Engineering: Professional Engineering, Fall 2015 - present.
Teaching Assistant, Columbia Department of Mathematics: Analysis and Optimization (MATH2500), Spring 2015.
Teaching Assistant, Barnard Mathematics Department - Fall 2014
SAT Math Coach, Let's Get Ready (nationally-recognized nonprofit organization, Harlem branch) - 2013-2014
Founder, ACT Study Milwaukee (districtwide nonprofit organization) - 2011-present
Skills
Programming: Proficient in Python, C/C++, Prolog, with working proficiency in MATLAB, ARM assembler, R
Linux/UNIX: 5 years' Linux desktop experience in personal and research/code development use; set up and administered my own Debian LAMP/NFS server for personal cloud backup and computing use; familiar with shell scripting (bash); familiar with Debian/Ubuntu-like distributions (Ubuntu, elementary OS) as well as Arch Linux
Languages and translation: fluent in English, Mandarin Chinese, French, and Spanish
Academic editing: Editor for four years on seven issues of The Journal of Global Health
Animal experiments: IACUC trained and approved to perform animal experiments, with over 1 year of experience in techniques including treadmill behavior experiments, contextual fear conditioning, and rodent surgeries including viral injection, headbar implantation, and optogenetic cannula implants
Extracurriculars
When not working or tutoring, I enjoy cooking, learning languages, and taking walks down Broadway. I am affiliated (to varying degrees) with a variety of organizations at Columbia, including:
The Journal of Global Health - Executive Editor 2013-present
Columbia IEEE - 2013-present

Student Member, IEEE
Member, IEEE Engineering in Biology and Medicine Society
Member, IEEE Computational Intelligence Society

Veritas Philosophy & Ethics Forum - Discussion Facilitator 2014-present
AMSA (American Medical Students' Association) - 2013-present

Chapter (re)founder, Universities Allied for Essential Medicines

Columbia Community Impact - One2One Tutoring - 2013-present
Columbia Student Language Exchange - 2015
Residence Hall Council (formerly RHLO) - 2013-2014
Awards and Honors
Mayo Clinic Undergraduate Research Fellowship (2015)
Presidential Global Scholar Finalist (2014)
Engineering Student Council Project Grant Recipient (2014)
Dean's List (2013-present; every semester)
National Merit Scholar (2013)

---

Email: zhenrui.liao@columbia.edu

Find me on: github · LinkedIn · Quora · Rosetta@Home