A New Era Begins
In 2001, Columbia published a three-sentence advertisement in The Chronicle of Higher Education, inviting people to apply for the job of University President.
That search led to Lee C. Bollinger, a leader who would become transformational for Columbia and who is now preparing to step down on June 30, 2023.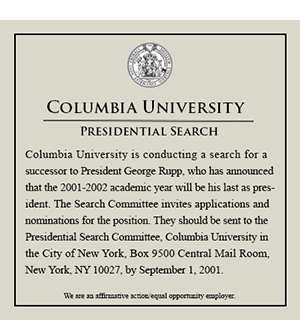 The process of selecting a University President is, like most things, a bit more involved than it was two decades ago. Today, Columbia is a global research powerhouse that educates an astonishingly diverse student body, occupies four campuses in and around the heart of the most exciting city on Earth, and drives innovation and discovery across a vast array of disciplines.
Columbia's next President will stand at the helm of this formidable institution. As the Presidential Search Committee begins its work, its members are committed to a deep and inclusive engagement process across the Columbia community, with the goal of identifying the best individual from a broad and qualified field of candidates to build on the University's rich foundation.
Updates on the search will be provided over the coming months. If you have questions about the process or wish to submit a nomination, please email presidentialsearch@columbia.edu.
About Columbia
Columbia University in the City of New York is a world-class research institution with a thriving liberal arts program that prioritizes University-wide and cross-disciplinary work in all fields. It comprises four campuses, three undergraduate schools, 14 graduate and professional schools, a world-renowned medical center, four affiliated colleges and seminaries, 17 libraries, nearly 200 research centers and institutes, and nine Global Centers in Africa, Asia, Europe, and South America.
Under President Lee C. Bollinger, new initiatives have been created or expanded, including those devoted to data science, neuroscience, the arts, cancer research and care, the humanities, journalism, and precision medicine. In response to the escalating need for colleges and universities to do more to bring their resources to bear on the problems facing humanity, President Bollinger has invested in ways of thinking about the world's great challenges. He sees this kind of engagement as essential to the institution's larger mission, and one that stands in addition to scholarship, teaching, and public service. He calls it the Fourth Purpose of the University.
These efforts have been supported and led by a dynamic and diverse array of faculty and administrators across Columbia whom Bollinger has recruited or elevated. These individuals are leaders in their fields who have devoted their careers to scholarship and teaching that engages with the problems of the world and prepares students for the challenges they will face. They have helped the University continue to attract exceptionally talented and curious young people from diverse backgrounds across the world who are training to lead in the years and decades ahead.
In his inaugural address to the crowd gathered in front of Low Library, President Bollinger said it best. He heralded Columbia as "the Quintessential Great Urban University," an institution of uncommon scholarly excellence that is very much a part of the city, the country, and the world.
Learn more about Columbia University and President Bollinger's legacy.
---
The Search Committee
To oversee the process of selecting the next President of Columbia, a Presidential Search Committee has been formed. The committee will manage recruitment efforts and the assessment of candidates. It will then present finalists to the Trustees for their final say.
News and Announcements
Trustees Thank President Bollinger
April 14, 2022
Earlier today, President Lee C. Bollinger announced that he will step down at the end of the 2022-2023 academic year, his 21st year as President of Columbia University. Lee's presidency has proven to be one of the most consequential in all of Columbia's 268-year history.
Bollinger Stepping Down as President
April 14, 2022
The time has come for me to say that the next academic year will be my last as President. I have informed the Trustees that I will step down on June 30, 2023. I cannot begin to express what it has meant to me to serve in this role for this magnificent University for over two decades.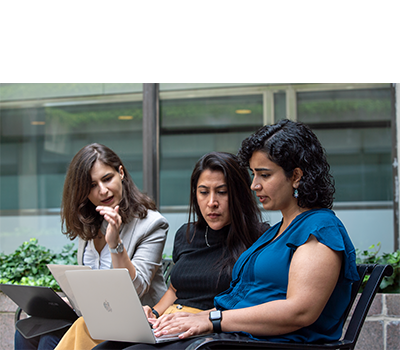 Get Involved in the Search
The Trustees have assembled a Presidential Search Committee and will form Advisory Committees that represent critical constituencies across the University. The committees will gather insight from the entire Columbia community about the qualities needed in the next President and important priorities for the University going forward. The Trustees welcome nominations and input from faculty, students, staff, alumni, and other friends of the University. Suggestions can be sent to presidentialsearch@columbia.edu.