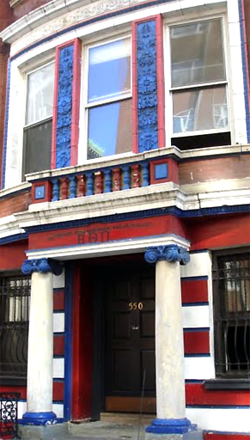 Welcome to the website of the
Alpha Alpha Chapter
of Beta Theta Pi at Columbia University!
Arriving on campus in 1881, Beta Theta Pi is a social fraternity that strives for the cultivation of the intellect. The Alpha Alpha chapter in particular carries with it a long tradition of academic excellence, boasting the highest cumulative GPA out of any fraternity on campus for 3 consecutive years. Throughout its tenure at Columbia, the Chapter has maintained a diverse membership by not limiting recruitment to a particular club or sport. For example, current Brothers include student government representatives, performing musicians, sound engineers, Judo instructors, and Physics/Math TAs. Above all else, Betas at Columbia University pride themselves on not being a "typical" fraternity, holding philanthropic events in addition to social ones. For information about becoming a Beta, please visit the recruitment page.
Pictured to the right is the Chapter's patriotically colored home, located on W. 114th St. or Columbia University's "Frat Row." Alpha Alphas enjoy the unique privilege of being the only recognized Greek organization on campus to have a house owned by their alumni rather than by the university. This affords them additional freedoms and responsibilities not shared by other chapters, such as the ability to self-govern and manage their own living space. The House holds up to 18 Brothers and contains a big screen TV, Wi-Fi, free laundry, a pool table, a full kitchen, and a high fidelity sound system for Brothers to enjoy. Summer housing is also available for Brothers.
Contact information for the Undergraduate Executive Board and their Alumni Advisors can be found here.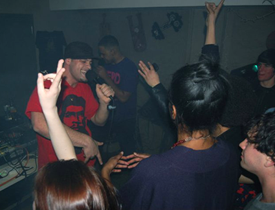 Brothers of the Beta Theta Pi enjoy a rich social life, as a key to a well-rounded college experience is interacting with others. Since the Brotherhood is so diverse, the social calendar is full of many different events such as mixers with sororities, banquets, theme parties, and music concerts. The largest social event that Alpha Alpha holds is its annual "Beta Jam," (right) which gives local musicians the opportunity to perform for a packed crowd of college students.
While open events are entertaining and fruitful, more often resources are dedicated toward Brother-only activities called kai events that are reflective of the interests of the Brotherhood at that time. These have included dodgeball games, dinners, and various shows around NYC.


Serving one's community is also an integral aspect of Beta Theta Pi's philosophy that is instilled in members during the pledge process. Recent Brothers have taken to supporting Nourishing NYC, a not-for-profit community food program that strives to achieve "nutrition for all" in New York City. The house was also used to host "Burritos with Beta" where donated ingredients were used to prepare and serve Mexican food to Columbia students, with all proceeds going directly to charity.


The Beta house serves as a hub for scholarly events, most notably through the "Brown Bag Symposium" program. Experts in a particular field of study are invited to the house to give a lecture on a topic of their choosing, followed by Q & A and light refereshments. These lectures are open to the entire Columbia University population, so as to benefit the community at large as well as the Brotherhood. Most recently, the Alpha Alpha chapter was honored to host world-famous Japanologist Professor Donald Keene and East Asian studies expert Professor William de Bary as they discussed "Asian Humanities and the Core Curiculum" (pictured below).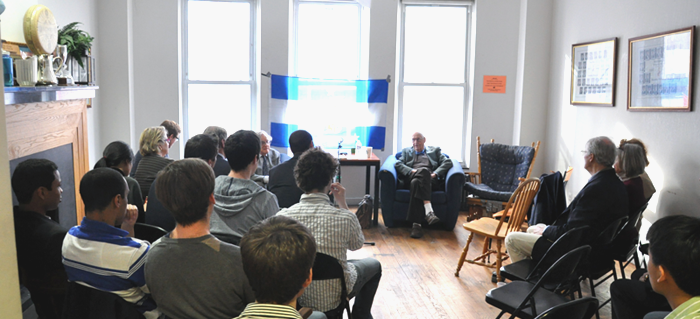 ---