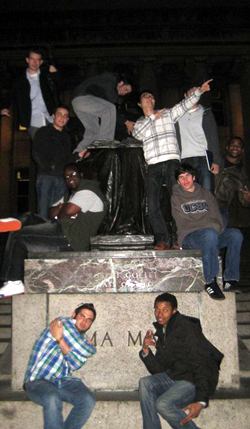 As a traditional fraternity, the process of joining Beta Theta Pi is comprised of two phases: "Rush" and "Pledging." Rush starts at the beginning of each semester and focuses on socializing non-Brothers with Brothers. Activities during Rush have included movie screenings, football games, intellectual lectures, and pizza dinners. After meeting a sizable amount of gentlemen, the Brotherhood selects a small group of to move on to pledging, signifying the end of rush and beginning of pledging. Pledging lasts 4-6 weeks and involves education in the history of Beta Theta Pi and its traditions, whilst building unity within their individual pledge class. Pledges are expected to do at least one community service project and pass a written final on Beta lore. Those Pledges who fulfill all of the stated requirements take part in an initiation ceremony (also known as "crossing"), after which they will have privilege of calling themselves Brothers of Beta Theta Pi.
Frequently Asked Questions
Who is allowed to Rush?
We offer the opportunity to participate in Rush to
all
undergraduate males at Columbia University.
How will I know if I'm a Pledge?
Pledges are those individuals who were offered a bid and took part in the pledge initiation ceremony- therefore, the transition from "Rush" to "Pledge" is very clear and discreet.
What if I don't get a bid?
Bids are given out to those Men of upstanding character who take the time to attend the various Rush events. Given the hundreds of potentials who walk through the doors of Beta Theta Pi, it is imperative to make a clear impression on the Brotherhood in order to be considered. If you do not get a bid and want one, you are encouraged to try again the next semester.
Do rushing cost money?
There's no cost at all to see if Beta is a great fit for you.
Is there hazing?
No, both Columbia University and the National Governing Body of Beta Theta Pi enforce a strict, no-hazing policy.
---