BIOL W3500 - Independent Research for College and GS Students

For further information about these courses, contact:
Professor Ron Prywes
813A Fairchild
mrp6 at columbia.edu
854 8281
Office hours: Tues 1-2; Wed & Thurs 4-5 or by appointment
http://www.columbia.edu/cu/biology/faculty-data/ron-prywes/faculty.html
Introduction to the course
BIOL W3500 -Independent study is an opportunity for full-time undergraduates in College, SEAS and GS interested in laboratory research to share in the work of an ongoing research program in our Department or in a comparable laboratory elsewhere in the region.
The grade for the work as a course, is determined by the sponsor in consultation with Dr. Prywes. The grade is based on regular attendance in the laboratory, a demonstrable understanding of the underlying question being asked by the research, and a clear report on the work accomplished. This last, a paper, is required in time for the sponsor to have it when recommending a grade. Further details are below.
Relationship of this course to BIOL 3600
This course is not offered in fall14. It may be offered during the spring 2013 semester. Students who register for 3500 in the 13-14 academic year, who have not taken part in the SURF/Amgen program, should register for this course if it is offered.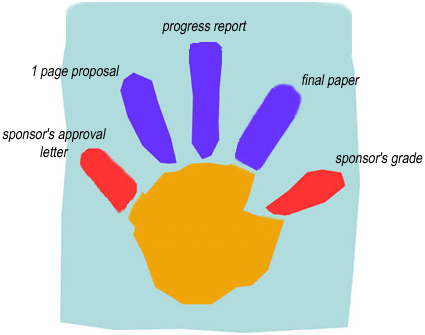 Try your hand at research
(click to find out how undergraduates can get experience working in a research laboratory)
A. Finding a research sponsor
The first step towards doing independent study research is finding a sponsor who will supervise your work. You must take the initiative to find a sponsor by contacting faculty who do research you are interested in. Any faculty member doing laboratory-based research in biological and biomedical sciences is an eligible sponsor; however mentors that are not on the approved list* require departmental approval before registration is considered final. Sponsors that have been approved by the research program are listed below *. These mentors have sponsored W3500 and Surf/Amgen students in the past and are very highly recommended. Most sponsors are at Columbia's Morningside Heights or Health Sciences Campuses, however, sponsors in the New York area outside Columbia are also allowed. You can find a spot in a lab as late as the first week of the semester, but you'll have the best chance at getting into a lab of your choice if you start looking during the previous semester. Some further suggestions are given on the page "How you can do biological research."
*Approved list
B. How to register (4 steps)
You must complete the following steps to register for W3500. Note that you have to register with the Registrar, as for any other class, AND you have to register with the Department, which requires completion of ALL FOUR STUDENT'S TASKS, listed below, in a timely manner.
1          * University registration
Register for W3500 with the Registrar. Generally students register for 3 or 4 credits. Registration for more than 4 pts per semester requires permission of Dr. Prywes & is not recommended. A general rule is a minimum of 4 hours lab time/week/credit, i.e. register for 3 credits for 12 hours of lab time/week and 4 credits from 16 or more.
<![if !supportLineBreakNewLine]>
<![endif]>
2 * Departmental registration
Fill out the on-line registration form. Due Date: As early as possible during the registration period, but definitely no later than one week from start of classes. (Tuesday, Sept 10, for fall term 2013; Tuesday, Jan 28, for spring term 2014) Late registration requires permission of Dr. Prywes
<![if !supportLineBreakNewLine]>
<![endif]>
3 * 1 Page Proposal
After consulting with your sponsor about the project that you will work on, you should write a one-page proposal in clear prose describing the planned work, and submit a hard copy to 600 Fairchild.  Do not copy your sponsor's grant application or research papers; we want your own words.
<![if !supportLists]>A. <![endif]>If you chose a mentor on the approved list, your proposal is due in 600 Fairchild by Friday of the second week of classes (Sept 13 for Fall 2013; Jan 31 for Spring 2014). You should receive an email either approving your project, or requesting additional information, within a week to 10 days after submitting your proposal. If you run into difficulties with deadlines, please inform Jaya Santosh
<![if !supportLineBreakNewLine]>
<![endif]>
<![if !supportLists]>B. <![endif]>If you chose a mentor who is NOT on the approved list, your proposal is due in 600 Fairchild by noon on Friday of the first week of classes (Sept 6 for Fall 2013; Jan 24 for Spring 2014). There will be no extensions or exceptions. You should receive an email either approving your project, or requesting additional information, early the next week. Your registration for the course is considered tentative until your project is approved. If your project is not approved, you may still work in the lab as a volunteer, but you will not receive course credit for your work.
<![if !supportLineBreakNewLine]>
<![endif]>
4 *Approval Letter
Make sure your sponsor has sent an approval letter (see below) by the deadline for departmental registration (Tuesday, Sept 10, for fall term 2013; Tuesday, Jan 28, for spring term 2014).
C. Sponsor's Approval Letter
<![if !supportLineBreakNewLine]>
<![endif]>
Ask your sponsor to write a letter by email, confirming that s/he will supervise your work in their lab and describing in a brief paragraph the work you will be doing. This letter should be sent to Jaya Santosh at Jaya@biology.columbia.edu. Same deadline as for on-line registration. Note that the sponsor must be a faculty member, not a postdoctoral fellow or research associate, though a lab member may be designated for day to day supervision communication during the semester.

D. Course Requirements Progress Report

About 6 weeks into the semester, you must turn in a one-page progress report, describing your work thus far. Most students will not have research results at this point, but the progress report must provide an indication that your project is proceeding in the context of your own understanding of the underlying issues and hypotheses being tested. This paper may not be cut and pasted from a grant application nor a published paper; it must be in your own words. This report should be submitted to 600 Fairchild by the following deadlines: Fall semester: Thursday, October 10; Spring semester: Thursday, Feb 27.

E. Final Paper

Near the end of the term, you are required to write a paper -- in the style of a scientific research article -- at a level understandable to a scientist who is working in a different area of biology. Do not copy or paraphrase your mentor's grants or papers. Assistance with the writing of your first scientific paper can be found on the page Writing a scientific research article. Students may in addition review Professor David Helfand's book "Habits," from their Core science course Frontiers of Science for guidance.

Bring your paper to 600 Fairchild by the last day of the reading period, i.e., before the first day of finals- Fall 2013 semester deadline: Dec 12; Spring 2014 semester deadline: May 8. You should plan to write a first draft of the paper, submit it to your mentor for comments, and then revise the paper accordingly by the deadlines. Since the final paper is due in 600 Fairchild by the last day of the reading period, it is incumbent upon YOU to make sure that you submit the first draft to your sponsor early enough for him/her to have a chance to read it and for you to revise it. Please make sure your sponsor reviews the grading guidelines below.

Students who register Pass/Fail are required to follow all the above steps, except that a one-page summary of research will be accepted in lieu of the research paper, for the grade of P, with the sponsor's agreement. Failure to submit that paper by the deadline will lead to the assignment of an F.
 
F. Sponsor's Grade
 
Your sponsor submits a grade for the semester, based on your laboratory work and your research paper. The undergrad committee headed by Dr. Prywes will assign your final grade, based on your progress report, a review of your paper, and your sponsor's recommendation. Important: you must have submitted all the information required ON TIME in order to receive a full grade.

Grading Guidelines for mentors
After reading your paper, your sponsor should submit a grade to Jaya Santosh (jaya@biology.columbia.edu) or by mail to the address listed above. The deadline for receiving this grade is the last day of finals (Fall semester 2013: Dec 20; Spring semester 2014: May 16).

The grades for this course are not curved. Nor is a student expected to win the lottery; that is, to have carried out experiments not only reliably and well, but also with important success. To maintain a rough parity of grade from lab to lab, we ask mentors to hold to the following guidelines:

The student who gains both experience and acceptance as an articulate and productive member of a lab team, should receive a grade in the A range [A-, A, or RARELY, A+]. An A+ student should not be expected on average to appear more than once in a number of years in a given laboratory.

The student who has a routine, uneventful lab experience should receive a grade in the B range [B-, B or B+].The student who is episodically unreliable or lazy should receive a grade in the C range [C-, C, or C+]. A student tracking worse than that, should be brought to the attention of Dr. M by the mentor early enough to avoid a disaster [a D or an F]. Note that not every student should expect to earn an A or A-.

Some further reflections on W3500 - What do we mean by independent research?

Columbia University undergraduates have the opportunity to receive academic credit while conducting biological research under the direct supervision of a faculty member in this department, or of a grant- sponsored post-doctoral fellow or graduate student carrying out basic research in a laboratory here at Columbia or elsewhere.  Whether you work with a post-doc, a professor, or a graduate student, the requirements of this course are the same: that you ask to be accepted as a member of the team, capable of and expected to do independent work, and that you are in turn accepted under those terms.
Laboratory research is not a job, and academic credit is not a form of reimbursement for the carrying out of technical tasks.  Laboratory research gives you a chance to learn laboratory skills used in real research labs, develop skills in observing, recording and analyzing biological phenomena, and engage in the kind of critical thinking required for biological research.  It is your responsibility to assure that the work you will do will have these components, and that you will not be asked to do tasks without understanding them, nor to do tasks that have little or no bearing on a specific research project.  In particular, working with the paper component of the project  - "library research" - may be necessary, but it is never sufficient for 3500 credit.
You may find one or another of these requirements burdensome.  That's alright; independent research is NOT a required part of the major, and NOT a requirement for acceptance to medical school. It should be pursued by only those students who have a genuine interest in basic research, a mentor willing to be a senior colleague in discussions of data as well as techniques, and sufficient time to devote to their research project.
You must be able to keep up with your other coursework, so allocating your time is critical. Many students register for W3500 in their junior or senior year. Generally students register for 3 or 4 points each semester, which corresponds to a minimum of 12 or 16 hours/week of lab work, respectively. Most students work more hours in the lab, especially since, as for other lab courses, much of your data analysis and preparation of the final paper will occur outside of the 'classroom' in this case the 16-hr/week spent in the lab.

* A bit of advice: Whether you take 3 or 4 points of W3500, you will be joining a research team, which may include graduate students, post-doctoral research scientists, and lab technicians, in addition to the head of the lab. Many of these people put in all of their work time -- over 60 hours of work a week -- on their research projects. They may initially expect you to do the same. Because you are a student enrolled full-time in classes, you have the responsibility of budgeting your time, and assuring that your time commitment is within limits that you set. If difficulties arise, consult Dr.Prywes promptly.

* Lab safety: Research laboratories contain equipment and chemicals that can be dangerous if used improperly. If you are working with radiation or animals, you will be required to complete specific training by the university. You should take seriously the risks involved in laboratory research, and make yourself aware of proper laboratory procedures. It's a good idea to read through one of the on-line manuals of laboratory safety that may be found on the Laboratory Safety page at the SURF site.

Academic Credit for W3500 for College and SEAS students

Biology majors may earn up to 2 semesters of lab credit toward the requirements for the biology major. W3500 can not be used to fulfill an elective requirement. If 2 terms of W3500 or a combination of W3500 and summer research work (in SURF) is used to fulfill the lab requirement, no additional terms of W3500 may be accepted towards the major. Although additional semesters of W3500 do not count towards the biology major, additional credits will count towards the 124 points needed for graduation; see the Dean of your year for more information. Students who carry out summer research elsewhere (not SURF-Columbia) may not combine that with one semester of W3500 to fulfill the laboratory requirement.


Biochemistry majors should speak with Professor Brent Stockwell about the maximum number of credits in 3500 allowed.

Biophysics majors should speak with Professor Julio Fernandez about the maximum number of credits of 3500 allowed.

Biology Concentrators, Neuroscience & Behavior majors, Pre-med Concentrators, and all other majors may register for W3500 for degree credit, but that credit will not fulfill any of the requirements of their majors. Two terms of W3500 will fulfill the premed lab requirement, but one term of W2501 will do so just as well.

You cannot receive academic credit for salaried lab work nor for unpaid work that was done before you registered for W3500.

Academic Credit for W3500 for GS students

The regulations regarding credit are the same as it is for CC students. If there are any questions (for any biology related major or special program in GS) see Dr. Prywes. Again, note that one cannot receive academic credit for salaried lab work, nor for unpaid work that was done before you registered for W3500.