• AUGUST 2005
Read "Youth Voices in Lockdown", an anthology of creative writing by the students at the Sprungs section of Island Academy - Rikers Island

• APRIL 2005
Download a transcript of our April 2005 conference, "Criminally Unjust: Young People and the Crisis of Mass Incarceration"


• OCTOBER 2004
Final Count of the Collision Between Us and Them: Hip-Hop, Prison and the New Democracy

A panel of scholars, artists and activists talking about the real under-stories of mass political disengagement and electoral disenfranchisment. Featuring ACJP Coordinator Laurent Alfred, Piper Anderson, Bryonn Bain, Yvonne Bynoe, Leith Mullings, Greg Tate and Immortal Technique.



• APRIL 11-12, 2003
Watch video from our Africana Studies Against Criminal Injustice conference

• APRIL 11-12, 2003
Criminal Injustice in African American and Black Diaspora Communities To Be Focus of Conference at Columbia University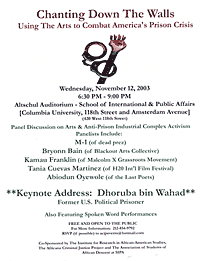 • NOVEMBER 12, 2003
Chanting Down the Walls: Using the Arts to Combat America's Prison Crisis

A symposium featuring a keynote address by Dhoruba Bin Wahad, former Black Panther Party leader and US political prisoner; and a panel discussion featuring: M-1 (of dead prez), Bryonn Bain, Kamau Franklin and Tania Cuevas Martinez.