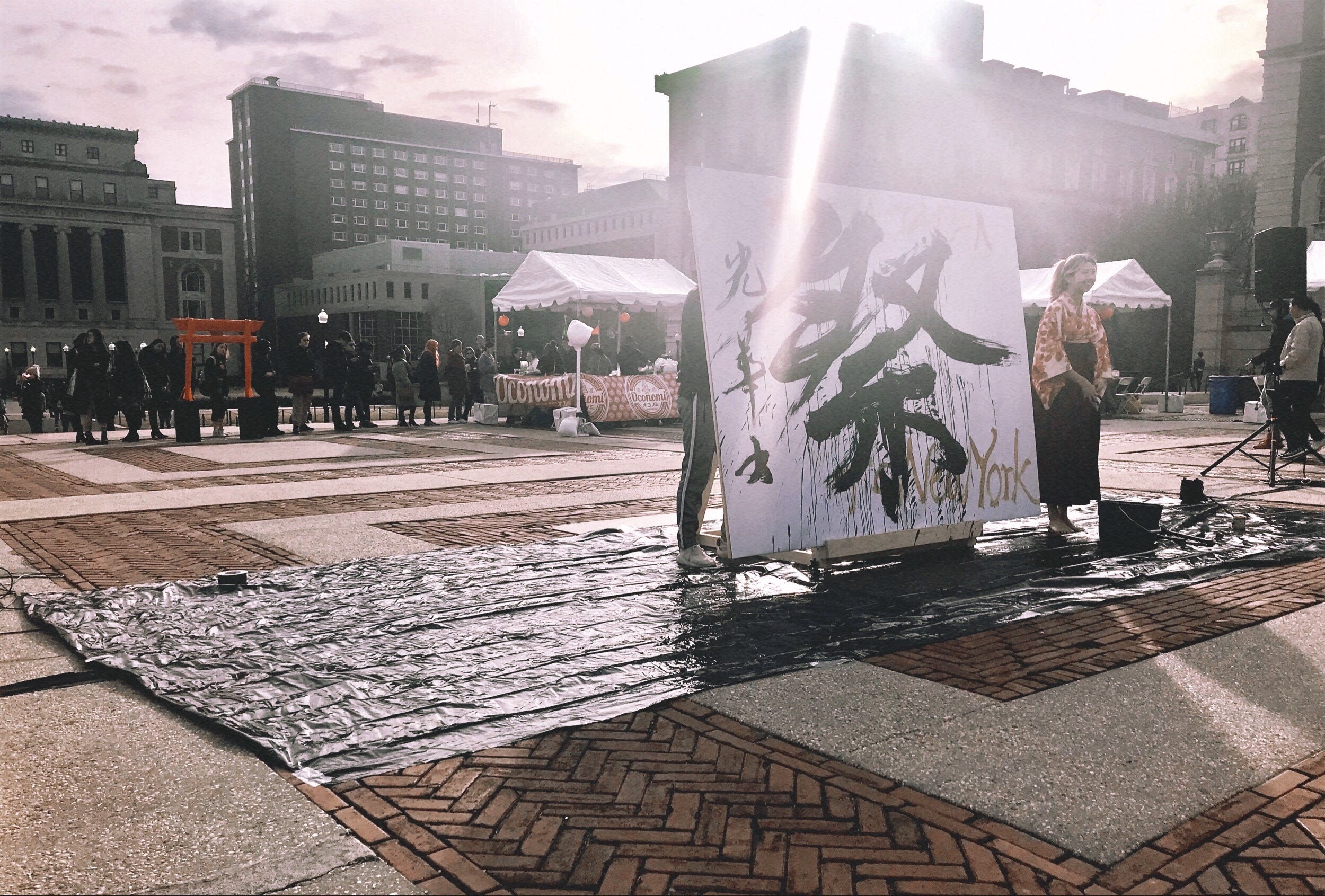 Columbia Japan Society
Events
Oshogatsu
Oshogatsu or New Year's in Japan is the most important event to Japanese culture. It is commonly celebrated with your family. Therefore, as part of the Columbia big family, we wish to allow this community we call home to understand our traditions.
We invited professionals in Sadou, Tea Ceremony, and Shodou, Calligraphy, to teach us the practices of the traditions. After watching their beautiful modeling, we were able to have a hands-on try ourselves. After the two workshops, we also pounded mochi, which is the "turkey" to Japanese New Year.
Matsuri
Columbia Japan Society is excited to bring you Matsuri, our annual spring festival held on Low Plaza! Our annual Matsuri is an opportunity for all to experience what a Japanese festival is like right here in NYC! There will be plenty of Japanese festival foods, such as Takoyaki, Okonomiyaki, Curry, and much, much more! While enjoying your food, you'll be able to watch performances by student groups such as CU Pops, Aikido, and CU Taiko. The event is enjoyable for both students and families alike, as there will be various activities booths featuring crafts such as Origami and face-painting, as well as vendors selling traditional Japanese crafts. Before you leave, don't forget to take a picture with friends in front of our red Torii gate.
Whatever you decide to do at Matsuri, we guarantee you will have an exciting cultural experience!
---
Flavors of Japan
You will be able to get a glimpse of Japanese culture in the night of Flavors of Japan. The "Flavors" of Japan are the taste of delicious food, exciting performances, "kawaii" bento making, and competitive trivias!
---
Rakugo Night
Having the privilege of living in the city of the world, we went to watch a Rakugo performance done by famous Mr. Katsura Sunshin!
For those who are not familiar, Rakugo is a Japanese traditional comedy acted by one person with two or more characters. Mr. Katsura gave us a great laugh for the night!
---
CONTACT
New York, US
Email: japansociety@columbia.edu