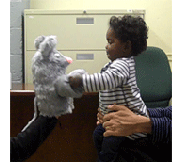 We all know that a child's experiences help to determine how that child grows and develops. In the NEED lab, we are trying to better understand how this works. What are the factors in a child's environment that predict how he or she will develop, and what are the particular developmental outcomes that we should pay the most attention to?
In terms of child experience, we ask how different factors in the child's environment, like access to material resources, richness of language exposure, and parenting style all work together to predict differences in outcomes. We are also interested in how aspects of the child's chemical environment, like exposure to prenatal alcohol or secondhand smoke, might interact with social risks.
In terms of child development, our interests are two-fold: First, we are interested in cognitive development, including the kinds of differences we see in the way children develop language, memory and self-control. Second, what can we say about how experience influences children's brain development? Ultimately we hope to use the information gained from these studies to inform educational and public health interventions to promote healthy development for all children.
The NEED Lab is seeking 1-2 volunteer Undergraduate Research Assistants for Fall 2013.
Applicants must be able to commit to at least 10 hours/week, preferably for two semesters. Preference will be given to psychology majors with an interest in child development, and individuals with research experience and/or other experience with children. If interested, please send a cover letter and resume to Sam Melvin, NEED Lab manager, at
sam2322@columbia.edu
.
---

LAB NEWS
Dr. Noble and Dr. Martha Farah edited a special issue of Developmental Science on Socioeconomic Disparities in Neurocognitive Development. Check out the video abstract here.
Dr. Noble was recently interviewed for a Reuters Health article on neurodevelopmental outcomes in extremely premature babies, as well as a Live Science article on the relationship between poverty and cognitive ability.
The Pennsylvania Gazette, the alumni magazine for the University of Pennsylvania, featured Dr. Noble's work that shows a relationship between SES and children's brain development.
Dr. Noble was featured in The Washington Post for a publication that shows how individual components of SES differentially affect brain structure in children.
Dr. Noble's publication in Pediatrics has been featured by the Associated Press, Reuters, Time, the Wall Street Journal, NBC news, ABC news, Kveller.com, NPR, and CBS radio! Dr. Noble is lead author on this paper, which shows significant differences in 3rd grade academic achievement between early full-term and late full-term children. Click here to view the official press release.