New Poetry At Columbia
12.3.08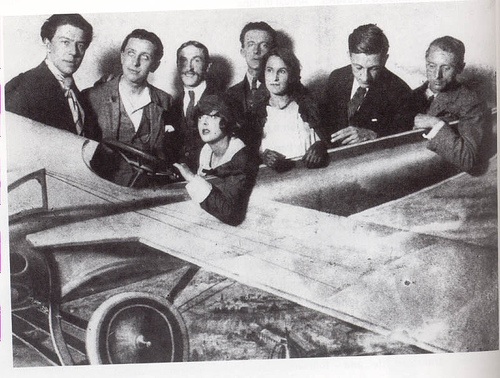 New Poetry Meeting: This Wednesday
307 Mathematics, 9:00 pm

Come chat about the future of New Poetry. On the horizon: Columbia New Poetry Jounal vol.2, events, workshops, readings and beyond. If you're interested, stop by to say hello.
Questions? Want to stay informed by signing up for our mailing list? Email Morgan Parker: mep2135 AT columbia DOT edu

1.28.08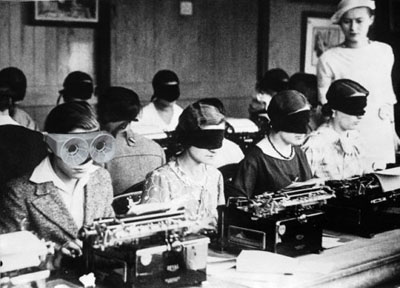 New Poetry Meetings: Every Monday
302 Hamilton Hall, 8:00 pm

Informal discussions about work by contemporary poets, tracing various channels of influence & considering the broader cultural & political concerns facing modern poetics.
We will also be holding impromtu workshops and planning various happenings for this, the comedic semester. If you are curious, please stop by. To keep up-to-date New Poetry meetings & events, sign up for our mailing list by emailing Chris Westcott: cjw2109 AT columbia DOT edu



/////////////////////////////



2.12.08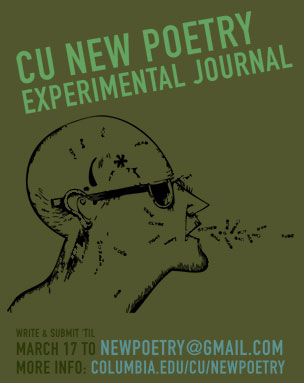 New Poetry's Experimental Journal
Write and Submit 'til March 17, 2008: newpoetry@gmail.com

"Columbia New Poetry is a student organization dedicated to new, thought-provoking writing. This semester, we are gathering work for our first experimental poetry journal.
"Attempt poetry, short prose, new media, or visual composition as you've never written it. Shun the publishable. Squeeze the last drops of new out of your work. Fail better! Our journal seeks to collect the most adventurous & ambitious writing at Columbia...
"...most of which has yet to be written. Writers of all stripes, send new work to newpoetry@gmail.com 'til March 17, 2008"



///////////////////



'08, cjw2109 AT columbia DOT edu