October 16, 2014, New York, N.Y.
Ukraine's Entry for the Oscar to Be Screened at Columbia University
This year, Ukraine will be represented at the Academy of Motion Picture Arts and Sciences Awards (the Oscars) in the best foreign language category for 2014 by the director Oles Sanin's the latest work The Guide. To mark its 10th anniversary, the Ukrainian Film Club of Columbia University is organizing a series of screenings of the film in five US cities with the participation of the film director himself: New York City (December 2), Philadelphia (December 3), Cambridge, MA (December 4), Chicago (December 5), and Detroit (December 10). The unofficial US premiere of the film will take place on December 2, 2014, Tuesday at 7:30 PM, at Columbia University, 501 Schermerhorn Hall, the Morningside Campus. Oles Sanin will present and discuss his film with the viewers.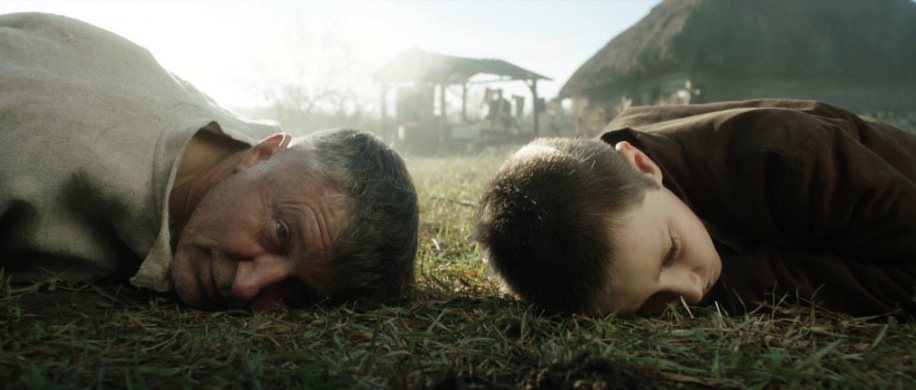 Review of The Guide, 2014, director Oles Sanin
Oles Sanin's new film, The Guide (Povodyr, abo kvity maiut' ochi), is beautiful. It's beautiful in the conventional way the word is applied to films in that it pairs a moving storyline with artful acting, resulting in a glimpse of life that, for all its specificity, articulates universal human emotion and experience. It's also beautiful because every single one of its hundreds of shots is deliberately composed and visually stunning. Truth and goodness notwithstanding—though Sanin observes these virtues as well—the combination makes for a powerful picture of sacrifice for loved ones in the face of great constraint.
The story of Stalin's ceremonious execution of Ukraine's bandurists coming right on the heels of his finely orchestrated terror-famine is almost too fantastical to believe. Yet, like many other inconceivable tragedies, it did happen. This is the terrible culmination Sanin's movie builds towards as he depicts the increasing terror—terrifying in no small part because the violence was capricious—Ukrainians lived with as Stalin brought a swift end to the nationalizing policies and forced collectivization and submission.
Due to an unfortunate turn, a young American boy, Peter (the affable Michigander Anton Sviatoslav Green) ends up on his own and on the run in Ukraine. He makes friends with Ivan, an old, blind bandurist (veteran of the stage Stanislav Boklan) who takes him on as his orphan guide, in exchange for care and food. Ivan is gruff and taciturn, but Peter is in no position to be picky. Their journey to return the boy to Kharkiv, the then capital of Ukraine, is continually frustrated and becomes further complicated when Ivan learns Peter is unwittingly stewarding a dangerous secret. On a couple of occasions, the pair comes dangerously close to crossing paths with the NKVD secret police who show no mercy to others who have given the boy and the bandurist shelter. Meanwhile, the countryside is starving and functionaries in the cities are becoming more ruthless. The gravity of the national situation comes through at the annual congress—of bandurists, not party members—which is both a portent of the fate that awaits them and a peek into a lost way of life. Ivan and Peter are separated and only reunite—a train being the perpetual place of their meetings—when the old bandurists are being conveyed to their deaths. Despite the endless suffering, the characters retain their humanity and dignity. With The Guide, Sanin shows how a handful of enthusiastic ideologues and opportunistic sell-outs can smother the will of a population that retains esteem for higher virtues.
Very superficially, The Guide, has some things in common with The Firecrosser, Ukraine's 2012 Oscar entry: both are blockbusters many years in the making, and both attempt to mimic the style of filmmaking popularized by Hollywood. In the former's case, though, this attempt is actually successful. For one, Sanin started with a solid script that was co-written by some very talented contemporary authors: Oleksandr Irvanets, poet, novelist, dramatist, translator, and Iren Rozdobudko, novelist and author of the recently translated The Lost Button (whose name, for some reason, appears in the credits but not on the film's website). The talented bunch managed to finally adapt a historical event for the screen without any of the overblown pathos or preaching that plagues most such Ukrainian ventures. There's none of the blunt moralizing or uncritical analysis that can make the viewer secretly want the bad guys to win. To the contrary, the feelings of empathy and compassion evoked by The Guide are proportional to the trials the heroes must go through. True, with its extraneous love story and somewhat formulaic plot, there are moments when the film feels like a copy of Western movies that have seen commercial success as exports. But at the same time, who cares? Such films are popular, in part, because their type of storytelling resounds with audiences.
Without a doubt, The Guide is very much a genre film intended for a broad audience and represents not, say, Ukraine's burgeoning art film scene, but the kind of technically sound, aesthetically pleasing, large studio productions Ukraine is capable of producing when funding and talent come together. For Ukraine to have a complete national cinema, all categories—documentary, short feature, horror, porno, and so on—must flourish. The Guide can help pave the way and prepare the screen. In this, it is not so much simply a cheap Hollywood rip-off, but a harbinger of a new era in Ukrainian cinema. As better and better films come out of Ukraine each year, it is exciting to watch for new faces: Where did this Stas Boklan, with all of his sensitivity to his character and viewers, come from and how did he learn to do this? Ukraine, in fact, has flocks of equally talented performers who are waiting for their chance to reach larger audiences than live theater can accommodate. Crimean Tatar pop star Jamala was an exciting choice to convey some of the decadence of the early 20th-century Ukrainian city, unfortunately, her character was flat and her acting suffered in accordance. She has potential, though, and might shine in a more-developed role. Oleksandr Kobar's Volodia, while menacing, was somewhat forgettable.
In only his second feature film in over a decade of work, Sanin shows great progress and promise. He toned down some of the auteurism that made his Mamai a little unpalatable to broad audiences and the result is winning. He again worked with cinematographer Serhii Mykhalchuk who was responsible for the stark, captivating images that distinguished their earlier narrative film. The consistency and beauty of the cinematography, costume design, washed-out palette, and overall artistic direction indicate a common vision that the director managed to execute.
A final observation, one that doesn't detract from the quality of this movie: Bilingual films continue to be en vogue among even Ukraine's best directors. When confronted about this, they hem and haw, pointing to their commitment to presenting reality or their abhorrence of the Soviet practice of having everyone communicate in the language of internationalism. But they're overlooking at least two things. First, artists always have creative license, especially when doing fiction, to reimagine the world however they'd like. It is the presence of the word in the public sphere that confirms and legitimates its existence. Secondly, many of them underestimate the degree to which they've absorbed the Soviet-Russian vision in which a Ukrainian-speaking world is on some fundamental level laughable. As a playwright friend of mine sardonically noted, "It's really anti-Soviet to force Ukrainians to speak Russian."
Ali Kinsella,
Ukrainian Film Club of Columbia University.