The Miriam and Ira D. Wallach Art Gallery presents an exhibition featuring the scholarly rediscovery and restoration of one of the most impressive Byzantine monuments to survive in the modern city of Istanbul: the church of the Chora Monastery, better known by its Turkish name Kariye Camii. Founded probably as early as the sixth century, rebuilt in the late eleventh and early twelfth century, and splendidly restored by the Byzantine humanist, poet, and later prime minister Theodore Metochites between 1316 and 1321, the church of the Chora Monastery is today considered an 'icon' of Late Byzantine art and architecture. While the Kariye Camii was already known as the 'Mosaic Mosque' during the nineteenth century, the fame of the church's rich interior decoration rests by and large on an extensive restoration campaign initiated by Thomas Whittemore, director of the Byzantine Institute of America in the late 1940s. Previously he had undertaken the cleaning and conservation of the mosaics of Hagia Sophia. After Whittemore's untimely death, the conservation of the Kariye Camii's architecture, mosaics and frescoes was continued into the late 1950s by Paul Underwood and the Dumbarton Oaks Field Committee. Restoring Byzantium will feature not only this first American-sponsored restoration campaign of a major Late Byzantine monument through archival documents, photographs, and archaeological finds, but allow visitors to explore the architectural and scholarly history of the Kariye Camii through a variety of artifacts, early printed books, and multi-media programs developed by Columbia's Visual Media Center for Art History and Archaeology. Visitors will be able to situate the art of the Kariye Camii in the wider cultural context of the Late Byzantine Empire by exploring the blockbuster exhibition Byzantium: Faith and Power (1261–1557), concurrently on view at The Metropolitan Museum of Art.

An international symposium on the Kariye Camii and its restoration by the Byzantine Institute of America is scheduled to be held at Columbia University's Italian Academy for Advanced Studies in America on April 16, 2004. Speakers will include Robin Cormack, Sharon Gerstel, Holger Klein, Paul Magdalino, Robert Ousterhout and others.

Click here for the symposium program.



Restoration photographs from the Dumbarton Oaks Archive.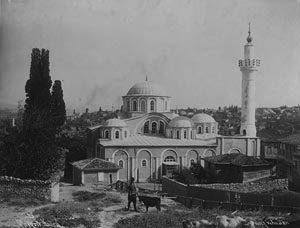 Turkey, Istanbul (Constantinople), Kariye Camii, Exterior View.