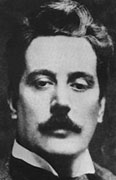 Puccini was born in Lucca (Italy), a member of a large family of musicians going back to the early 18th century. His first job, at age 14, was as organist to the two churches of Lucca; but he quickly became more interested in opera (especially Verdi) than church music. He studied at the musical conservatory in Milan (1880-83), and there he came into contact with a group of Milanese artists, called the Scapigliati, who lived the Bohemian lifestyle. This group included the great librettist Arrigo Boito (himself a composer whose opera Mefistofele is still popular today).
Puccini wrote his first opera, Le villi (willi were vampire-like witches in East-European legend), a "dramatic legend," in 1884. It was successful, and was played at the La Scala opera house in Milan the next year. His second opera, Edgar, a "lyric drama" (1889), was a failure; his third, Manon Lescaut (1893), which story Massenet had set with international acclaim in 1884, was reasonably well received, and most importantly established him on the international operatic scene. (The work begins in Amiens (France), moves to Le Havre, and finishes up in the "Louisiana desert"!)
La Bohème (1896) was at first less successful than Manon Lescaut, perhaps because its subject was too realistic, its tone in many places too light-hearted and somewhat sentimental, and was thus compared unfavorably by the critics (see below) to the Romantic-tragic character of Manon. However, it came to be recognized as the masterpiece history now judges it to be.
In 1900 he produced Tosca, a work portraying brutality, sadism, and searing emotions-- his first attempt at "realist" opera (verismo)-- to tremendous public acclaim. His next opera, in 1904, Madama Butterfly, was centered upon a marriage in Japan, entered into in all sincerity by a geisha girl and callously by an U.S. naval lieutenant, with devastating consequences to which we are perhaps more attuned in our post-colonial age. Its first performance on Feb 17 was a fiasco with the audience jeering and calling out sarcastic comments. Puccini withdrew the work and revised it, for its second première on May 28, 1904.
After these two productions, Puccini was embroiled in a domestic crisis and scandalous court case in 1909. Puccini's jealous wife accused him of having had an intimate affair with his servant girl, Doria, who in 1909 committed suicide. From the autopsy evidence, Doria and Puccini were exonerated, but the experience took its toll on the very sensitive composer.
In 1907, he composed The Girl of the Golden West, a very different sort of opera, set in California during the gold rush era, which was successfully premiered at the New York Metropolitan Opera in 1910. Soon after this, Puccini began to be criticized by a new generation of Italian composers for his "bourgeois mentality, lack of ideals, and pure commercialism" (New Grove) -- charges which in some quarters still haunt him at the present day. Joseph Kerman, for example, in his book Opera as Drama (1956), spoke of Tosca as "that shabby little shocker."
His final opera, the lavish, exotic, fairy-tale Turandot, was unfinished at his death in 1924, but was completed and premiered in 1926, and remains one of his most admired works.
If you would like to hear Puccini's speaking voice, click on the following link, then scroll to the bottom of that page and click on "A rare recording of Puccini's voice, made at the Columbia Studio in New York on 21 February 1907." When the audio panel appears, click on the "play" button.
More about Puccini and his operas.