This document is a subsection of Platforms
---
Intel in Africa:
---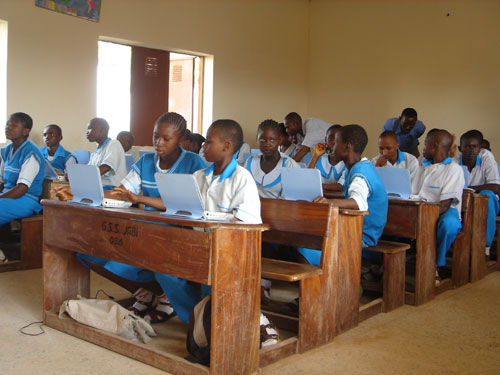 Courtesy of www.computers.bg/img/upl/fig%204.jpg
Intel
is leveraging its
World Ahead Program,
an education initiative, and the roll-out of
WiMax
, a wireless technology, to become a major stakeholder in promoting and providing Internet connectivity in Africa. Craig Barrett, Intel's Chairman and member of the
United Nation's Global Alliance for ICT and Development,
has been a highly visible online spokesman for
Intel's strong belief that all citizens should have access to the Internet.
However, one element has been missing on blogs and in news articles: a frank discussion of Intel's commercial interests in the emerging African market. Through its connectivity and education programs, Intel is creating brand recognition and a loyal consumer base. It is also an innovative leader in establishing an accessible and affordable ICT foundation, and preparing citizens to be effective participants in the global knowledge economy. In the case of Africa, the question remains as to whether the opportunity and competition in emerging markets will motivate the private sector to deliver both social and economic returns on investment.
Contents:
---
Intel Capitalizes on Africa's Emerging Market
---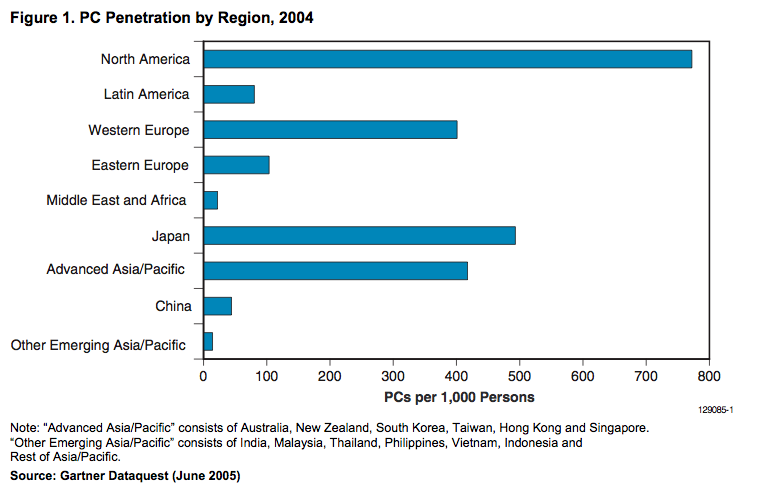 Intel is a computer chip company that provides microprocessors for Personal Computers (PCs). Currently, the PC market is mature, with high volume, low profit, and marginal growth. However, while the industry has reached a plateau, the PC market has seen its highest growth in emerging markets. These developing regions are currently driving the PC industry.
In emerging markets, lower prices stimulate growth, and technological advancement maintains the replacement cycle. Furthermore, in the developing world, macroeconomic developments determine how fast or slow the PC industry will grow.
CARGs (Compound Annual Growth Rates Per PC)
Intel is poised to capitalize as African markets mature. In the fall 2007 quarter, the Europe, Middle East, and Africa (EMEA) Division made $1.9 billion profit; a significant contribution to Intel's total $10.09 billion in quarterly revenues. Gordon Graylish, Vice-President Sales and Marketing Group, EMEA, reported, "
We're certainly seeing strong growth of computing in Africa and we expect this to continue in the next quarter and into the future."
Graylish forecast that Intel's strong performance was only the beginning. The rise of a consumer class in countries such as Nigeria, Uganda, and Zambia, as well as the governments' need to enable their citizens to participate in a broader economy, will only further boost the adoption of technology. He elaborated,
"We are seeing governments becoming a lot more focused on ICT as a key driver of development. They're saying: let's not compete with the strength of our arms, but with the strength of our brains."
Intel's Meaningful Investments
---
Recognizing the importance of emerging markets to its future,
Intel spends $100 million each year on education and health projects in the developing world.
Intel 's substantial social investment demonstrates its commitment to prepare citizens with the tools to be successful in the global knowledge economy. However, these social welfare programs also serve to strengthen the company's business model. At the recent Africa Connect conference, Craig Barrett discussed how
investments in education and health, in the long term, will yield good business dividends.
He added that for Intel, the commercial opportunity poses a challenge and compelling need to invest meaningfully.
Video: Intel's Social Investment in the Developing World
Video Courtesy of Media Link
The fusion between Intel's education programs and commercial interests is illustrated in the
Digital Inclusion Project in Nigeria.
Nigeria is the most populous nation in Africa, and as Craig Barrett expressed, it
"... is an emerging market that can't be ignored."
Intel, in collaboration with the Education Trust Fund, is investing $10.1 million dollars in Nigeria to develop digital curriculum content for secondary schools. Through Intel's World Ahead Program, the project will promote one-on-one learning through personal computers, with programs covering different subject matter areas. About 150,000 teachers will be trained and over 3,000 computers will be donated to students and schools. Teachers and students will benefit from Intel's investment, and become trained users of their technology. (To learn more about Intel's education investment, please visit the wiki page
Nigeria:Corporate Support and Sponsorship.
)
Intel's access initatives with the competitive market also converged with the launch of the
the Classmate laptop
. The Classmate is a direct competitor to
One Laptop Per Child (OLPC)
Both laptops have similar capabilities and durability, but the processor in the Classmate is made by Intel, while OLPC's is produced by AMD, a competitor.
Intel has been criticized for creating competition in the affordable laptop market
. For OLPC to meet full-scale production operation, they need an order of three million laptops. Intel is marketing its Classmate to the same countries as OLPC. The debate is whether Intel is boosting competition or competing for funding.
One source of information more about Intel's World Ahead Program is the World Ahead Facebook group.
Also see
Movin' Ahead, to join Craig Barrett on his recent tour of Africa
Conclusion
---
In Africa's race for ICT, competitive market motivations need to be taken into account. Intel is pioneering an emerging market business model that they hope will generate both social and economic returns on investment. To achieve both these goals, Intel will have to closely monitor and control their programs and markets. Quantitative metrics will not be sufficient to understand both the social and commercial demands the emerging market. A mix method evaluation approach, incorporating qualitative methodology, will be necessary to understand the unpredictable, contextual ICT needs of the African population. Understanding those needs will help ensure the quality delivery of social and commercial services and products. Craig Barrett said it best,
"We do not just look at tomorrow or only one set of indicies," he said. "We look at the totality of the market and we're extremely optimistic."
---MM