This document is a subsection of Platforms/Nigeria
Wiring Nigeria
---
---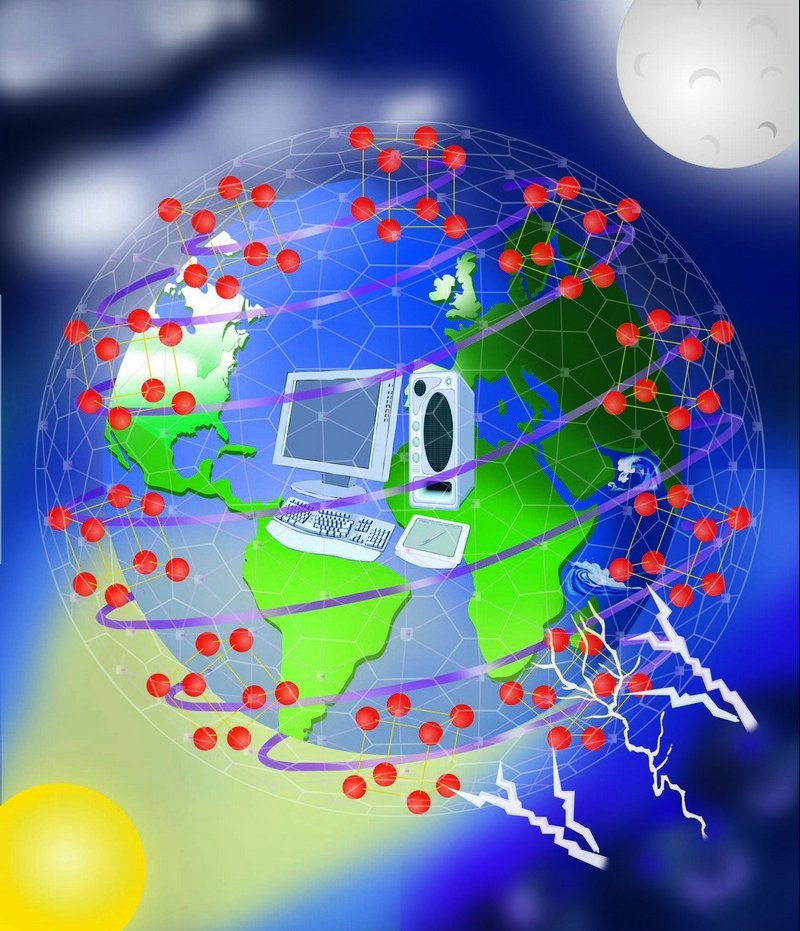 Weather print from Philip Emeagwali's computer ­posters
There are two main programs to roll-out broadband internet and optic fiber across the country:
Wire Nigeria Project (WiN) provides a Nationwide Fiber Optic Transmission Infrastructure to facilitate upgrading of information and communications technological structures in the country. An addition of over 6500km of new optic fiber cable has been installed since 2003. Nigerian Communications Commission(NCC) will provide a subsidy to the successful bidder for the building of a core, high capacity fiber optic layer. Other on-going projects include one that installs fiber cable over electric power lines.
State Accelerated Broadband Initiative (SABI) offers government support and incentives to encourage the private sector to build and run a broadband infrastructure in all state capitals and selected major commercial cities in the country by the end of Q1 2008.
Nigeria's first national Internet exchange was only established in May 2006 as a result of collaboration between the
NCC
and the ISP industry represented by Internet Service Providers Association of Nigeria.[1] The Exchange, known as
Nigeria Internet Exchange Point
(NIXP), is an independent, non-profit and neutral association managed by the Nigeria Internet Exchange Association, a company limited by guarantee with three layers, namely, Board of Trustee, Board of Directors and Management. The
Exchange
is supposed to have seven branches and about 40 sites, with at least one site in each state and Abuja. Each exchange branch is linked to the nearest branches and has a wireless network to enable members to connect at the least cost. Current operating locations include:
Ikeja NIX Colo - Ikeja
Nitel Colo (NET House) - Lagos Island
Medallion Colo - Victoria Island
In a news report in This Day, Mr Mohammed Rudman, Managing Director and CEO of
NIXP
, explained that the cost of Internet transit was the major bottleneck for affordable Internet service in Nigeria as the country's ISPs were connected at foreign countries. He cited the example of a Lagos Joint Admission and Matriculations Board (JAMB) student browsing the JAMB website located within an ISP in the state. The data would travel first to Europe or the United States before getting back to Nigeria. The use of international bandwidth for national data costs Nigeria over US$100 million each year. This is why
NIXP
had negotiated an agreement with
NITEL
to provide SAT-3 transit traffic at the rate of US$2,800 per Megabit duplex connection to all
NIXP
members, marking a major reduction from the previous price of US$6,300.[2]
Motorola Inc
has signed a contract with
Celtel Nigeria
to expand the carrier's GSM network in Nigeria, valued at US$50 million, in March 2007.[3] Last year, it signed a US$75 million GSM network expansion contract with
M-tel
, one of the leading mobile communications operators in Nigeria. The expansion covers installation, commissioning and the upgrading of sites in the cities of Benin, Ikorodu and Yola. This project is said to offer M-tel a solution of its network integration services to enable rapid deployment of all network elements. The implementation of the expansion is expected to be completed by the end of the first half of 2007. The expansion project is part of
Motorola Reach GSM
portfolio's aim to enable telecom operators to connect the next billion mobile subscribers by 2010 through the deployment of mobile services in developing areas.[4]
In an effort to provide better access and bring costs down, China launched a communications satellite for Nigeria in May 2007. Part of a US$ 311 million deal, the launch aims to revolutionize telecommunications, broadcasting and broadband multimedia services in Africa.[5] The project is the first of its kind in Africa and is projected to create more than 150,000 jobs for Nigerians, save broadband users more than US$95 million a year, save more than US$660 million in phone call charges and provide Internet access to remote rural villages. The satellite has a lifespan of 15 years.
Despite this, Funke Opeke, CEO of
NITEL
, lamented the "painful . . . infrastructure limitations" in Nigeria and set out to build a new competitor cable to SAT3. Dubbed MaIN OnE, the cable will connect 12 countries including Morocco, Mauritania, Senegal, Guinea, Cote d'Ivoire, Ghana, Nigeria (Lagos and Port Harcourt), Gabon, the DRC and Angola. At the time of this report, Opeke was seeking sources of finance for the project budgeted at US$300 million. If successful, the cable is expected to have a capacity of 2.56 terrabits and bring prices down to 10 per cent of current prices.[6]
On a brighter note,
Starcomms Nigeria Ltd
has deployed West Africa's first CDMA2000® 1xEV-DO Revision A network to meet the need for high speed broadband services speeds in Abuja, the capital of Nigeria.[7] The enhanced network is expected to accelerate the pace of 3G CDMA mobile broadband adoption for the entire region. Subscribers can quickly upload large data files and emails with attachments and instantly and securely access the Internet and intranets. They can also listen to and share high-quality stereophonic music, capture and share high-resolution photographs and personal videos, watch real-time television, video and mobile movies, and enjoy multimedia networking and rich 3D gaming with multiple players.[8]
A key enabling factor to an effective ICT infrastructure is reliable and adequate supply of electricity. This will in turn enable businesses to provide seamless online services through local areas networks, wide area networks and the Internet. The growth of real e-business also cannot take place or be of any significance in an environment with unreliable public power supply.
The unreliable power supply has led to over-dependence on generators for power to keep the GSM and fixed line network running. This in turn led to an increased in the inventory of diesel and the issue of ensuring its security. Some companies have reported theft of generators sets, up to about 40 of them in a month, or the removal of the voltage regulator in the generators. When these incidents become numerous, poor service results. Further more, when a network is down in certain parts of a town at night, operators might not want to send their technicians there for security reasons.[9]
Nigerians therefore depend on power generators, as the primary reliable power supply.
High cost
Both e-business and telecoms infrastructure are incomplete without affordable computing facilities. People need to have access to reasonably priced computers for education, recreation, business and other creative activities. They also need low cost Internet and phone service. However, high cost is still a barrier in Nigeria even with price competition.[10]
Installing a telephone line in the commercial capital Lagos is normally expected to cost 150,000 naira (approx US$1,500) including official and unofficial fees and can involve several months and cumbersome paperwork. Lines are sometimes cut off for no apparent reason and restoring them involves costly delays for business. Independent estimates has put the actual number of lines in use at little more than half of the total switching capacity of 600,000 lines.[11]
Computer prices are high because most of the computer hardware in Nigeria is imported. In terms of cost of usage, a 19 October 2007 Balancing Act News Update
report
alleged that one Nigerian wireless provider is charging US$192.02 for a 256 kbps download speed service.[12]
The
Association for Progressive Communications
(APC) reported that a similar cable linking West and Southern Africa has not provided the benefits of cheaper, faster Internet access because it is controlled by state-owned monopolies - or their privatised successors - which still enjoy near monopolies.
APC
executive director Anriette Esterhuysen said there have been two problems with the way the existing Sat3 cable - which goes from Portugal around West and Southern Africa to Asia - has been used:[13]
countries without a direct connection to the cable - such as Namibia - are reliant for their access on a single foreign company, which can charge exorbitant fees without fear of competition;
companies which dominate their domestic markets are under little pressure to provide a fast, cheap service to their consumers.
Feedback carried in a report in the
BBC News
entitled
Warning over African Internet cable
quoted reader, Ndubisi Obiorah, Lagos, Nigeria saying: "SAT3 has not really made a difference in Nigeria yet, but rather has become a major political hot potato delaying the privatization of the former state monopoly,
NITEL
. On a visit to Ghana last October, I noticed that the Accra cybercafes offered cheaper and faster browsing than in Lagos. Internet connections in Nigeria are very slow and expensive, though the situation is a lot better than five - six years ago. Cybercafes using VSAT are ubiquitous in Lagos and some private landline and cellphone companies offer net access."
Another, Amy from Lagos, said, "As an expatriate living in Lagos, Nigeria, my broadband Internet is surprisingly far more reliable than my connections in Nebraska, Oregon, and Washington, DC. This connection, speed, and reliability comes at a cost of nearly $150 per month with a $500 start up cost. If Eassy can provide competition, or cut down on the cost of maintaining the proper infrastructure without government support, then I am certainly looking forward to it."
Poor Service
Dealing with the telecommunications companies is not the
NCC
's only challenge. It is also facing the ire of Nigerians over the poor service that these companies are giving them and the high costs of these services. The services of the various carriers have been marred by widespread complaints which include a high rate of dropped calls, poor audio quality, call interference, non-delivery of short message service, SMS, multiple billing systems for SMS, inability to recharge and poor customer care services.[14]
NCC
alleged that the main contributor to the service deficiency is network capacity constraint as companies were not able to expand fast enough to meet demand.[15]
The Consumer Affairs Bureau of the
NCC
, which organizes the monthly Consumers Parliament as part of its effort at reconciling differences, published a list of complaints against the operators and rated their performances in 2006, but it was not followed by any action. While the Consumer Parliament, a brain-child of Ndukwe, Executive Vice Chairman of the Commission, had been able to diffuse the tension that resulted in several boycotts of services in 2002 and 2003, the
NCC
had not translated the negotiations into gains for the subscribers.[16]
In August 2007,
NCC
announced that it had concluded plans to introduce "number portability", which will allow subscribers to move from one network to the other without changing their SIM cards or altering their numbers. The move is viewed as also helping to reduce the complaints of poor quality of service since subscribers would then have the liberty to change operators any time.[17]
The persistent poor quality of service has led
NCC
to issue a notice to the operators on September 20, 2007 stating its intention to impose fines ranging from N50 to N175 per subscriber for any detectable level of congestion in their networks that led to a loss of their money. The amounts will be credited to the subscribers as airtime credit at the end of each month. This has led to two operators,
Celtel
and
MTN
, taking legal action to stop
NCC
from doing so. They claimed that a lack of adequate power supply and security were responsible for 70 per cent of the huge drop in quality service from their stables, and that they had to incur huge costs building transmission facilities and powering their operations. The operators successfully applied for an injunction stopping
NCC
from going ahead with its determination that operators should compensate subscribers for poor quality services.[18]
An October 1 2007 report by
Vanguard
said that the Nigerian National Assembly may soon look into the available telecom regulations with a view to overhauling them to suit a people oriented regulatory provisions.[19]
Under-served rural areas
The Nigerian Communications Act 2003 established a
Universal Service Provision Fund
(USPF) to provide subsidy for service delivery in high cost areas especially the rural and under-served parts of the country. The Board of
USPF
was inaugurated in July 2006. To ensure that telecommunication services are extended to rural / under-served / un-served areas, the
NCC
has supported and promoted a number of initiatives through the Fund including:[20]
Community Communications Center (CCC): provide a public calling center, cybercafé and information and communications technology (ICT) training courses on a shared basis, as well as serve as a platform to wirelessly extend Internet access to surrounding un-served communities.
Schools, Universities Access Program to Digital Life Style (SUAP2DLS): provide Broadband connectivity to schools and universities and neighboring communities.
Rural Broadband Internet (RUBI) Access: award subsidies to successful applicants to provide wholesale Internet bandwidth to CCC, Cybercafés, Rural Internet Service Providers (RISE), Institutions, etc.
Accelerated Mobile Phone Expansion (AMPE) Project: encourage network roll-out in at least five un-served towns/villages in each of the 774 Local Government Areas (LGA) by taking advantage of the ease in deployment of mobile services
Backbone Transmission Infrastructures: provide voice and data access points in LGA headquarters with backbone connectivity.
The Federal Government set up the Rural Telephony Project in 2006 and pursued various policies aimed at bridging the digital divide and achieving optimum penetration of the rural areas. These include the rural telephony project, Wire Nigeria project, the Nigerian telemedicine initiative, Public Service Network initiative, Internet Exchange Point initiative, the development of a keyboard for the three main Nigerian languages, and the establishment of the Universal access fund. They are all geared towards ensuring ICT access to every nook and cranny of the country. In line with this, the government has signed a US$200 million partnership agreement with three Chinese companies,
ZTE
,
Alcatel Shanghai Bell
and
Huawei Technologies
, for the second phase of its rural penetration drive in 2006. The main aim of the project is the provision of telecommunications infrastructure in all the 343 local government areas with telephone facilities through the National Rural Telephony project.
All Africa reported that
NCC
has endorsed the Wimax technology as the solution with the capacity to drive access into the rural and unserved areas in the nation. The Director of Technical Research and Standards of the
NCC
, Dr Sylvanus Ehikioya, gave a presentation at a conference titled "the business imperatives of Wimax" organised by the Weco Group in April 2007. He stated that the initiatives of the
NCC
geared at driving access into the rural areas will require the technology deployed by WiMax to be successful. He gave examples of such initiatives as the State Accelerated Broadband initiative, community centre development projects, and the Universal Service Provision fund program as initiatives that will deploy the WiMax technology for success. Ehikioya, added that the biggest challenge to developing countries is the issue of access to information, because of the importance of information communications technology to the advancement and development of any nation. He stressed that "the state accelerated broadband initiatives, SABI and the use of the USPF, to assist in the funding of ICT projects in the country, including business projects deploying their solutions on Wimax platform, are some of the ways in which the commission encourages the deployment of Wimax solution in Nigeria".[21]
The President of the
Nigeria Internet Group
(NIG) and chief executive of
PiNet Informatics
, Mr Lanre Ajayi, has declared that WiMax is more reasonably priced than the Very Small Aperture Terminal (VSAT), which is more prevalent in the country.[22] He also said that WiMax would bring about cheaper broadband when massively deployed before the end of this year, citing the cost of a WiMax terminal equipment as less than US$400 (N51,200) when compared to over US$4000 for VSAT (N512,000). His declaration came as the Lagos State government entered into a partnership with an ICT firm, Polestar Nigeria, to deploy high speed WiMax in the state, even as the Federal Capital Territory (FCT) has announced its deployment in the city.
Lack of ICT expertise
Among the factors listed as being responsible for the low quality of service which subscribers are complaining of, Ernest Ndukwe, Executive Vice-Chairman & Chief Executive of the
NCC
, cited the general shortage of experienced manpower in the operating companies.[23]
A technical officer of the Ministry of Communications, Mr Chike Uwazie, reported at a public hearing conducted by an ad hoc committee of the Nigerian House on communications, that work by the Ministry on the rural telephony project had been delayed because the ministry did not have the manpower to carry it out.[24]
Studies of Nigerian libraries in general and university libraries in particular have consistently reported inadequate levels of ICT literacy as one of the major problems facing technology development in Nigeria. ICT infrastructure development and poor funding have been identified as problems, followed by poor ICT skills among staff.[25]
Jide Awe, publisher of
Jidaw.com
, argued that Nigeria needs to put more effort into developing human capacity in areas such as technical, management, research and development, security, strategic and operational. For example, while there has been a cyber café boom, management has been a major source of concern for cyber café businesses.[26]
He had suggested that this can be encouraged through increased awareness of opportunities and capabilities in ICT. The environment should encourage ICT education and provide incentives, especially for those investing in research, development, training, software and other creative efforts. While he agrees that infrastructure development is "great", "it is serious investment in education that will bridge the digital divide and enhance the quality of infrastructure, the quality of access, the quality of usage, the quality of growth."
The Computer Education blueprint presented by the
Computer Professionals Registration Council of Nigeria
(CPN) is expected to address the critical problems of basic and immediate skills in Computer Education in Nigerian educational institutions. A draft proposal has been submitted to the Presidency, the
Ministry of Education
and other relevant bodies in October 2007. If implemented, this could go a long way to raise the level of IT literacy among Nigerians.[27]
Back to Nigeria
---
[1]
NCC, ISPs Start Internet Exchange Points
, This Day/All Africa Global Media via COMTEX, May 10 2006
[2] Efem Nkanga,
AAGM: Bandwidth for National Data Costs $100m
, This Day (Nigeria), July 11 2007, The Financial Times Limited. Asia Africa Intelligence Wire. Factiva.
[3]
Contracts
, RCR Wireless News, 15330796, Vol. 26, Issue 9, March 5 2007, Database: Business Source Premier
[4] Colleen Taylor,
Motorola Lands Nigerian Mobile Contract
, Electronic News (10616624), 10616624, Vol. 52, Issue 51, December 18 2006, Database: Business Source Premier
[5]
China launches communications satellite for Nigeria
,
Xinhua News Agency
, May 14 2007
[6] Russell Southwood,
Nigeria's Mainstreet Technologies to build new international west coast fibre
, Balancing Act News Update, Issue no. 371, September 14 2007
[7] Press Release:
STARCOMMS to deploy latest EVDO technology in Abuja
, Starcomms Limited, June 13 2007
[8] Press Release:
CDG congratulates Starcomms on deploying 3g broadband
, CDG website, October 1 2007
[9] Emma Ujah and Luka Biniyat,
Power Failure Behind 75 Percent of Phone Network Failures - Ndukwe [interview]
, July 9 2007, All Africa, Factiva
[10] Jide Awe,
Nigeria: Bridging the Infrastructure Divide
, Jidaw.com, February 11 2007
[11]
Nigeria
,
Balancing Act News Update
, downloaded on October 23 2007
[12]
Continued high Internet and telecoms growth in West Africa
, Balancing Act News Update, Issue no. 376, October 19 2007
[13]
Warning over African Internet cable
, BBC NEWS, 15 March 2006,
[14] Nathaniel Jonah,
GSM - We Are Tired of Constant Poor Network Service – Nigerians
, October 4 2007, All Africa
[15]
Press Release: Nigeria Marks Six Years of Telecoms Revolutions
, Nigerian Communications Commission website, August 28 2007
[16] Frances Ovia,
AAGM: GSM Operators Battle NCC On Quality of Service
, This Day (Nigeria), January 17 2007, The Financial Times Limited. Asia Africa Intelligence Wire, Factiva
[17] Frances Ovia-George,
AAGM: NCC Breaks GSM Operators' Monopoly Over Numbers
, This Day (Nigeria), August 27 2007, The Financial Times Limited Asia Africa Intelligence Wire, Factiva
[18]
AAGM: Nigerian Communications Commission /Operators - Who Blinks First?
, This Day (Nigeria), October 17 2007, The Financial Times Limited Asia Africa Intelligence Wire, Factiva
[19] Prince Osuagwu,
AAGM: National Assembly Moves to Overhaul Telecom Regulatory Laws
,Vanguard, October 1 2007, Factiva
[20] Ibid.
Press Release: Nigeria Marks Six Years of Telecoms Revolutions
[21] Efem Nkanga,
NCC Endorses Wimax for ICT Penetration,
All Africa, April 12 2007, Factiva
[22] Remmy Nweke,
WiMax is Cheaper Than VSAT - NIG Boss
, Daily Champion/All Africa Global Media via COMTEX, March 16 2006
[23] Ibid. Adekunle Adekoya
[24] Stanley Nkwazema,
AAGM: Stop Fresh Promo, NCC Cautions GSM Providers
, This Day (Nigeria), July 20 2007, The Financial Times Limited. Asia Africa Intelligence Wire, Factiva
[25] Funke Oyekanmi,
Can ICT Make Meaningful Impact in 2007?
, All Africa, January 5 2007, Factiva
[26] Ibid. Jide Awe
[27] Emeka Aginam,
CPN Set to present Computer Education Blueprint
, Vanguard (Lagos), October 24 2007