The plight of migrant workers in the Persian Gulf region has been an issue of widespread concern for several years. A heightened economic and construction boom in the region has meant an increase in the need for foreign labor, mostly coming from Asia and South-East Asia. It is estimated that migrant workers make up 95% of the United Arab Emirates (UAE) workforce.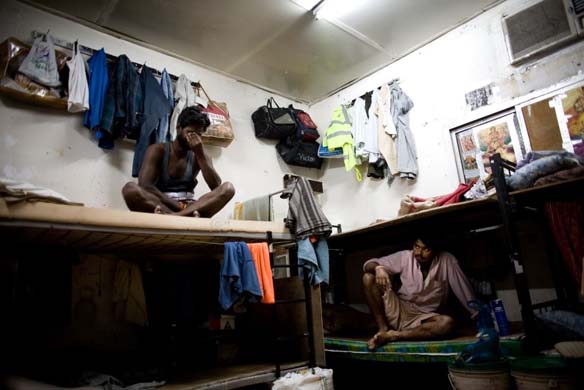 The hands that build the skyscrapers. Right: A typical labor camp. In certain areas up to 20 men share a single room.
Photograph: Ghaith Abdul-Ahad
Unfortunately, the dramatic influx of migrant workers has not been accompanied by a measured sense of labor practices.
Many international legal standards, such as those in
The UN OCHR's International Convention on the Protection of the Rights of All Migrant Workers and Members of Their Families
, have not been met. Routine withholding of wages, unsafe labor conditions, squalid labor camps and the illegal holding of the workers' passports as "security" are only some of the widely-reported issues.
International Concern
Human Rights Watch
, Amnesty International, and a number of international news media outlets have all produced reports condemning the unfair labor practices and living conditions of migrant workers in the Gulf region.
Here is a link to a report by
The Guardian.
The abuse of migrant workers becomes especially pertinent internationally when institutions such as the Guggenheim Museum or New York University were potentially implicated, given that the construction of their new facilities in the UAE could involve abused migrant workers.
HRW
reported on this, as did an
ABC news article.
Below is another ABC news report.
Regional news media such as Al Jazeera have also highlighted this problem on several occasions.
Here is a similar report in Arabic:
Al Jazeera Arabic.
While the government of the United Arab Emirates has made welcome attempts to improve the situation of migrant laborers, there are still many employers who do not adhere to the country's labor standards and codes of conduct. Although there are new labor camps, such as the one at the construction site for
Yas Island Abu Dhabi,
that boast free internet access, gyms and satellite TV, these examples are scant. The problem is exasperated by the fact that a large number of migrant workers are often unaware of the law and their legal rights, leaving them scared and open to manipulation by employers.
Aside from the more obvious human rights abuses that take place daily, migrant laborers in the region are largely marginalized in society. UAE society's hierarchical structure means that there is little room for interaction amongst different social strata. The labor camps are not visible to the public eye and there is no common space shared by locals, expatriates or visitors to Dubai and the men that build its skyscrapers.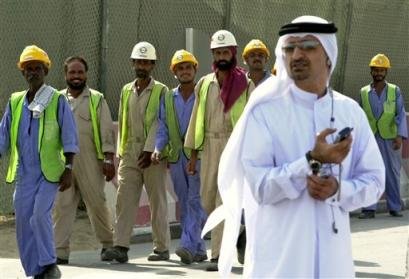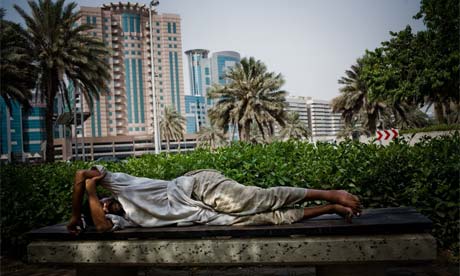 Above: Two very different social groups. Right: A worker sleeps on the street in Dubai. Photograph: Ghaith Abdul-Ahad
Proposed Social Network Initiative
I propose to use new media to create a social space for migrant workers to interact with their existing connections, as well as strengthening their weak ties with other workers as well as other interest groups such as NGOs or activists. The network would be called Gulfconnect.net and it would be established in the UAE. Here is a similar example of a social network for Filipino migrant workers worldwide:
MabuhayCity
. Gulfconnect.net would be the first network created specifically for migrant workers in the Gulf region.
Gulfconnect.net would possess all the qualities of current social networks such as friend connections and discussion forums. However, crucially
www.gulfconnect.net
would contain legal factsheets translated into Hindi, Urdu and Malayalam. The network would also link to Witness.org in order for participants of the network to be able to post footage of unsafe work conditions or unsuitable living quarters. The project would aim to strengthen and reinforce informal communication as a means of bolstering engagement and a sense of community within this excluded social group.
Other Internet Projects Concerning Migrant Workers in the UAE
Mafiwasta is an important blog concerning workers' rights in the UAE.
Mafiwasta.com
Migrant Rights
is another blog drawing attention to the issue of migrants in the region.
This is the Facebook page highlighting concern for the plight of migrant workers, particularly in the construction sector,
Dubai's Dirty Little Secret
Another Facebook page calling for
Minimum Wage for Construction Workers
in the UAE.
This philanthropic foundation aims to provide recreational, medical and educational help to Dubai's construction workers
Helping Humanity.
This is the site for a charity based in Dubai that administers care packages and other assistance to abused laborers
Helping Hands UAE
.
BY DANA ALIKHANI
Back to Human Rights