All conference events will be held on Columbia's campus in upper Manhattan. The nearest subway station is the '1' train at 116th and Broadway. For general information about transportation to the University, see the University's directions.
The first faculty panel (4:10 to 6pm on Thursday, April 15th) will take place in Knox Hall, whose entrance is on 122nd Street just west of Broadway. Please note that in order to enter Knox Hall, either a valid Columbia ID must be presented to the security guard or you must register for the conference in advance.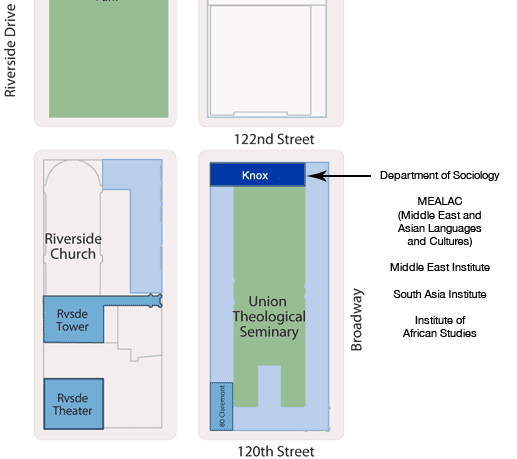 All the other conference events will take place in Schermerhorn Hall.
The first student panel (6:10 to 8pm on Thursday, April 15th) will take place in 963 Schermerhorn Hall. Please enter the building from the south side and take the elevator to the 9th floor. Follow the signs to the "Schermerhorn Extension" (walk to the left across the foyer, turn left again in front of the laboratory and continue down the hall).
The conference events on Friday and Saturday (April 16th and 17th) will take place in 501 Schermerhorn Hall.