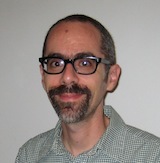 David Barnett Lurie
Associate Professor of Japanese History and Literature, Department of East Asian Languages and Cultures, Columbia University (January 2002-present).

(For a pdf of an up-to-date CV click here.)

Education
B.A. in Literature from Harvard University (1993, magna cum laude); M.A. (1996) and Ph.D. (2001, with distinction) in Japanese Literature from Columbia University.
Selected Papers and Publications (for errata click here; for a list of downloadable pdfs click here)
"Introduction: Writing, Literacy, and the Origins of Japanese Literature"; "Myth and History in the Kojiki, Nihon shoki, and Related Works"; and "Fudoki Gazetteers," in The Cambridge History of Japanese Literature, ed. Haruo Shirane and Tomi Suzuki with David Lurie, Cambridge University Press, 2016
Review of Joshua A. Fogel's Japanese Historiography and the Gold Seal of 57 C.E.: Relic, Text, Object, Fake, in The American Historical Review (February 2015)

"Metalanguage and Logography in the Japanese Adaptation of the Chinese Script," at "Signs of Writing: The Cultural, Social, and Linguistic Contexts of the World's First Writing Systems," Neubauer Collegium for Culture and Society, University of Chicago, 9 November 2014

"The Politics of Jealousy in Early Japanese Literature," talk at the Reischauer Institute Japan Forum, Harvard University, 11 April 2014

"Toward a General History of Writing: Thinking with Innis and Gelb," talk at the Neubauer Collegium, University of Chicago, 21 February 2014

"Talking Trees and the One-Word Lord: Language Gods in Ancient Japan," talk at the Center for East Asian Studies, Stanford University, 19 November 2013

Review essay on Herman Ooms's Imperial Politics and Symbolics in Ancient Japan in Monumenta Nipponica 68:1 (2013)

"A Tale of Two Arrows: The Significant Detail in Japanese Mythology," talk at the Center for East Asian Studies, University of Pennsylvania, 9 October 2013

Sekai no mojishi to Man'yoshu ["The Man'yoshu and the World History of Writing"], Kasama Shoin, 2013
Entry on the

Man'yoshu

for the

Princeton Encyclopedia of Poetry and Poetics

, 4th edition (2012)
"The Development of Japanese Writing," in

The Shape of Script: How and Why Writing Systems Change

, ed. Stephen Houston, SAR Press, 2012


Realms of Literacy: Early Japan and the History of Writing

, Harvard University Asia Center, 2011
"Tsuda Sokichi (1873-1961) and the Age of the Gods: The Persistence of Early Modern Approaches to Ancient Texts," talk at Terasaki Center for Japanese Studies, UCLA, 23 May 2011

"Titles of the Current Realm: Script, Language, and the Earliest Japanese Bibliographies," talk at Toronto Centre for the Book, 18 March 2011

review of J. Marshall Unger's

The Role of Contact in the Origins of the Japanese and Korean Languages

, in

Japan Studies

29:3 (December 2009)

"Man'yoshu no moji hyogen o kano ni suru joken (oboegaki)" (Notes on the Factors that Enable Expressive Inscription in the Man'yoshu),

Kokugo to kokubungaku

84:11 (November 2007).

"Language, Writing, and Disciplinarity in the Critique of the 'Ideographic Myth': Some Proleptical Remarks,"

Language & Communication

26 (2006)

"Orientomology: The Insect Literature of Lafcadio Hearn (1850-1904)," in JAPANimals: History and Culture in Japan's Animal Life, ed. Gregory M. Pflugfelder and Brett L. Walker, University of Michigan Press, 2005.
"The Author Formerly Known as Prince Shotoku: Royal Authority and Narratives of Literacy in Early Japan," paper delivered, Association of Asian Studies Annual Meeting: Chicago, 3 April 2005.

"On the Inscription of the Hitomaro Poetry Collection: Between Literary History and the History of Writing," Man'yoshu kenkyu 26 (May 2004).

"Windows on Japanese Literature"; six-part monthly newspaper series introducing modern Japanese authors (Ibuse Masuji, Enchi Fumiko, Inoue Yasushi, Endo Shusaku, Abe Kobo, Ariyoshi Sawako) to English-speaking readers. Daily Mainichi: Tokyo, February-July 2000.
Research interests
History of writing systems
Cultural, intellectual, and literary history of early Japan
Development of reading systems and Japanese reception of Chinese texts
History of Japanese dictionaries and encyclopedias
Emergence of the hiragana and katakana syllabaries in 9th century Japan
Medieval and early modern commentaries on early Japanese texts
Early modern Japanese epigraphic and antiquarian studies

History of Japanese linguistic thought
Japanese and comparative mythology
World philology

Contact Information
c/o Department of East Asian Languages and Cultures
407 Kent Hall
Columbia University Mail Code 3907
1140 Amsterdam Avenue
New York NY 10027

(212) 854-5316; fax (212) 678-8629
---
Tribute to Reuben Lurie (1898-1985)

Home
Page created 24 November 2001; revised 19 January 2016