The Abrams Complex, about 1956, aerial view. From bottom to top: IG Farben building, the Officers (Terrace) Club or "Casino", helicopter pad, a long wide service building (Annex B), Frankfurt High School (left) and the Ambassador Arms Hotel and generals' houses (right), Miquel Allee, HiCoG housing. Annex B was mainly an Army office building, but it also had a bakery where you could buy a mini-loaf of delicious chewy Italian bread hot from the oven for 10 cents.
The buildings between Annex B and the school included the chapel (center) and the Idle Hour movie theater (right); to the right of these buildings directly across Siolistraße (at Rostocker Straße) would have been the Teen Club but apparently it hadn't been built yet; there's only a vacant lot there. The E-shaped building just below was Annex A. This photo was taken after 1954 because the high school is complete, but before 1959 (when I arrived) because there are no "quonset" huts next to the school, and also because in 1959 the building with the tall chimney was gone. Raimundstraße runs diagonally across the upper right; D'Angelo's is there somewhere.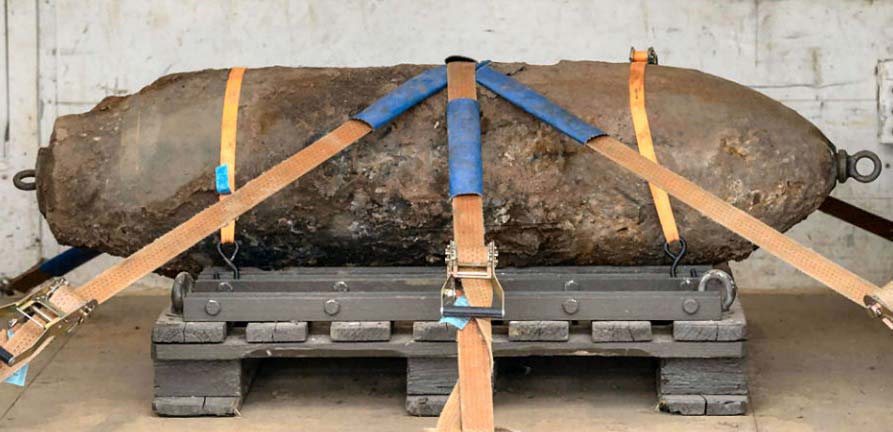 Unexploded 4000-pound WWII bomb
In September 2017 a 4000-pound unexploded bomb from WWII — a "blockbuster" capable of flattening entire city blocks — was discovered under Wismarer Straße, the little street that ran between the generals' houses to the Ambassador Arms and connected to Siolistraße at each end, one of them at the Teen Club. I'm not sure of the exact location of the bomb but if it had blown up while we were there, we might not be discussing it now.