| | |
| --- | --- |
| | ←(Use Google Translate to see an approximate translation into another relevant language) |
[General index] [Index to chapters] [Index to galleries] [Full family history]
Arlington, Virginia, 1956-61: Hall's Hill
Frank da Cruz
Bronx NY
January 2021
This is not a chapter of my family history but a section of the Arlington chapter extracted for reference as a special topic. Also see the accompanying gallery of highly detailed 1943 plat maps of the area.

Most recent update: 18 March 2021 14:47:43
The Hall's Hill Segregation Wall
As on outsider, I am absolutely not qualified to write about Hall's Hill; the following is a brief sketch of the schizophrenia of North Arlington when I lived there 1956-59 and 1961-62, and the unease I experienced with a WALL between human beings just across the street from our house, especially in 1961-62 after returning from 2.5 years on an Army base in Germany among people of all races, religions, nationalities, cultures, and economic status and attending an integrated, diverse high school. Information on Hall's Hill has been hard to find until recently but now we have some excellent sources; see the References section below.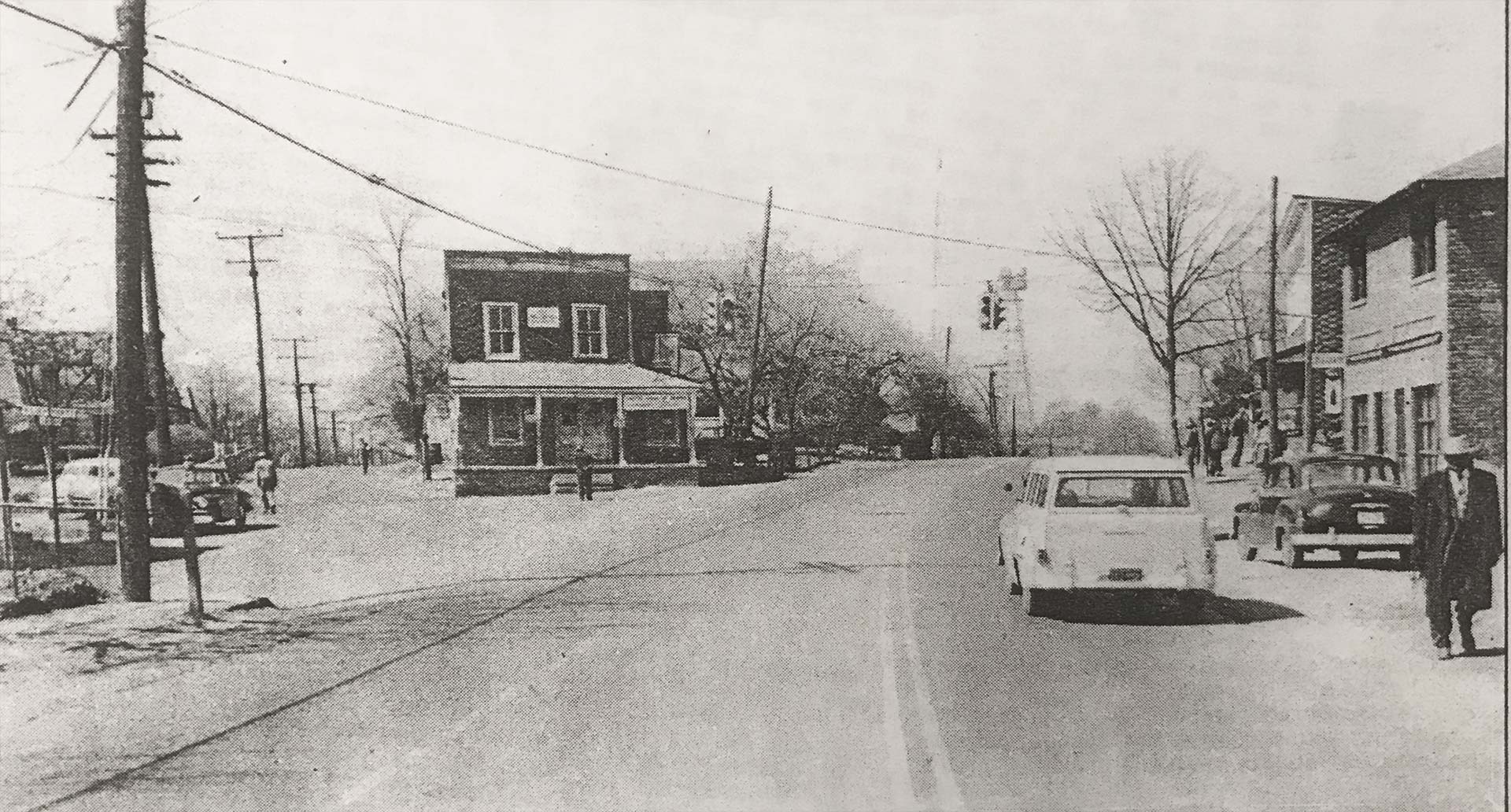 Hall's Hill on Lee Highway near Glebe Road 1950s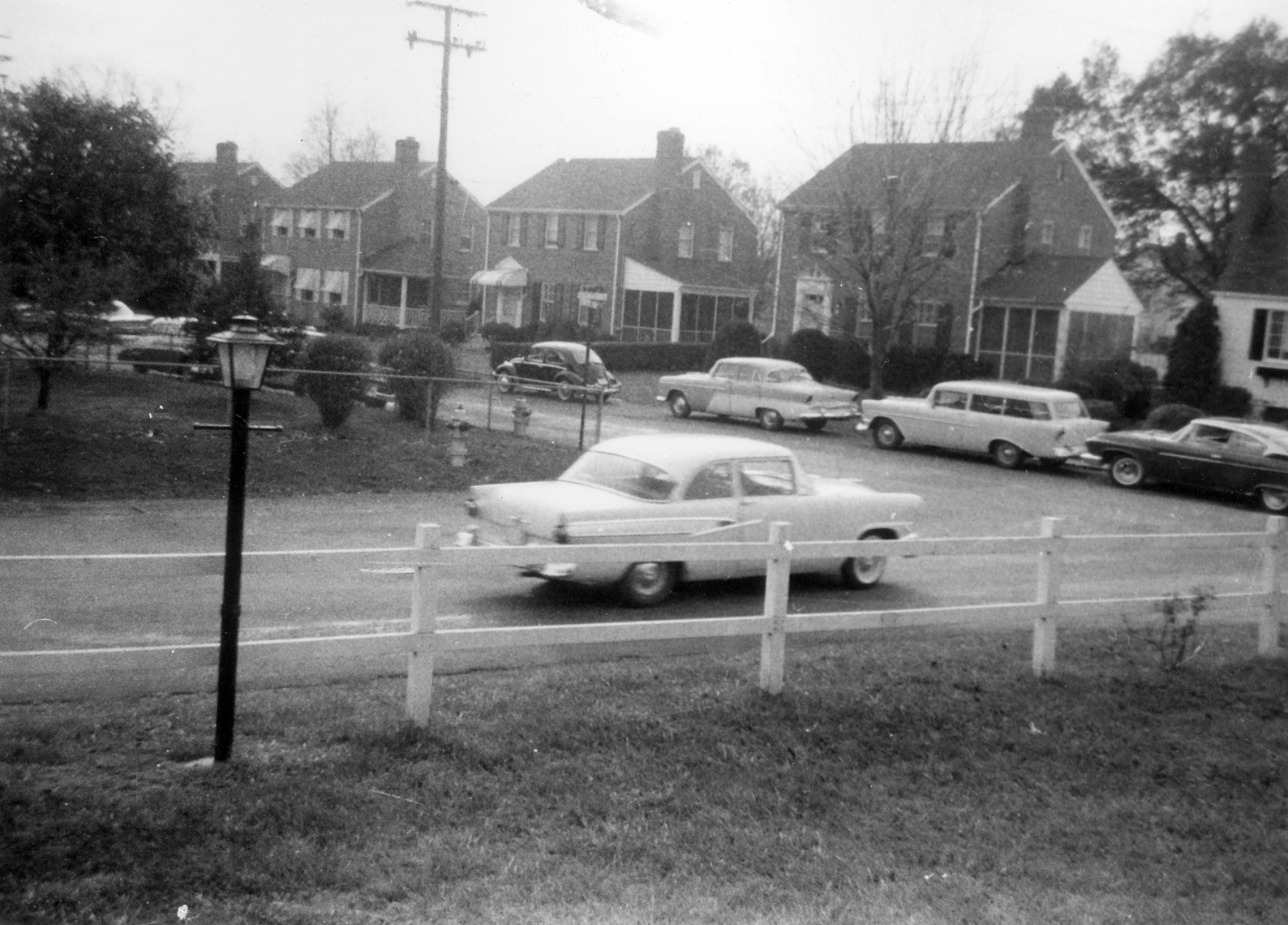 Houses on N. Columbus Street 1956
Behind the houses along the other side of Colum­bus street was a high wall (not visible in the photo from my bedroom window but just behind the houses on the right), separating the white neighborhood from Hall's Hill, an area settled by former slaves after the Civil War. Virginia was segre­gated from the first arrival of African slaves in 1619 until the mid-1960s. Black and white people had separate neighborhoods and separate schools and many other impediments to normal life. During and after World War II, the increase in government jobs in Washington resulted in new white suburban tracts throughout formerly rural North Arlington. New Black arrivals moved into enclaves like Hall's Hill, which was walled in to prevent any contact between white and black residents. It is the only Black enclave I know of that was quite literally walled off[
16
].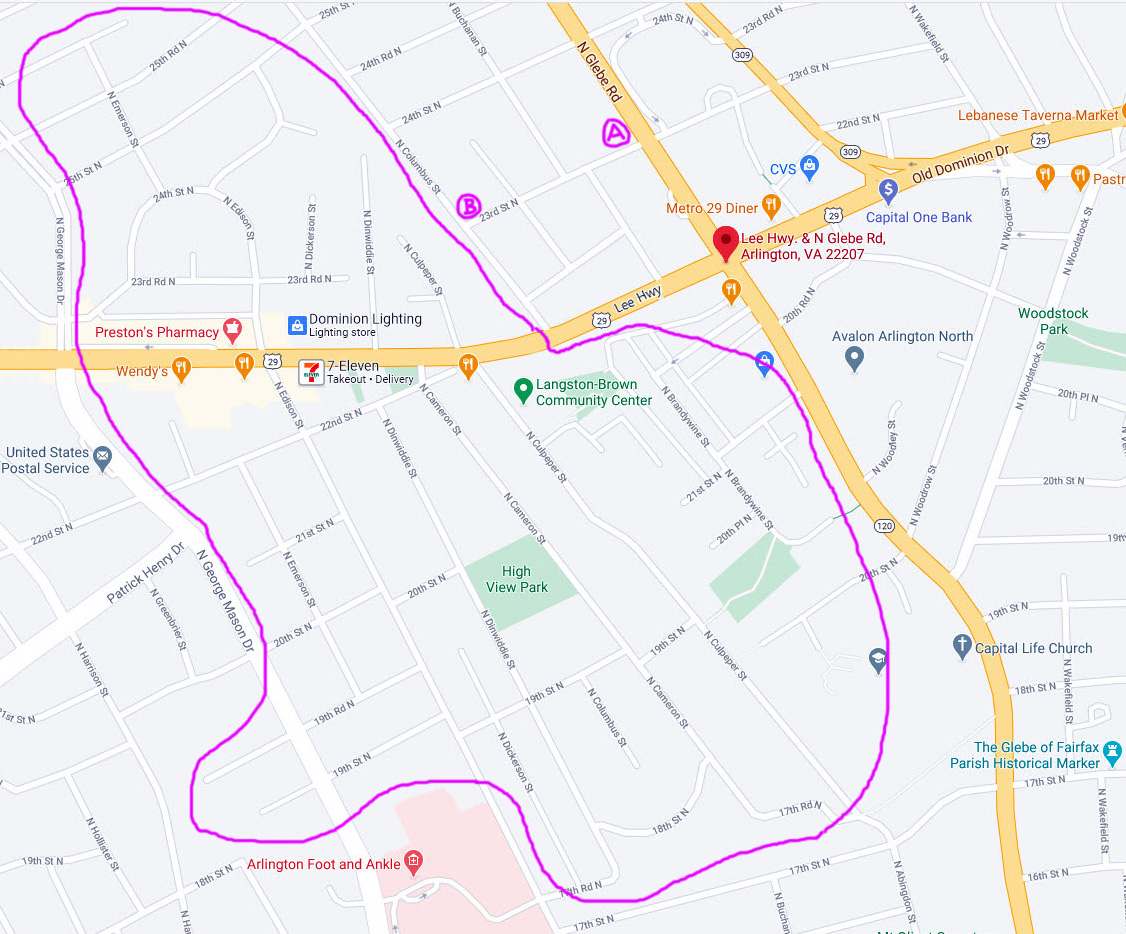 Hall's Hill 2020 (Google) - Click to enlarge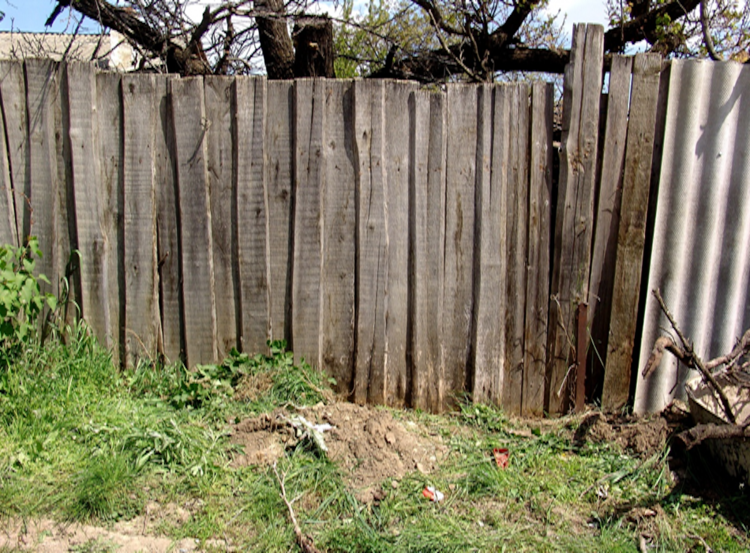 Wooden Hall's Hill wall segment
Hall's Hill Masonry wall segment
On the modern Google map at left, I traced the outline of Hall's Hill as best I can, given that I've never seen a proper map of it. Towards the upper center of the map, the circled A marks my
grandmother Gus
's house on the corner of N.23rd Street and Glebe Road, where I lived 1945-46, and the circled B marks the house on N.23rd Street and Columbus Street where we lived 1956-59 and 1961-62, which just is 200 feet from the Hall's Hill wall.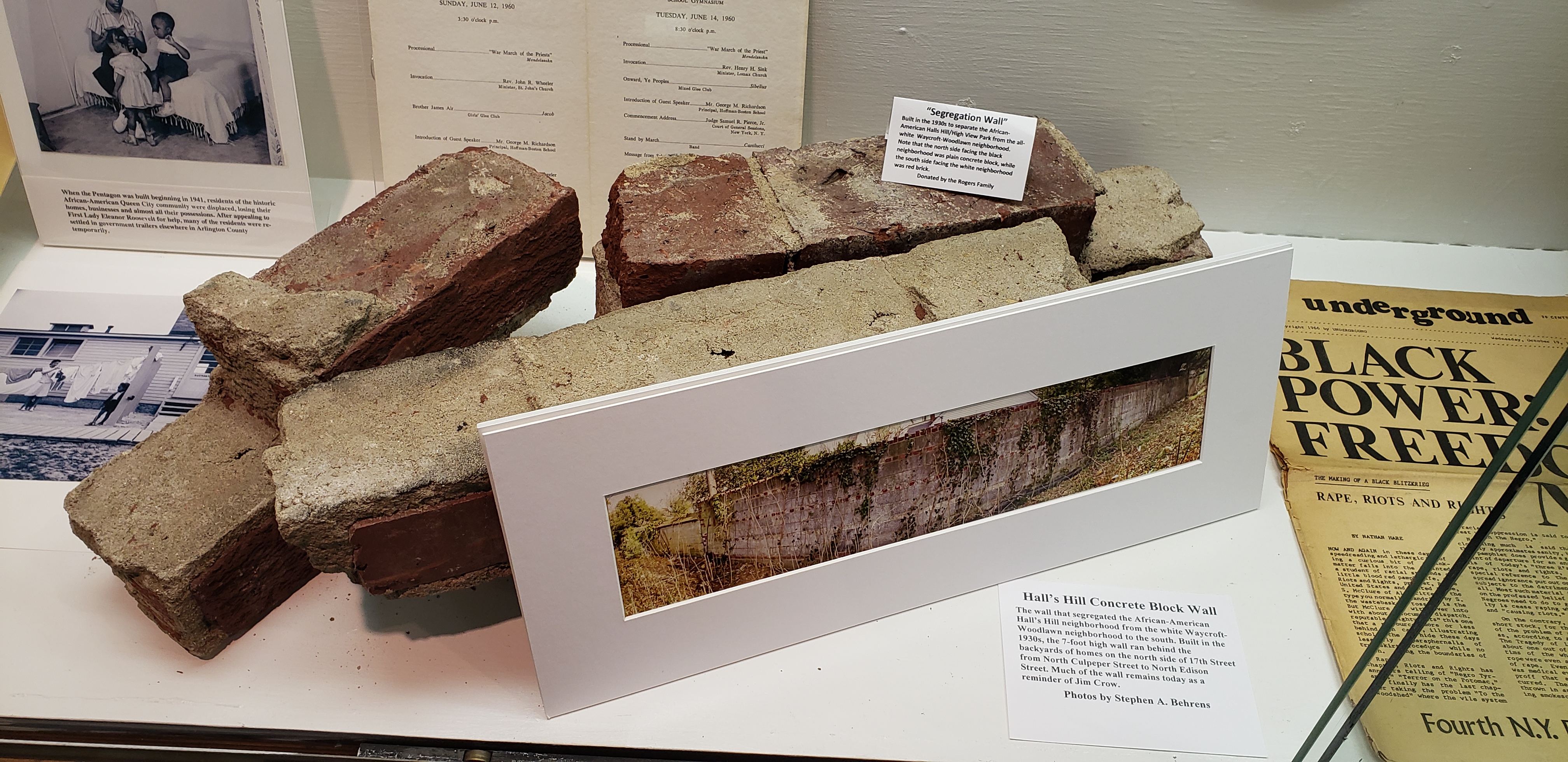 Hall's Hill Segregation Wall historical exhibit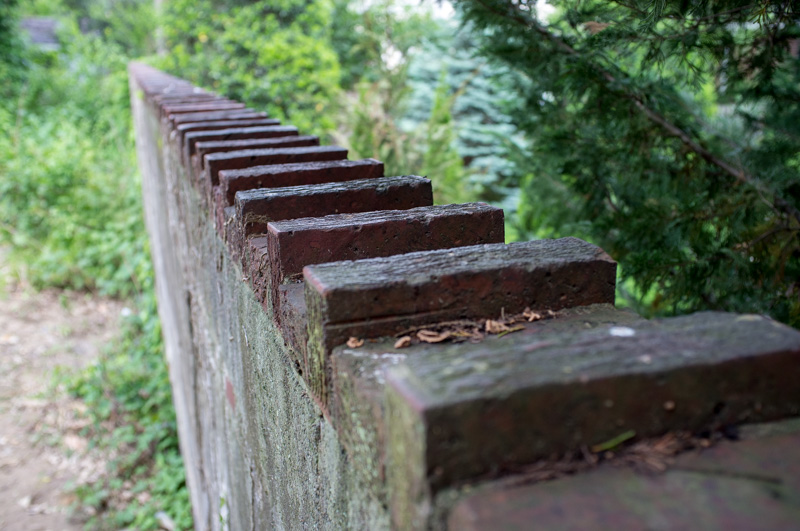 Crenellated top of Hall's Hill wall
I know the wall went along the backyards of the houses on Columbus Street from Lee Highway all the way to N.26th Street because I saw it. Other sources [
4,5,6,12
] confirm that it enclosed all of Hall's Hill. The wall was constructed between 1930 and 1940 by the white occupants of each house on the dividing line[
4,5,12
]. There were only two openings between Hall's Hill and the outside world: N. Edison Street and N. Dinwiddie Street, which both opened onto (Robert E.) Lee Highway, one of Arlington's main thoroughfares and shopping streets. In the heydey of segregation, the roads within Hall's Hill were all dead ends. Some of them still are, but since gentrification set in starting about 1979, some of the roads have been connected to the surrounding streets, as can be seen on the Google map.
Peoples Drug sit-in 9 June 1960
Cherrydale Drug Fair sit-in with Nazis
Hall's Hill residents had access to the shopping area at the intersection of Lee Highway and Glebe Road, and were welcome at the Safeway supermarket on the corner of Lee Highway and Columbus Street and (as I recall) also the High's Ice cream store next door to it as well as the nearby hardware store. They could shop at Robertson's 5&10 but if black children or teenagers showed up unaccompanied by an adult, the proprietor (Libby) would follow them around to make sure they didn't steal anything[
1
]. They could also shop at Peoples Drug Store but could not eat at the lunch counter; this sparked some sit-ins in 1960, plus "pushback" from the American Nazi Party and its Führer, George Lincoln Rockwell, who lived nearby[
11
]. I was in Germany during this period.
Evans Coffee Shop about 1960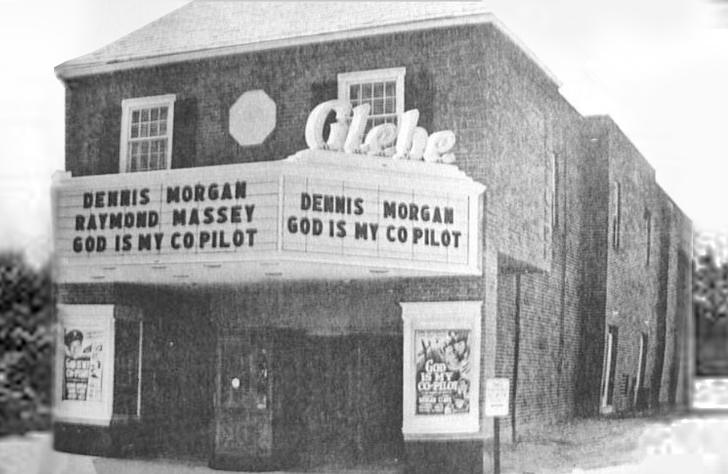 Glebe theater 1945
Hall's Hill residents were
not
welcome at the Glebe theater (1945-72), nor Evans Coffee Shop[
14,15
] (1939-1980, "plantation-style menu") a snooty place decorated with animal heads and historical memorabilia and frequented by DAR and Daughters of the Confederacy families. Nevertheless, Arlington (which until the mid-1930s was home to a thriving KKK chapter[
1,5,7,8
]) fancied itself more genteel and "tolerant" than the deep south (including non-northern Virginia, e.g. Charlottesville), so we did not have "White" and "Colored" signs all over the place, people could sit anywhere they wanted on the WV&M buses (at least in the early 60s when I was riding them), and Blacks did not have to step off the sidewalk to make way for whites. There were, however, cross burnings over the years including at least one when I was living there in 1958[
9
].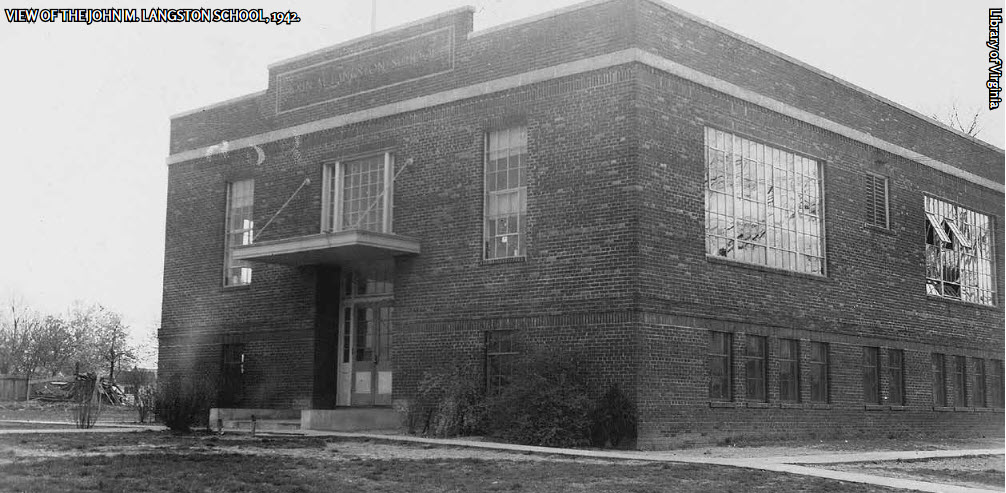 John M. Langston School 1942
Hoffman-Boston High School
Hall's Hill residents were hardworking Arlington county taxpayers. Their local taxes were supposed to go towards the same things white people's taxes did: water and sewer service, paved streets and sidewalks, gutters, street lights, trash collection, police and fire department protection, and so on, plus (from 1954) Supreme-Court mandated separate-but-equal schools. But for decades water came from wells, bathrooms were outhouses, roads were dark and not paved until well after WWII, there were no sidewalks and no drainage, the police never came unless they were looking for somebody and the fire department would not come at all (so Hall's Hill formed its own volunteer fire department). As to education, Hall's Hill had its own Langston Elementary School[
13
] (at the center of the
map
where it says Langston-Brown Community Center). It was extremely convenient but, at least until 1953[
2
], had only four rooms. The closest high school for black teens was Hoffman-Boston: five miles away with no school bus or public transportation. Getting the Arlington County government to meet its responsibilities in all of these areas was a struggle over many decades of which I, who lived practically next door, was completely unaware. And all this is not even to speak of the decades-long struggle for school integration, in which, even after Brown-vs-Board-of-Education, Virginia was a notorious foot-dragger[
1,2,5
]. When I graduated from nearby Yorktown High School in 1962, it was still all white.
Present-day Wall tourists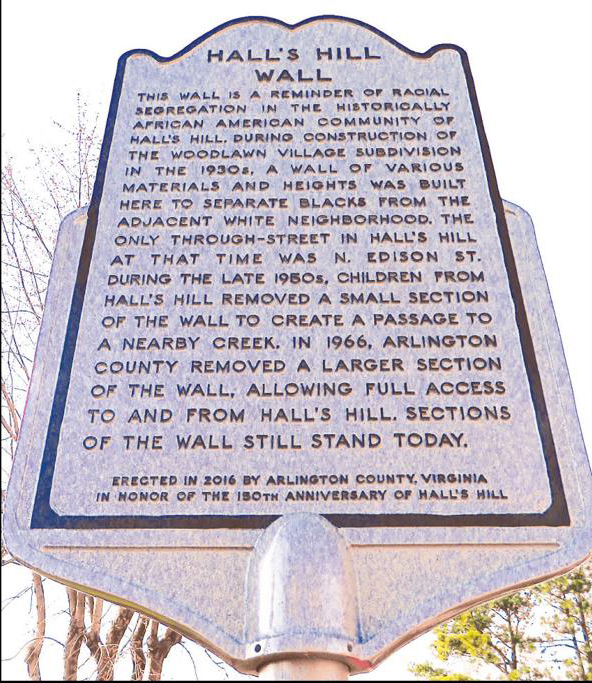 Marker (click to read)
By the time Hall's Hill finally had paved roads, running water, and all the other services it had fought so long and hard for, white people started to move in and today they are in the large majority. Many of the streets are reconnected and wall is mostly gone except for some sections that serve as tourist attractions. And now, as a New Yorker since 1966, I watch in stunned disbelief as the same thing happens here to Harlem....
Harlem!!!
Acknowledgments...
...to Cathy Hix, Annette Benbow, and Jessica Kaplan of the Arlington Historical Society (AHS) and to Frank O'Leary, former Arlington County Treasurer and even more former high-school buddy at the Army school in Frankfurt, Germany, for connecting me with the folks at AHS. And to Wilma Jones for writing the book that really needed writing!
References:
Book: Wilma Jones, My Halls Hill Family: More Than a Neighborhood, self-published (2018).
Article: Sophie B. Vogel, The Integration of Reed Elementary School, Arlington Historical Magazine, Vol.11 No.1, October 1997, pp. 32-41, accessed at the Arlington Historical Society website 15 January 2021. This is a PDF file that starts with a 1963-64 map that, on the mid-to-lower extreme right, shows bits of Hall's Hill where the dead-ending of the streets is clearly visible. It notes that in 1925 the John Langston School at 4864 Lee Highway was established to provide separate but equal education for the children living on either side of Lee Highway. It also says that additions were added in 1953, 59, and 64. It also notes that the process of integration of Arlington schools began on February 2, 1959, when four Afro-American students were enrolled at Stratford Junior High by Court order. Four years later, in 1963-64 [the year after I graduated from nearby all-white Yorktown High School], all secondary schools in the county were integrated. No action was taken to desegregate at the elementary level until 1966 — twelve years after Brown-vs-Board-of-Ed; I came back to Yorktown that year, after the Army, to pick up a transcript and found an integrated school.
PhD Dissertation: Nancy Perry, The Influence of Geography on the Lives of African American Residents of Arlington County, Virginia, During Segregation (PDF), George Mason University (2013).
PhD Dissertation: Lindsey Bestebreurtje, Built by the People Themselves – African American Community Developments in Arlington, Virginia, from the Civil War through Civil Rights (PDF), George Mason University (2017): pp.63-75 (history); 208-209 (about the Wall); 213-214 (street lights); 223-224 (KKK); 289-29 (overcrowding); 319-349, 373-377 (schools and integration); 351-353 (infrastructure improvements); 377-393 (gentrification).
Book: Plat Book of Arlington County, Virginia, Franklin Survey Company, 2006 Chestnut Street, Philadelphia PA (1943).
Article: "Hall's Hill Area Due for Renewal", Northern Virginia Sun, 23 February 1965: "...Negro community of 1650 persons, 322 houses, three churches, and a school... The community is cut off from Glebe Road by dead-end streets and from any entry on the south side by four blocks of solid fences and walls running along North 17th Street."
Article: Janet Wamsley, The K.K.K. in Arlington in the 1920s, Arlington Historical Society, Arlington Historical Magazine, Vol.10 No.1, October 1993, pp.55-59.
Masters Thesis: James Lamb, The Ku Klux Klan in early twentieth Century Virginia, James Madison University, Summer 2018.
Article: "Fiery Cross Set Up in Arlington", The Washington Post and Times Herald, 23 June 1958, p.B2: "A burning cross was found yesterday in a cemetery adjoining a Negro church in the 5000 block of Lee Highway, Arlington County Police reported ... made with 7- and 5-foot building timbers ... Reported by the Rev. John F. Monroe of the Calloway Methodist Church." Thanks to Jessica Kaplan of AHS for this, who also said "Saundra Green, a long time resident and historian of the area, had one burned on her front lawn during this period as well."
Report: A Guide to the African American Heritage of Arlington County Virginia, Department of Community Planning, Housing and Development Historic Preservation Program, Second Edition (2016). Covers Hall's Hill on pages 12-22 and the Peoples Drug Store lunch counter sit-in on p.57.
Article: Mark Jones, Sit-ins Come to Arlington, Boundary Stones (WETA history site), 22 June 2014. The first photo shows Gwendolyn Greene at the counter of the Peoples Drug at Lee Highway and Old Dominion Drive, which is about 500 feet from Hall's Hill. The Cherrydale Drug Fair was about a mile to the east on Lee Highway.
Article: Lindsey Bestebreurtje, A View from Hall's Hill: African American Community Development in Arlington, Virginia from the Civil War to the Turn of the Century Arlington Historical Magazine, Vol.15 No.3 (2015), pp.19-34: "(the) wall construction was executed on an individual home-owner level, however, it was planned out enough that by the early 1940s the entirety of Hall's Hill was quartered off ... the wall meant that the community could not expand..."
Article: Nellie C. Stewart, History of Langston School (origin unknown, written some time after 1960; Wilma Jones found it among her mother's papers) [audio]
A Guide to the Bayard D. Evans Collection, Fairfax County Public Library.
Obituary: Bayard Evans, Restaurateur, Washington Post, September 8, 1980: "Its furnishings included a much-admired array of historical memorabilia, including weapons, portraits and tools that predated the Revolution, as well as a collection of items that related to Robert E. Lee."
There are examples of segregation walls that do not totally enclose the Black enclave; for example, the wall erected in Detroit when a new white subdivision was constructed on empty land next to an existing Black community, the The Detroit Eight Mile Wall (Wikipedia, accessed 26 January 2021). Another example is the Liberty City wall in Miami.
Book: Arlington Historical Society, Arlington, Images of America series, Arcadia Publishing (2000). Has a few photographs of and words about Hall's Hill.