Believe it or not, this photo was found by cousin Sandy (Lund) Stout for sale on on Ebay as: "
1880 Cabinet Photo: Lund Family of Minnesota
by Lassesen of Sioux Falls, South Dakota. Description: Original albumen photograph on cabinet card from 1880 of Peter N. Lund (born in Norway in 1840), his wife Betsey (born in 1834 in Norway) with their children (two of whom were from Betsey's previous marriage) including, on left, Charles, and the youngest, Melven [sic] (born in 1879), both of whom would later homestead in Wibaux, Montana. Photographed by P.E. Lassesen of Sioux Falls, South Dakota. The Lunds originally settled in Wisconsin and at the time of this photo had moved to western Minnesota." Charles, of course, is Carl Nicolai Lund, who would marry Hannah Johnson in 1902, a union from which would spring the ten Lund children who are reunited in this gallery by two of Carl and Hannah's grandchildren: me (Frank da Cruz, Vivian's son) and Sandy Lund Stout (Zeke's daughter). Sandy says, "Carl is in the left with his hand on Peter's shoulder. The Hanson girls (Caroline, Ragnhild [Rachel], and Annie) [are standing in the back row]; Melvin is the baby and Ezla and Martha Oline are the other girls. I am not sure that they homesteaded in Wibaux, Montana...I can't find any evidence of that...however, all the names appeared to be correct."
Birgit settled in Wisconsin and there she married her first husband, Knud Hanson; the girls were born in Wisconsin between 1856 and 1861, and have the Hanson surname. Knud fought in the 1st Wisconsin Cavalry in the Civil War and died in the infamous Andersonville Confederate prison camp in Georgia, 1865; Betsey received a war widow's pension. She married Peter Lund in Wisconsin in 1869, and our grandfather Carl was born to them that same year. We have no photo of Knud Hanson.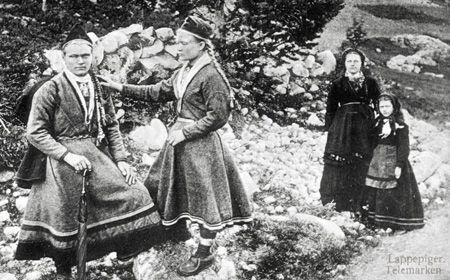 Sámi people in Telemark 1880


(Wikimedia Commons)
Caroline, Rachel (Ragnhild), and Annie don't look very Norwegian to me. In 2018
Dana Yost
suggested to me that Knud and/or Birgit may have been Sámi — indigenous people of northern Norway, Sweden, Finland, and Russia. In the mid-1800s they resembled Inuit or Chukchi people, but nowadays because of assimilation they look mostly white. The Sámi idea was reinforced in 2021 by Richard Hansen at the
Norwegian University of Science and Technology
, who works with Sámi people and has spent time in Northern Norway; he thought almost
everybody
in the photo except Peter was Sámi, most notably Betsey (Birgit, my great-grandmother). Her family had lived in Telemark for at least five generations going back to the 1700s, and it turns out that Telemark has had a Sámi population for centuries and today Telemark sends its own delegation to the
Sameting
, the Sámi Parliament of Norway. So it's possible that instead of half Norwegian, I could be 3/8 Norwegian and 1/8 Sámi.