FIGURES ILLUSTRATING DIMENSIONS OF PATTERNS AND ANALYZERS
(to Table of Dimensions )
(to small versions on Multiple Analyzers page)
The dotted red curve in each pair below indicates one particular Gabor-patch stimulus and/or receptive field of a neuron. The heavy blue curve in each pair indicates another stimulus (or receptive field) that differs from the red one along the dimension indicated. (On all other dimensions the two members of the pair are presumed identical.
In the right half of the first figure below, the two stimulus patches (or, alternatively, two neurons' receptive fields or weighting functions) are represented by 2-dimensional spatial maps in which plusses (+) indicate brighter parts of the stimulus patch (or alternatively excitatory regions of a neuron's weighting function receptive field) and minuses (-) indicate dimmer parts of a stimulus patch (or, alternately, inhibitory regions of a receptive field).
In the left half of the first figure, and in all of the second figure and most of the third (excluding the bottom self-explanatory sketch), the two patches (or, alternatively, two neurons) are represented by one-dimensional profiles. For stimulus patches, these profiles represent luminance as a function of position along the one dimension on which luminance varies. For neurons, these represent degree of excitation or inhibition along that dimension.
SEVEN SPATIAL DIMENSIONS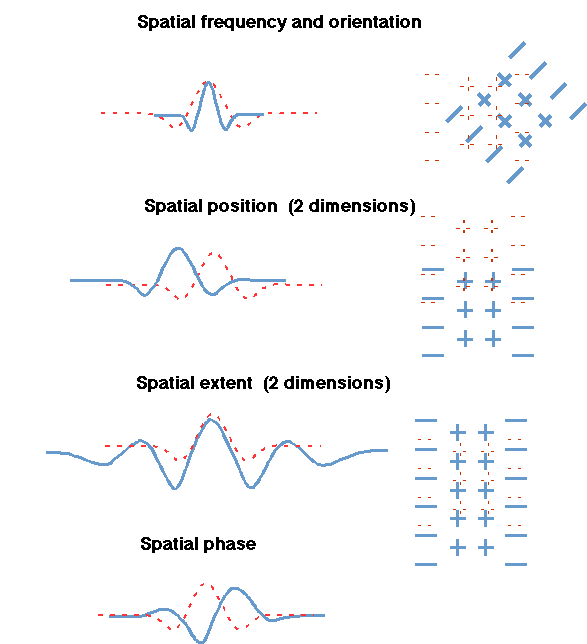 FIVE TEMPORAL DIMENSIONS
Note: In this figure about temporal dimensions, the profiles shown are reasonable ones for stimulus patches, but not for neurons' temporal weighting functions. Neurons' temporal weighting functions are generally very asymmetric unlike those shown.
THREE OTHER DIMENSIONS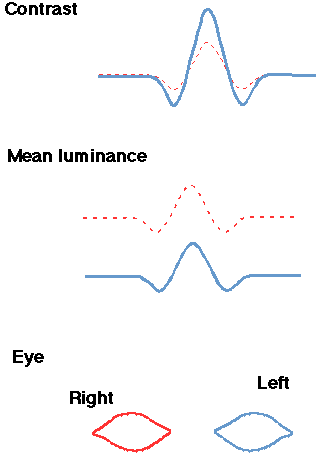 Versions of these appear as Figures 2.7, 2.8, and 2.9 in Graham (1989) and also in Graham (1985).