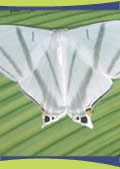 Shahid Naeem :: Principle Coordinator
Daniel Bunker :: Associate Coordinator
BioMERGE
Attn: S. Naeem
Columbia University
Department of Ecology, Evolution, and Environmental Biology
1200 Amsterdam Ave MC5557
New York, NY 10027
feedback/suggestion form
email: biomerge@columbia.edu
Tel. 212 854-8189
Fax. 212 854-8665
BioMERGE (Biotic Mechanisms of Ecosystem Regulation in the Global Environment), is an NSF funded research coordinating network that is dedicated to fostering the merger of the study of biodiversity with the study of ecosystem processes. It will serve as a research coordinating hub, linking those that study the distribution of biodiversity with those that study its functioning. Its 5-year goal is to develop and apply biodiversity-functioning mechanisms (e.g., sampling, niche complementarity, and others) to biodiversity and ecosystem functioning data across terrestrial biomes (grasslands, forests, freshwater, and wetlands).
PRINCIPLE COORDINATOR & P.I. >>> Shahid Naeem
Coordinator of BioMERGE. Serves to see that it fulfills its mission to advance BEF research by unifying research through the development of standards, clear terminology, effective protocol, and by promoting synthesis and consensus.
ASSOCIATE COORDINATOR>>> Daniel Bunker
Associate Coordinator acts as liaison between network participants, manages resources, coordinates and contributes to conferences and publications. In close collaboration with the Principle Coordinator and Contributing Participants, a GIS data base of diversity will be prepared and employed in the "scenario and solutions" exercise of ASW-IV. The Associate Coordinator is expected to work at the level of co-author in the majority of BioMERGE publications.
Open to all individuals interested in biodiversity and ecosystem function
Click here to see current list of participants or become a participant.
PROGRAM DIAGRAM >>> click for larger version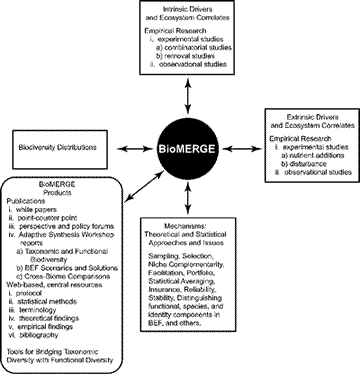 BioMERGE PUBLICATIONS
Wright, J.P., Naeem, S., Hector, A., Lehman, C., Reich, P.B., Schmid, B., & Tilman, D. (2006) Conventional functional classification schemes underestimate the relationship with ecosystem functioning. Ecology Letters, 9, 111-120.
Bunker, D.E., DeClerck, F., Bradford, J.C., Colwell, R.K., Perfecto, I., Phillips, O.L., Sankaran, M., & Naeem, S. (2005) Species Loss and Above-ground Carbon Storage in a Tropical Forest. Science, 310, 1029-1031.
Solan, M., Cardinale, B.J., Downing, A.L., Engelhardt, K.A.M., Ruesink, J.L., & Srivastava, D.S. (2004) Extinction and ecosystem function in the marine benthos. Science, 306, 1177-1180.
Naeem, S. & Wright, J.P. (2003) Disentangling biodiversity effects on ecosystem functioning: deriving solutions to a seemingly insurmountable problem. Ecology Letters, 6, 567-579.
NSF SUPPORT
This material is based upon work supported by the National Science Foundation under Grant No. 0435178. Any opinions, findings, and conclusions or recommendations expressed in this material are those of the authors and do not necessarily reflect the views of the National Science Foundation.