Malcolm X Multimedia Study Environment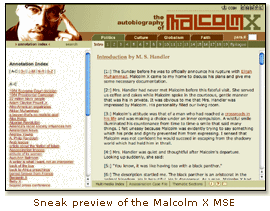 As the most popular and accessible "primary" text on Malcolm X, The Autobiography of Malcolm X has been both an aid and an impediment to those who seek historical truth about his life and times. The MSE allows users to reexamine and reconstruct Malcolm X's Autobiography by connecting his (and Alex Haley's) narrative to critical annotations and a digital archive of multimedia primary source materials.
The Autobiography of Malcolm X MSE is based on a template developed in collaboration with the Columbia Center for New Media Teaching and Learning (CCNMTL). This template presents a primary text online dynamically, with hyperlinks to critical annotations, audio, video, text, and images.
Click here to get a sneak preview of the MSE.