IBM Punch Cards
Until the mid-1970s, most computer access was via punched cards. Programs and data were punched by hand on a key punch machine and read into a card reader. Large computing sites such as Columbia University purchased cards by the truckload and furnished them free of charge to users. During the IBM 360 era (1969-80) Columbia's cards were embossed with the legend "CUCC 360" (Columbia University Computer Center IBM 360) and the Columbia shield (In Lumine Tuo Videbimus Lumen).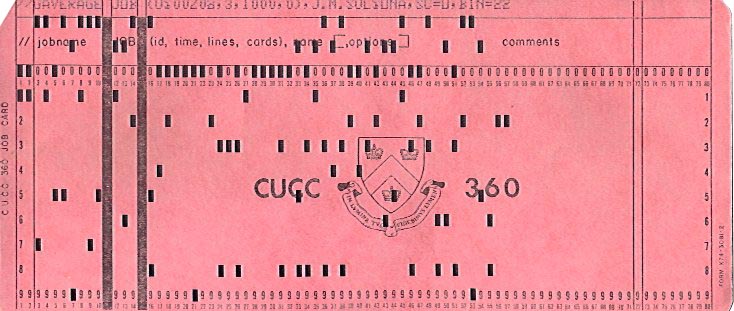 This is a pink "job card" (the first card in a deck), preprinted with the essentials of JCL job-card syntax. Cards were available in assorted colors, allowing color coding of different sections of a deck such as JCL, program source, data.
From the collection of Joe Sulsona.
Links:
---
Frank da Cruz / fdc@columbia.edu / Columbia University Computing History / Jan 2001 - Apr 2003