2005 WORLD AIDS WEEK:
November 28th - December 3rd 2005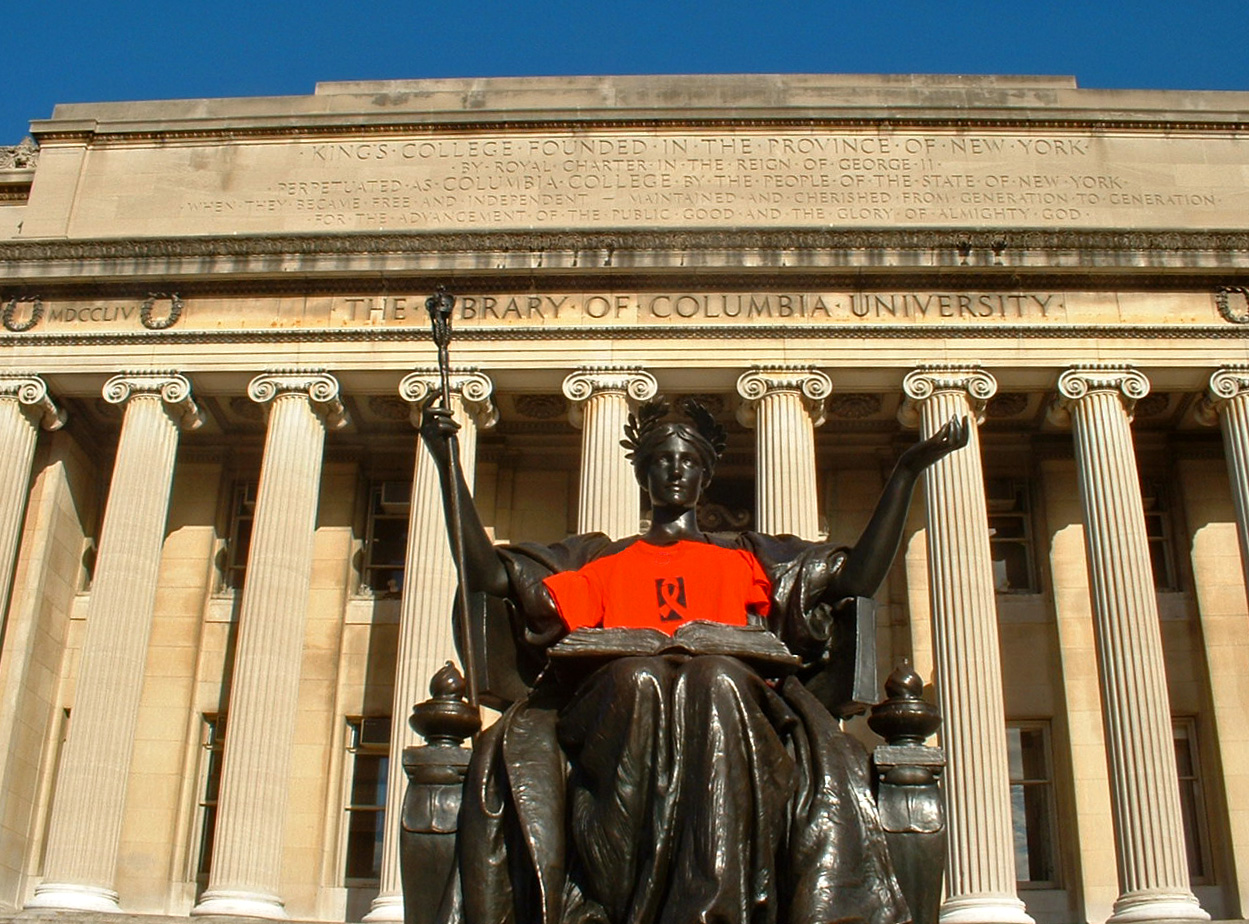 Please join us as we explore the ways that AIDS is affecting different regions of the world and what you can do about it.
CALENDAR OF EVENTS:
Monday, November 28:
AIDS In Africa: Are We Keeping the Promise?
Speaker series including Dr. Allan Rosenfield, dean of Mailman School of Public Health, Dr. Alan Berkman, founder of HealthGAP (Global Action Project) and professor of epidemiology at Mailman School of Public Health, Dr. Patricia Toro, senior project official for MCTC+ at MSPH, and Dr. Jessica Justman, Assistant Professor of Clinical Epidemiology, University Technical Assistance Program (UTAP), International Center for AIDS Care
Co-sponsored with the Economics Society, College Democrats, Ukranian Society, the Earth Institute, and Students for Choice
7 pm, Satow Room

Tuesday, November 29:
HIV/AIDS in Latin America
Dinner and discussion with Jennifer Nagle, HIV/AIDS division, Human Rights Watch
Co-sponsored with Chicano Caucus
7:30 pm, Lerner Ramp Lounge West

Wednesday, November 30:
Business & the Global HIV/AIDS Pandemic
PANELISTS:
* Samir Khalil, Executive Director of HIV Policy & External Affairs, Europe Middle East & Africa, Merck & Co.
* Trevor Neilson, Executive Director, Global Business Coalition on HIV/AIDS
* Anil Soni, Clinton Foundation
* Kim Nichols, Executive Director, African Services Committee
MODERATOR: * Lee Branstetter, Professor of International Business at Columbia
CO-SPONSORS: Africana Association * SIPA Pan-African Network * MIDI * Institute of African Studies * Global Justice * Health Care Industry Association * Student Leadership Board * GBA/COVAP * Greater China Society * South Asian Business Association * Latin American Business Association
Business School
5:00 pm, Uris Hall, Room 141
Club Zamana presents "Born into Brothels,"
An Oscar-winning documentary about poverty, media and sex work in India
7:00 pm, Shapiro Lounge
Thursday, December 1, World AIDS Day:
Fund the Fund: 30 seconds to Fight AIDS
Pressure your senator to demand the US fair share funding to fight AIDS, TB and malaria
10 am, Low Plaza
Stop AIDS: Keep the Promise
World AIDS Day Commemoration
An evening of music and reflection
Join UNAIDS and African Services Committee
7:30 pm, Cathedral of St. John the Divine, 112th and Amsterdam
Call to Action: World AIDS Day
Spoken word performances from artists, youth, students and community members
Co-sponsored with the Office of Multicultural Affairs
7 pm, Davis Auditorium, Schapiro Hall
Friday, December 2:
CUDM presents Dancers Respond to AIDS:
An international performance with dances from Raw Elementz, CU Steps, CU Bhangra, Taal, CU Raas, Sabor, Orchesis, Korean drumming troupe, Dance Team
7pm, Lerner Auditorium
Saturday, December 3:
100 Lives, 100 Minutes: HIV/AIDS Day of Action
Join us for HIV/AIDS outreach in the subways
1-4 pm, Kickoff begins in the Lerner Ramp Lounge West
RSVP to globaljustice@columbia.edu
Free t-shirts for groups of 5 or more!
Tuesday, December 6:
Ukranian Society presents: HIV/AIDS in Eastern/Europe-
A discussion with Human Rights Watch, Ukraine HIV/AIDS program, Featuring Rebecca Schleifer and Jane Buchanan
1:30 pm in 1219 IAB
Discourses on a Pandemic: approaching AIDS through cultural studies
Speakers: Rosalind Morris (CU, Anthro.) and Robert Semper (School of Public Health, Sociomedical Sciences)
Respondents: Saskia Sassen (U. of Chicago, Soc.) and Gayatri Spivak (CU, English/ Comp. Lit and Society)
Moderated by Bruce Robbins (CU, English)
7 pm, Altschul Auditorium, IAB

The Office of Multicultural Affairs presents
AIDS Advocacy through Performance Art: Dessert and Discussion
Featuring The Nitestar Program @ SLRHC performing PANDEMIC
Adapted from the documentary film, "Pandemic, Facing AIDS" by Rory Kennedy
6 pm, IRC
Official co-sponsors of World AIDS Week: Presidents and Provosts' Fund, CCSC, GSSC, ESC, SGB, Chicano Caucus, Club Zamana, Hindu Students Organization, Intergreek Council, Columbia College Democrats, Chinese Students Club, Model Congress, Queer Alliance, Veritas, ACLU, Everyone Allied Against Homophobia, Columbia Economics Society, Office of Multicultural Affairs, Dance Marathon

CONDOM WEEK OF ACTION
November 14th - November 19th

Get involved! Fall 2005 Plans
— Stop AIDS in Its Tracks: Distributing HIV testing information and condoms weekly on the 1/9! JOIN US!
— October 31st: Handing out condoms on Halloween at the East Village Parade
— November 14th - November 19th: Condom Week of Action

What we have done in the past
— Coordinated the New York City Student Global AIDS Walk 2002
— Placed 2nd in Oxfam's Povertyfighters Clickdrive spring 2003
— Coordinated and planned Columbia's first ever World AIDS Week, extending World AIDS Day into a week-long event
—Hosted Student Initiative for AIDS and a slam poetry event to raise money and awareness about the HIV pandemic
— Coordinated with SIA a citywide student discount card program to raise money for AIDS efforts in Africa
— Protested Kerry, Bush and Edwards to campaign on AIDS (check out: aidsvote.org)
— Held teach-ins on debt relief, the overall pandemic, microbicides, and vaccines

Read about our past events in the Columbia Spectator

Mission Statement
Columbia Global Justice, the Columbia-Barnard chapter of the Student Global AIDS Campaign, is a student group dedicated to promoting health, human rights, and sustainable economic development globally by raising awareness, inspiring effective advocacy, and engendering student political will throughout the Columbia community. In particular, Columbia Global Justice is concerned with the HIV/AIDS pandemic due to its crippling effect on individuals, families, and societies worldwide.