Nat Myria
Benedetti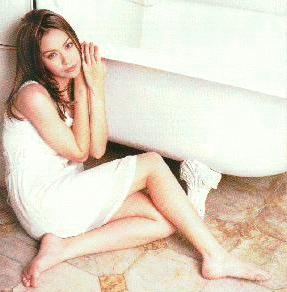 Welcome to the One and Only Nat Myria Home Page. This is what you have been waiting for. There are no thumbnails as of now, but stay tuned and this page will get better. This is the only page on the whole Net devoted entirely to the young starlet, singer and actress, Nat Myria Benedetti. The following pics were taken from a concert in Long Island. Enjoy them. If anyone has a picture to contribute, please do so, and in the process, we can all make this the best Nat Myria Home Page ever.





Nat Pics Downloaded From the Web
We found these pictures from various pages. We are not sure whom to credit since many of these pictures can be found in several pages. If you know where these originated from, please bring it to our attention so that we can give the proper credits. - K

Pic 1 - The Cover of the Nat Myria Benedetti album.
Pic 2 - Nat in a black dress.
Pic 3 - Nat next to a bath tub (Color).
Pic 4 - Nat next to a bath tub (B/W).
Pic 5 - A Happy Nat.
Pic 6 - Nat with a baseball cap.
Pic 7 - A Contemplative Nat gazing into your eyes.
Pic 8 - Nat at the concert in Long Island. (From Veena's Home Page)

MORE
pic1 pic2 pic3 pic4
pic5 pic6 pic7 pic8
pic9 pic10 pic11 pic12 pic13

Translations of Nat Myria Songs (Work in Progress)
It's not as easy as you might think.

Preview "Kor Tod Tee Guan Jai Ter"
Preview "Duay Meu Kong Ter"


Nat Links
Links that make mention of Nat Myria in varying capacities.

"In Thailand, biracial is hip. Amerasians are stars, pushing soap on TV, acting and singing."
Nat at the Star Picture Collection
Najip Ali's Interview with Nat at Asia Online
Let's see what Baanthai says about how wonderful Nat is
Info about Nat's first album is here for you at Chana's Thai Pop Music Page.
Sithikone's Thai Music Page
Noy's Thai Singers Collection
Bey's Nat Page
Pang's Transliteration of "Jark Peun Kon Neung"
Jay Leck's Thai Entertainment Studio (Nat Section Coming Soon)
Thai Star Webring


Interesting Links
For you Thai freaks.

Thai Idols
Visit more Thai pop stars at BangkokNet
Only for you Kathaleeya Macintosh fans
If you don't know Cyberstar, click here
Pleng Thai

Guest Book (In the Works)
C'mon, give us feedback, and by all means, contribute!!! Anyone out there with rare Nat songs or photos? Share with the rest of the Nat fans.

Sneak a Peek


Webmasters Kaulad (ww73@columbia.edu)

Last update: October 1, 1997.




You are visitor number


Now, Gimme Your Input!!!