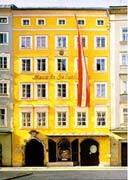 Mozart's childhood home
in Salzburg, Austria
Born in Salzburg, Austria, Mozart displayed uncanny musical talent at a very early age; by the time he was five, he was a keyboard virtuoso. Mozart toured Europe as a child, astounding the musical world and charming royal audiences with his improvisational ability. In addition to composing symphonies at a tender age, he wrote his first operas while still a boy:
La Finta Semplice
, commissioned by the Emperor Josef II; and
Bastien und Bastienne
, a singspiel (German folk opera with spoken dialogue).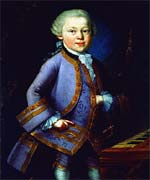 Mozart as a child
In 1777, Mozart journeyed to Paris with his mother to seek a formal position, but he had no luck, and returned home in 1779 after his mother's death. A suitably prestigious position was to elude Mozart all his life, due partly to his complicated personality and tactless, arrogant, often childish behavior. He managed to secure a job as court organist in Salzburg, an appointment he held for two years prior to the triumphant premiere of Idomeneo. This opera seria-a highly formalized type of dramatic opera which was becoming outmoded in Mozart's day‹it is considered one of the greatest examples of the genre. Its success led Mozart to take up residence in Vienna.
The break with Salzburg marked the beginning of Mozart's maturity as a composer; nearly every work he produced thereafter is a masterpiece. In 1782, he wrote Die Entfuhrung auf dem Serail (The Abduction from the Seraglio), a charming comic opera which paved the way for Le Nozze di Figaro. A tremendous success at its premiere in 1786, Figaro was based on a satirical comedy by the French dramatist Beaumarchais. Unparalleled in its depth of characterization and synthesis of music and drama, Mozart's work contains some of the most sublime ensemble writing in all opera.
Following the success of Figaro, Mozart again collaborated with librettist Lorenzo da Ponte, this time on a work which explored the dark side of traditional comedy; Don Giovanni (1787), an opera of enormous power and eloquence, depicts the exploits and eventual punishment of an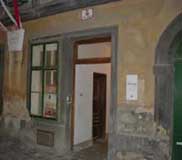 Mozart's home in Vienna
inveterate womanizer.
Cosi fan Tutte
(1790) found Mozart working with da Ponte for the last time. In this comedic study of human frailty are found some of the composer's most empathetic and realistic characters.
Mozart's last great opera, Die Zauberflote (The Magic Flute), written in 1791, is a singspiel with a libretto by impresario Emanuel Schikaneder. Beneath the simple, fairy-tale plot is a message of love, truth, and brotherhood set to music of profound spirituality and majesty. Flute was also a seminal work in the development of German music theater, which hardly existed, according to Richard Wagner, prior to the opera's premiere.
During Mozart's Vienna days, he composed a series of masterpieces in genres other than opera: his most famous piano concerti (no. 17 in G major, no. 20 in D minor, and no. 21 in C major, among others); the remarkable last symphonies (nos. 35-41); a number of superb piano sonatas; ten of his
Mozart's wife, Constanze
most beautiful string quartets; the clarinet concerto;
the Mass in C Minor; La Clemenza di Tito
, another opera seria; and the unfinished
Requiem Mass
.
Mozart earned a living for himself and his wife, Constanze, through teaching, concertizing, and the fulfillment of occasional commissions from wealthy aristocrats, but the couple did not manage their money wisely, and was often heavily in debt. Mozart died penniless of unknown causes on December 5, 1791, and was buried in an anonymous pauper's grave.
Mozart's compositions rank among the greatest of all time. They are unsurpassed in beauty, wit, and technical mastery, and they express the full range of human emotions. Recent interest has centered around the composer's enigmatic life and personality as well as his music, exemplified in the great popularity of Peter Shaffer's Amadeus on stage and film.
(from New York City Opera website)