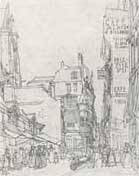 The Café Momus
sketch by Thomas Boys (1819)
(click to see full-size)
"The Bohemian avant-garde ... tends to be alienated from all rational and utilitarian aspects of social organization and cultural tradition and aims to create a new kind of exaggeratedly irrational art and, perhaps even more important, an irrational style of life. (Typical of this group is the French poet and critic Charles Baudelaire.) Its behaviour centers on the ambivalent and the self-consciously paradoxical: a tradition of pursuit of the new, the cultivation of a pleasureless hedonism, the development of systems for the liberation of spontaneity. " (Encycl. Brit.)
The Parisian "Bohemia" of the 1840s and 1850s
The Parisian "Bohemia" in which the Puccini's opera was originally set was a world portrayed by three writers:
Henri Murger, Alexandre Privat, and Jules Vallès. Murger was the first to write about it, in a set of short stories serialized in a small newspaper in 1846, later turned into a sell-out play in 1849 and then a book in 1851. It is his "Bohemia" which relates directly to Puccini's opera; it is his characters -- Rodolfo, Mimì, Schaunard, Marcello, Colline, Musetta, et al -- that are portrayed there. In his hands, Bohemianism became a cult, all the rage.
It was Murger who portrayed a world of artists, social rebels, and radicals who rejected the comforts of the bourgeoisie, opting instead for poverty, and believing that any true experience demanded suffering. They were committed to a life of freedom, work, and pleasure, and eschewed the corruption and rotten values of conventional society.
However, many of them exhibited a certain ambivalence. We can see how Murger's and Puccini's own characters -- Mimì and Musetta, for example -- are both fascinated by bourgeois wealth.
Privat portrayed characters that were in some ways more real:
One called himself the boulanger en vieux, collector of stale bread from which he provided pet food and even soup croutons; another filled attics with dog and cat dung in order to make breeding grounds for worms to be sold as fish bait. There was the widow Vanard who scavenged lemon peels, making perfumes and flavourings of them; and Matagatos, the scourge of stray cats, supporting himself by selling them to cheap bistros where they could pass for rabbit stew.
(from J. Seigel: "The Rise of Bohemia," Cambridge Opera Handbook: Giacomo Puccini: La Bohème, ed. A. Groos and R. Parker (Cambridge: Cambridge University Press, 1986), pp.1-11.)
Bohemianism and Counter-Culture (Mountholyoke)
Murger's Scenes of Bohemian Life