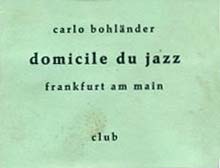 Jazzkeller membership card
Frankfurt was the Jazz capital of Germany and the
real jazz club
in Frankfurt was the
domicile du jazz
, a.k.a. Jazzkeller, at Kleine Bockenheimer Straße 18a, an intimate members-only cavern concealed behind a completely nondescript and unmarked door in a dark alley in the financial district, and down lots of stairs, where the world's greatest jazz artists would jam into the morning after a concert at the Festhalle or Kongreßhalle. You had to show a membership card to enter; somehow, I had one.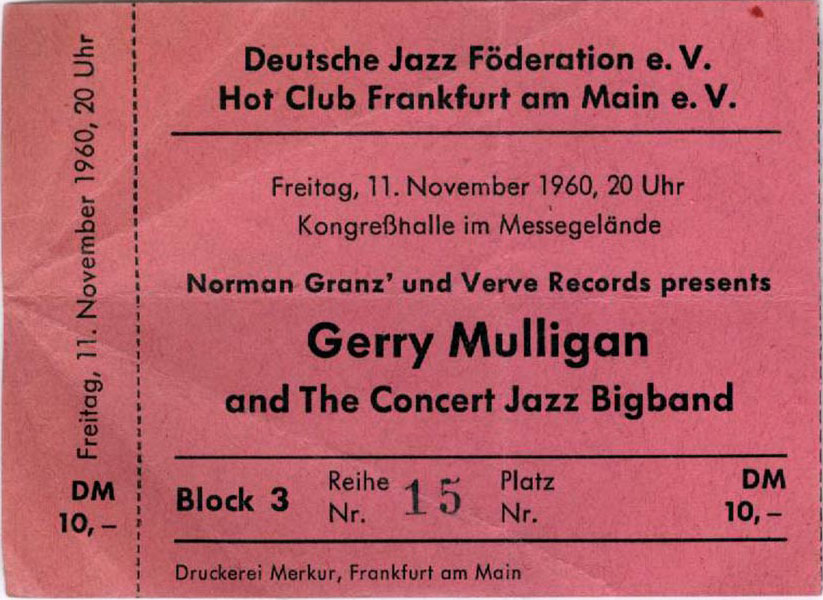 Gerry Mulligan at the Kongreßhalle 1960
Frankfurt was a Mecca for jazz artists in the 1960s, especially African-American ones who felt more welcome in Germany than in their own country. At the Kongreß­halle I saw Dizzy Gillespie, Gerry Mulligan, Coleman Hawkins, Ben Webster, Joe Jones, Art Farmer, Art Blakey, I forget who else. Many other greats peformed there including Cab Calloway, Duke Ellington, Ella Fitzgerald, Billie Holiday, Lester Young, Charles Mingus, Miles Davis, John Coltrane, Roy Eldridge, Hank Jones, Max Roach, Oscar Pettiford, Ray Brown, Oscar Peterson, Stan Getz, and German Jazz giants
Emil
and
Albert Mangelsdorff
and
Jutta Hipp
[
5
], to name just a few. I saw Dizzy Gillespie and Gerry Mulligan up close at the Jazzkeller, sitting in the corner right next to them like the people on the right in the big photo above.
New 28 April 2023... Jazzkeller photo gallery. CLICK HERE to see it.
As of 20 March 2023, the Jazz Keller still exists!
References:
Book: Michael J. Budds, Jazz and the Germans, Pendragon Press (2002). Includes a chapter by Carlo Bohländer, who founded the Jazz Keller in 1952: "Over the subsequent forty-three years the Jazzkeller, Frankfurt's Village Vanguard, has played host to most of the world's greatest jazz musicians." He concludes with this: "Because my jazz activities had been highly illegal during Nazi times, the city of Frankfurt am Main decorated me in 1994 with its Johanna Kirchner Medaille, a special recognition honoring the resistance to the Nazi dictatorship."
Book: Michael Rauhut, One Sound, Two Worlds: The Blues in a Divided Germany 1945-1990, Berghahn Books (2019). Includes material on the Frankfurt jazz scene.
Film: Carlo, keep swingin', A Movie by Elizabeth Ok. Available on DVD at Amazon.com.
Heidi Laird, The Frankfurt Kitchen: Forty-One Stories of Growing Up in Post World War II West Germany, Fulton Books (2021), pp. pp.249-252 (AFN, Jazz, and the Jazz Keller).
Aaron Gilbreath, The Brief Career and Self-Imposed Exile of Jutta Hipp, Jazz Pianist, This Is: Essays on Jazz, Outpost19, https://longreads.com, August 2017 (accessed 16 March 2022)
Most recent update:
Fri Apr 28 14:02:43 2023 New York Time