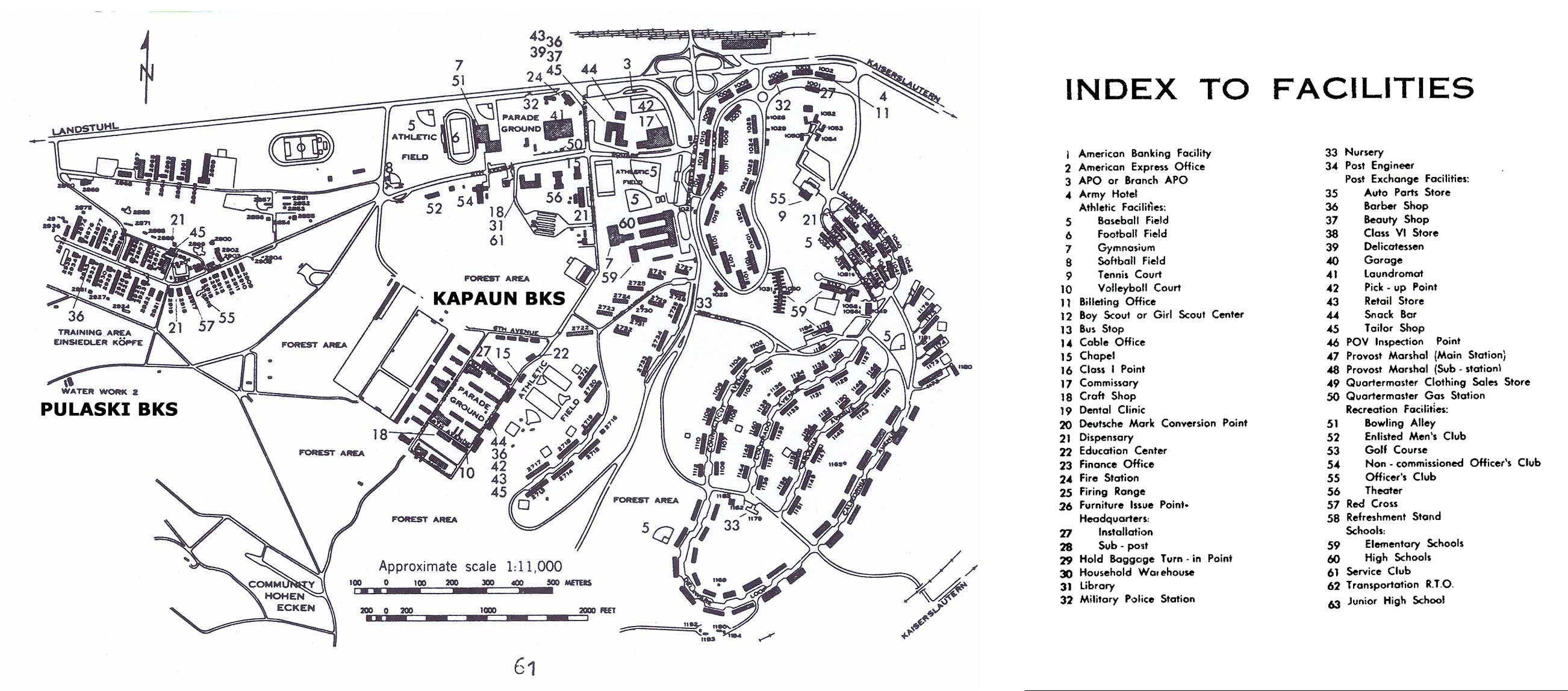 US Army Pulaski Barracks and Kapaun Barracks, Vogelweh, Kaiserslautern, late 1970s. Kapaun Kaserne (barracks) is just above the "Approximate scale" legend, between 0 and 400 meters, comprising barracks buildings (living quarters), the headquarters building of the 3rd Reconnaissance Squadron, and the mess hall. To its immediate left, the motor pool. On the right edge of the parade ground: small snack bar, barber, mini-PX, tailor, and chapel. To the right are dependent family housing and Kaiserslautern high school (where I took some University of Maryland extension night classes), junior high school, and teen club. At the bottom, left of the scale, is the village of Hohenecken. At the top, left of the cloverleaf intersection is the main Army shopping area for all of Kaiserslautern (which had other Kaserne besides this one: Kleber, Daenner, Panzer...) which includes the big PX, the main commisary, the Army gas station, the movie theater, a beauty parlor, a craft shop, a music center, a gym, an athletic field, a bowling alley, and so on, plus the NCO and EM clubs and AFN Kaiserslautern; click on the image to see the complete list. Coincidentally, Pam Ives lived in the housing area in 1959-60 and attended the junior high school three years before I lived there and a year before she moved to Frankfurt and I met her.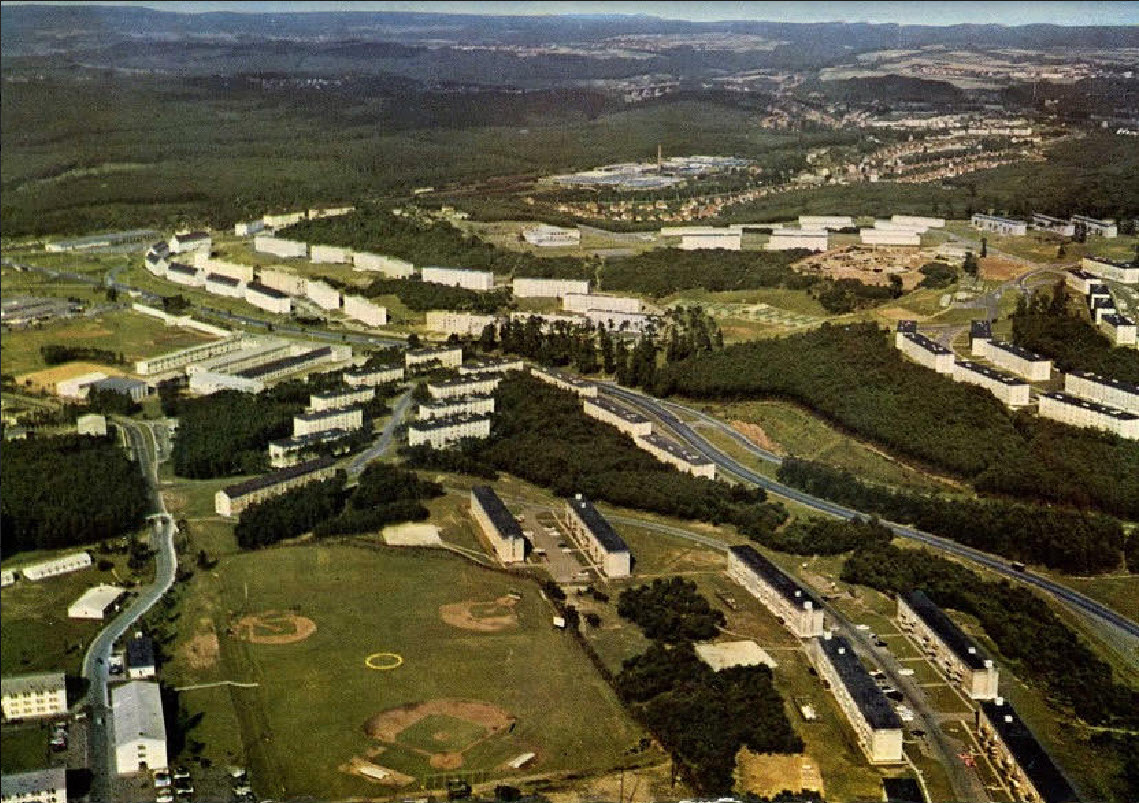 Kapaun area aerial view 1964 - Click to enlarge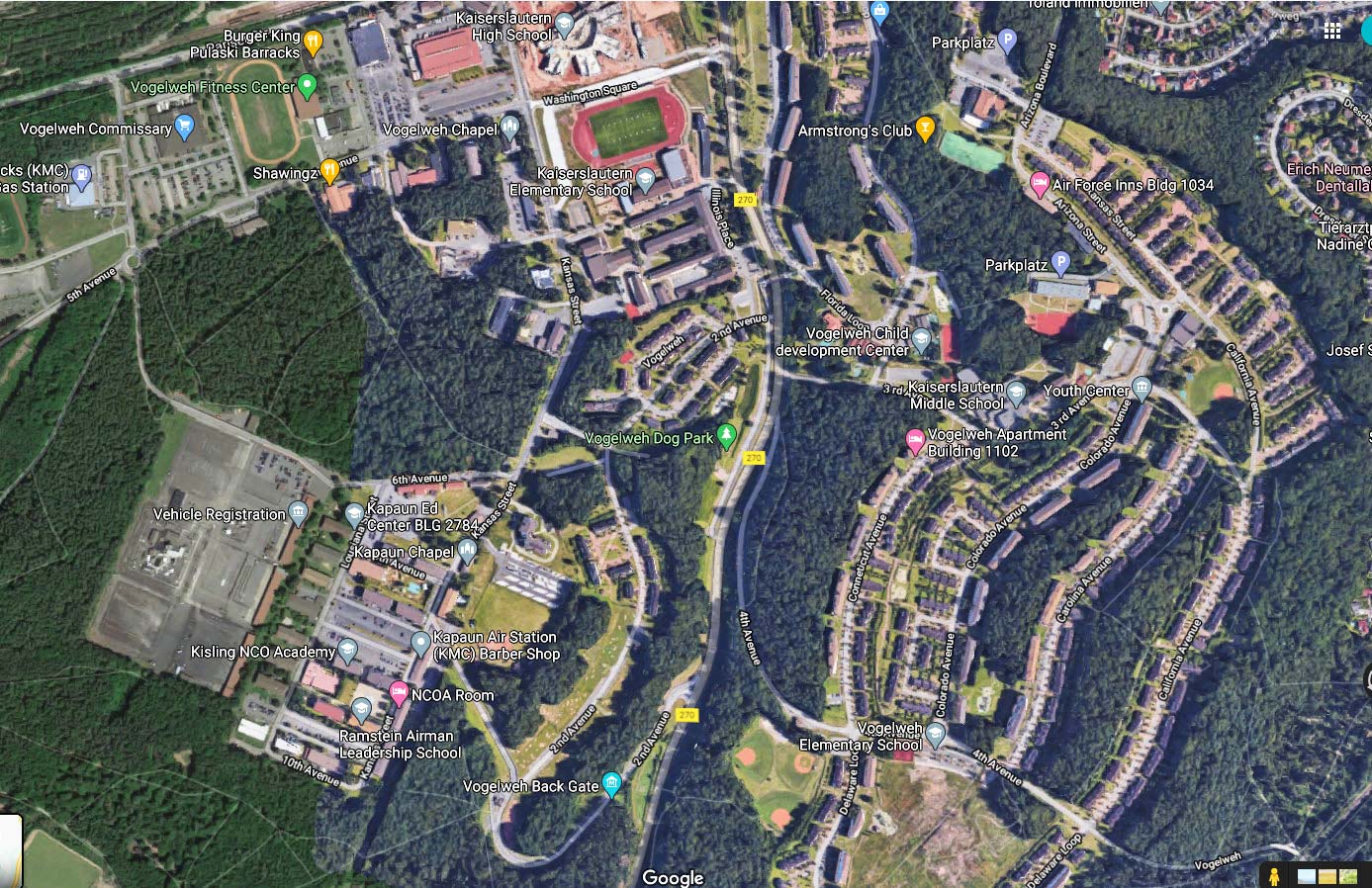 Google aerial view 2009 - Click to enlarge
The color inset at left comes from Ron Rawhoof in February 2021, who lived in the area in 1964 when his father was stationed there (same time as me). It's scanned from a postcard which is rotated about 30° to the left from north. In the lower left the little kink in the road corresponds with the area on the map just over where it says "1:11,000" on the scale. So the photo shows mainly the Kapaun housing area and the larger buildings on the left a bit above center are the elementary and high schools. The actual Kaserne (barracks, motor pool, etc) is beyond the left edge of the photo, and there was also a lot more housing off to the right. According to the
2009 Google Maps satellite view
, it's all still there.