| | |
| --- | --- |
| | ←(Use Google Translate to see an approximate translation into another relevant language) |
[General index] [Index to chapters] [Index to galleries] [Full family history]
My very brief first attempt at college: the University of Virginia in Charlotteville, Fall 1962: a short interlude between my summer job at the CIA after high school and three years in the Army. There are no references or citations here; some statements based on what I remember or what I heard may or may not be totally accurate.
In this document:
Judy = My ex-wife, Judy Scott.
You, you guys = Judy's and my children Peter and Amy da Cruz.
Ludwig = Ludwig Carrera, my neighbor and friend in Arlington.
—Frank da Cruz <fdc@columbia.edu>
Most recent update: 22 April 2021 14:29:42
University of Virginia...
University of Virginia campus - this part hasn't changed since 1819; Edgar Alan Poe lived in the dorms on the left.
I applied to the University of Virginia in Charlottes­ville (the "Harvard of the South") in 1962 with little hope of getting in — and without applying anywhere else — but both Ludwig and I were admitted. Like my other Virginia schools it was segregated. Except for four (4) token Blacks who had private corner rooms in each of four dorms. Nobody else had a private room. UVA was beautiful to look at, designed by Thomas Jefferson whose house looked over it from above, and built by slaves. When I went there it was very much the same as it was when it opened in 1819; now it's all full of ugly modern buildings. At UVA the college (undergraduate school) was all-male until 1970.
Charlottesville in 1962
Charlottesville was a typical dusty, poor Black rural Virginia one-street small town. The bus station was festooned with "White" and "Colored" signs on waiting rooms, bathrooms, and water fountains. UVA students hardly ever went into town except to buy liquor. Since they weren't old enough to do that, there was an old Black guy who stood outside the liquor store all day, when he saw white boys coming he made a special kind of slow semicircular wave with a Cheshire-cat smile, like a 1930s cartoon character I can't think of right now; they'd give him the money and he'd buy the booze for them. The bar that students went to, the Cav, was not in Charlottesville but down the road a ways in the other direction, maybe a mile's walk. It was a huge cavernous chaotic place, like being in a full-time riot. It had the best hamburgers on earth but the beer, of course, was 3.2 since everybody was under age, so you have to drink a lot of it.
The area around Charlotteville was a different story: tweedy country gentry with gigantic white-fenced horse farms with manicured lawns and mile-long driveways. At some point I suppose they decided that Black Charlottesville was a blot that had to be erased and in the late 1960s it was bulldozed. Now it's an upscale hip and trendy destination, suitable home for the Harvard of the South. Up the road there was another town just like it except no university: Boston, Virginia, on Route 29: all Black and dirt poor. It's just plain gone now, I can find no trace of it.
UVA serpentine wall*
At UVA, every­body was sup­posed to be in a frat­ernity. Each fraternity had its own house (mansion, really), complete with slaves. Seriously, cooks and porters and maids and janitors who descended from the slaves originally owned by each fraternity. There was a huge party every night in every fraternity with kegs of beer and live music usually performed by Black groups from town who made music like the Isley Brothers ("Shout") or the Countours ("Do You Love Me"); one of the groups called themselves (no kidding) Ten Screaming Niggers. At a fraternity for medical students, instead of beer they filled a bathtub with pure medical alcohol and frozen lime juice, it was called Green Goddamns. Quite literally everybody was drunk all the time. It was too much for even me; this might have been the beginning of the end of my heavy drinking. I was the only one who didn't want to be in a fraternity. I mentioned this to computing pioneer
John Backus
, who went to UVA 20 years earlier, didn't get through the first year, and went in the Army (all just like me), and he said it was exactly the same in the early 1940s.
Aside from fraternity parties, there were also occasional mixers with girls bussed in from nearby schools like RMWC (Randolf-Macon Women's College), Mary Washington, Sweet Briar... I vaguely recall some mixers but no details. Also, although UVA was all-male, there was a nursing school on campus with its own (girls') dormitory, target for constant raids and pranks by the male students, no letup.
Cuban Missile Crisis 1962
I shared a tiny dorm room with the most obnoxious person who ever lived. Anyway I really was not ready for college and missed most of my classes. To add to the dysfunction, the Cuban missile crisis happened while I was there; nobody went to class, we all sat around listening to the radio; we thought we were gonna die any minute.
It wasn't all bad though; one thing that impressed me about UVA was the food. There were many places on campus to eat ranging from big dining halls that seemed more like expensive restaurants with plush comfy booths, to Army-base-like snack bars with juke boxes, to underground candle-lit caverns where folk music was performed. The food was uniformly excellent. In fact, I believe UVA was where I first tasted real butter; I couldn't get enough of it.
But aside from the food UVA really was no fun. The professors (all but one) were the snotty aristocratic kind who didn't even try to teach, only to impress us with how smart and sophisticated they were and what stupid bufoons we were. The students themselves were obnoxious privileged white boys who only wanted to party. UVA itself was pretty brutal, its policy was to flunk out 50% of the freshman class. I dropped out after one semester. I had paid my tuition and all expenses with the $600 I had earned in my summer job. While at UVA I saw Peter Paul & Mary, and also Andrés Segovia, who gave concerts in the gym. Also while at UVA, a guy taught me the Travis pick so it wasn't a total waste. Plus at the last minute when I was about to graduate from GS at Columbia and they were hassling me about some credits, I was able to transfer the ones I had earned at UVA in the few courses I didn't fail (all my grades there but one were F's or A's). I also had some credits from the University of Maryland extension in Germany, where I took some night classes in the Army.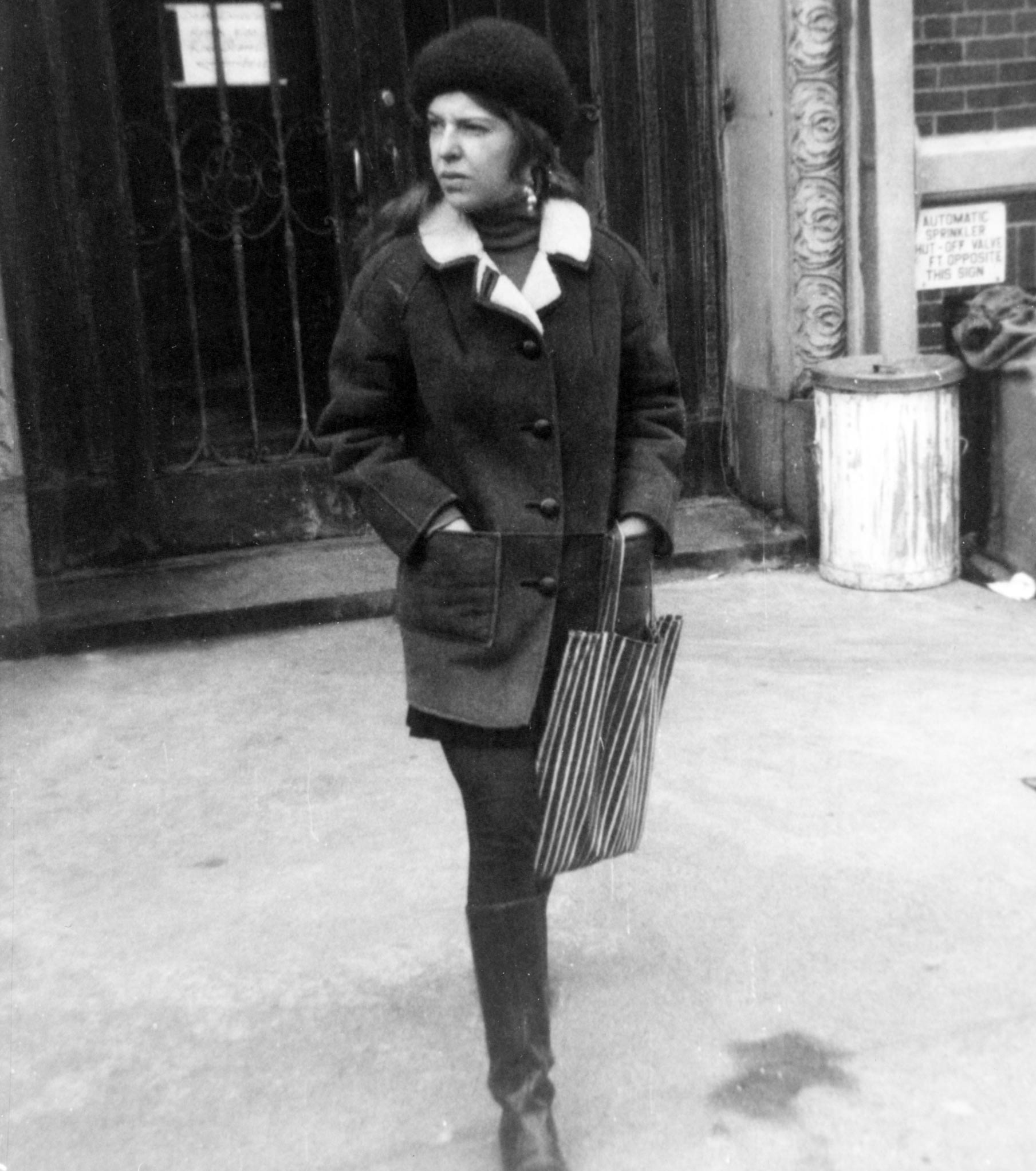 Wendy Sibbison 1967
The most important thing that happened at UVA is that I met Richard Lamborne ("Head") and his girlfriend Wendy Sibbison, who was still in high school in Arlington but would come to see Richie on weekends. It was because of Wendy that I wound up in New York and at Columbia, and that I met Judy, and therefore that you guys exist. As I explain in a
later chapter
. But briefly, Wendy broke off with Richie eventually and she and I corresponded the whole time I was in the Army, and by the time I got out she was across the street at Barnard and pretty much the only one I wanted to see and I went straight from from Fort Hamilton to her dorm. We were never "together", but we were close for many years.
A New Generation
In Virginia in 1961-62, I began to sense the stirrings of something new... the early beginnings of the Civil Rights Movement, the Nuclear Disarmament movement, and early opposition to the "situation" in Vietnam. It came to me mainly through music; folk music at first, then popular music: artists like Peter, Paul, and Mary ("Cruel War" "Where Have All the Flowers Gone", and later, "The Great Mandella", about a war resister, as well as freedom songs like "If Had a Hammer"); Bob Dylan ("Blowing in the Wind", "The Times They Are A'Changin'", "Masters of War", "With God on Our Side",...); Joan Baez ("Birmingham Sunday", "No Nos Moverán", "Freedom", "Kumbaya", "There but for Fortune", "Where Are You Now My Son", "Saigon Bride", ...); Martha and the Vandellas ("I Should Be Proud"), The Staples Singers ("Freedom Highway", "Long Walk to D.C.", "Washington, We're Watching You", many more), Phil Ochs ("What Are You Fighting For", "I Ain't Marching Any More", "Vietnam", many more), Buffy Sainte-Marie ("Universal Soldier"), Crosby Stills Nash and Young ("Ohio"),... Odetta, Nina Simone, Bob Marley, George Harrison, Joni Mitchell, The Kinks, Tom Paxton, Richie Havens, Sam Cooke, Edwin Starr, Kris Kristofferson, The Byrds, Country Joe and the Fish, Marvin Gaye, Aretha Franklin, Jimmy Cliff, Ringo Starr, Cat Stevens, John Lennon, The Doors, and on and on — many of these artists covering each others' songs or performing them together at antiwar and civil rights rallies and demonstrations, sometimes joined by performers from our parents' generation like Josh White, Barbara Dane, Pete Seeger (who, with Woody Guthry and the Almanac Singers and the Weavers pioneered protest songs in the 1940s-50s), Marlene Dietrich ("Sag Mir Wo die Blumen Sind"), and posthumously, Billie Holiday ("Strange Fruit"). It seemed like my whole generation was rising against war, racism, poverty, and misery and that as soon as the young took over, the world would finally be fixed. Anyway I remember being at UVA during the Cuban Missile crisis, sitting around with Ludwig, Head, and some others expecting the atomic holocaust to start any minute while listening to songs like "Cruel War" with a kind of optimism for the future if we could just get through the next few days. The artists and songs of the early sixties brought millions of young people into the broad social movements for peace and justice that lasted into the Seventies.
Listen to The Cruel War, it's beautiful and touching, moreso in restrospect, with hundreds of thousands of us about to be drafted and sent to the meatgringer in Vietnam (sorry if Youtube bombards you with ads, or the link stops working, but that's life in the XXI Century). Another almost heartbreaking video is of Bob Dylan and Joan Baez singing "With God on Our Side" at at the 1963 Newport Jazz festival, but at the moment it seems to have disappeared — it was so hopeful and optimistic, as if it would make a difference. The two of them, along with Peter Paul and Mary, Odetta, Mahalia Jackson, and Marion Anderson sang at the March on Washington... despite the sound system having been destroyed by saboteurs the night before and hastily rebuilt by the Army Corps of Engineers that morning.
In the end, of course, the saboteurs won. In a few short years King was dead, not to mention Malcom X and both Kennedys; a full-scale near-genocidal war raging in Vietnam, Freda Payne pleading Bring the Boys Home. Half a century later, nothing much has changed except the technology that allows the USA to kill countless people overseas without drafting hundreds of thousands Americans to do the dirty work in person.