| | |
| --- | --- |
| | ←(Use Google Translate to see an approximate translation into another relevant language) |
[General index] [Index to chapters] [Index to galleries] [Full family history]
Short chapter about the interval I spent in Washington DC upon release from Army in early 1966.
—Frank da Cruz <fdc@columbia.edu>
Most recent update: 15 September 2023 20:20:09
After the Army...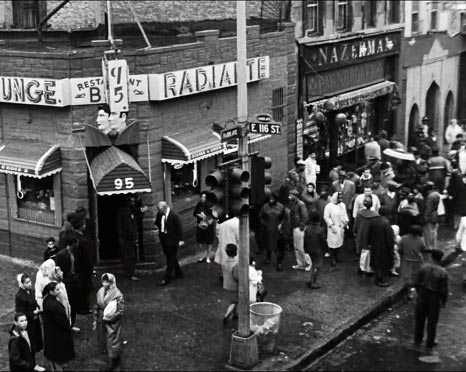 Mr. Nazerman's pawn shop (right)
At Fort Hamilton a guy named Herbie Bader came to meet me, he was an Army friend from Stuttgart, it was a complete surprise; I have no idea how he knew where and when I was arriving. He was a native New Yorker who spoke with an old-time Brooklyn accent (Queens, really), fast-talking, argumentative, big, tough, belligerent, ironic, and funny, always in trouble in the Army for talking back or fighting — that charming combination that attracted me to New York. It was a good thing he came because I was going to see Wendy at Barnard but had no idea how to get there, so he took me on the subway (looking on the map I see it must have been the R train terminus at 95th Street, with a transfer to the F and the 2). Except he didn't know we had to switch to the local at 96th Street, so we wound up surfacing at 116th and Park. And Hoib said "Oh My God, we're in Spanish Harlem!!!" and I said, "Look! Mr. Nazerman's pawn shop!" Herb and I had just seen
The Pawnbroker
a few weeks before and there was the actual pawn shop, right on the north end of La Marqueta under the elevated New York Central tracks. He was panicking (not as tough as I thought!) but I said big deal let's just walk, and we walked west on 116th Street to Morningside Park, up the stairs to Morningside Drive, across campus to Broadway, and my new life started right there. I found Wendy at Barnard and we went straight to the West End bar, which had been the official Columbia/Barnard hangout since 1915.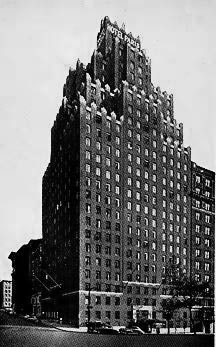 Hotel Paris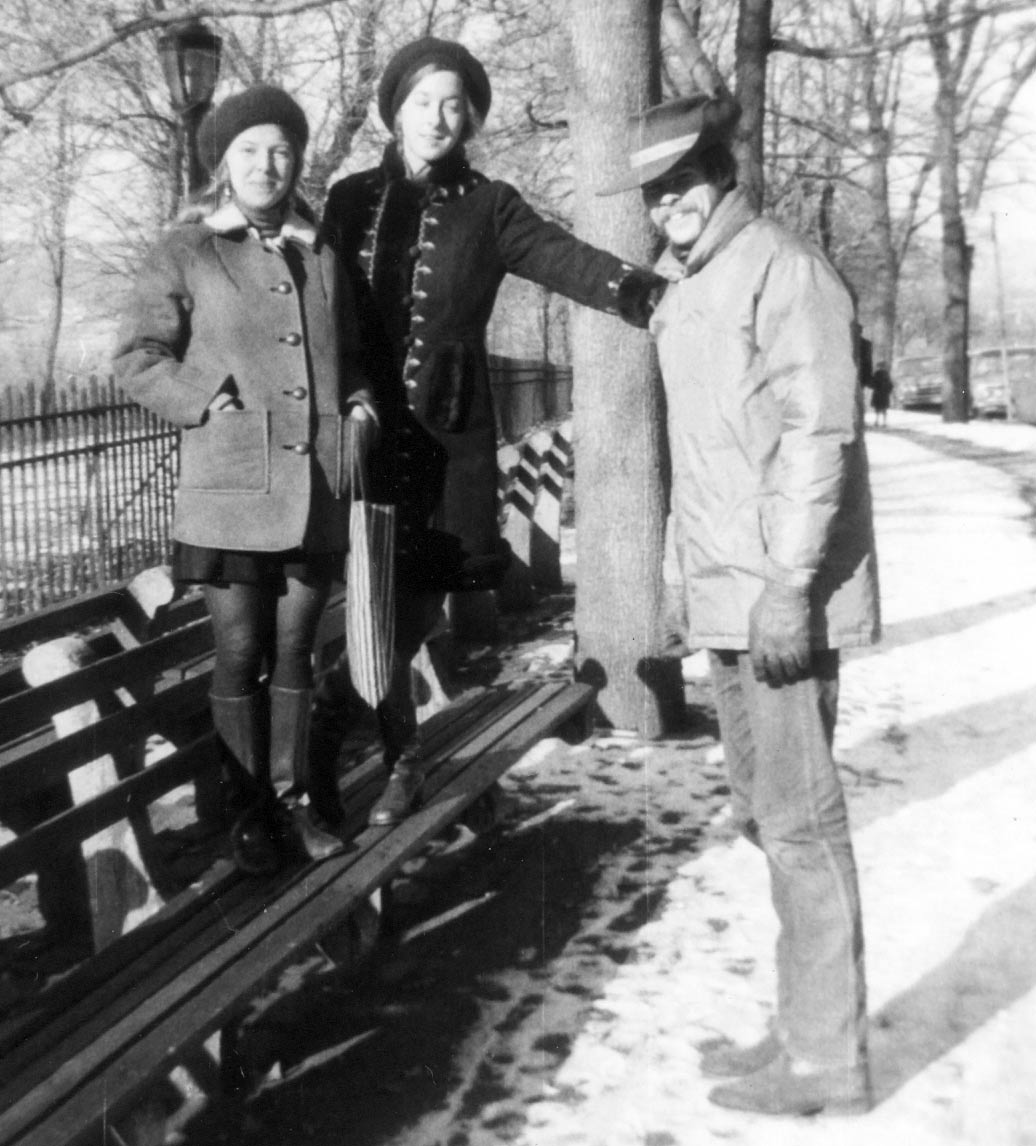 Wendy, Jude, and Peter
Jude yearbook photo
When it got late I asked where a hotel was and the only close one was the super-sleazy Paris Hotel on 96th Street and West End Avenue, where the elevator operator offered me drugs and prostitutes and the tiny room was ratty and full of cockroaches. The next day Wendy introduced me to Peter Marsh and Judy Bryant (Jude), and I slept a couple nights on the floor of Peter's Hartley Hall dorm room. Then I went to Virginia to find Richard Lamborne in Alexandria, because we had planned to get an apartment together in DC (Ludwig was in Vietnam). Later when I moved to NYC I visited Herb a few times; he lived with his parents in an apartment in Flushing, which was totally Jewish in those days; now it's totally Chinese. We would always sit in the kitchen and his father would just keep giving me food. Eat! Eat!
Washington DC...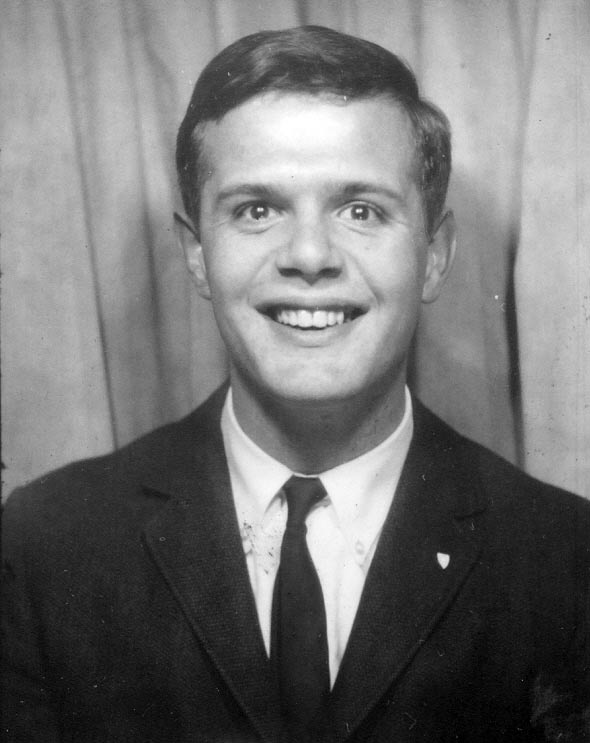 Richie Lamborne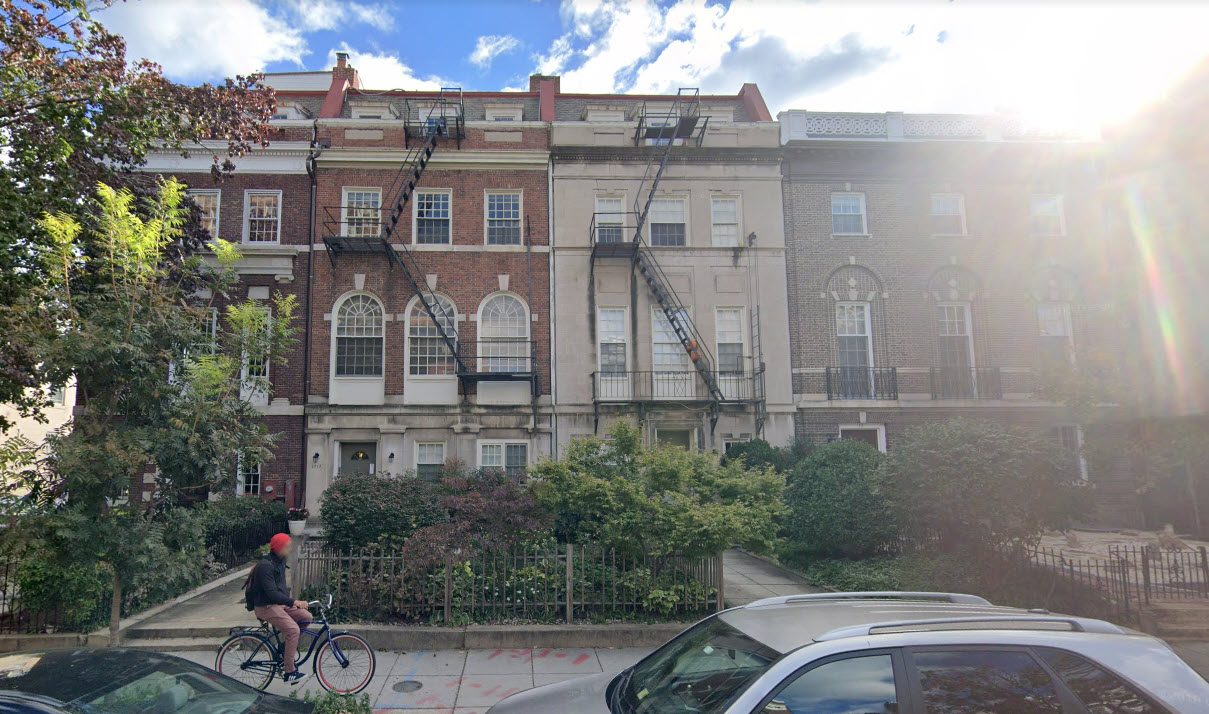 1715 19th Street NW, Washington DC
Richie still lived at home with his parents, I stayed there with them for about a week, they were kind of uppercrust and arrogant (his dad was in charge of the annual regatta on the Potomac river, rich people stuff). Richie was was called Head because of his big head. We'd go to DC each day looking for apartments and finally found one in a small townhouse at 1715 19th Street NW, between R Street and Riggs Place, a couple blocks north of DuPont Circle, in those days Washington's miniscule bohemian section (in 1966, "a simmering bouillabaisse of classes, colors, and types; a ferment of beatniks, genteel matrons, foreign students, thrill-seekers and curiosity hunters," according to the National Register of Historic Places). We were a couple doors from the Ghanaian Embassy and they invited us to all their parties (now it's the Sierra Leone Embassy). We had a large studio that had a real fireplace and a kitchen with a bar to sit at and, $100 a month. The culture seemed to have changed overnight, just out were the Beatles Rubber Soul, the Stones High Tide and Green Grass, Dylan's Blonde on Blonde, the Miracles Goin' to a Go-Go, Otis Blue, the Temptations first album… In January 2020, I was surprised find that the block is virtually unchanged.
Brickskeller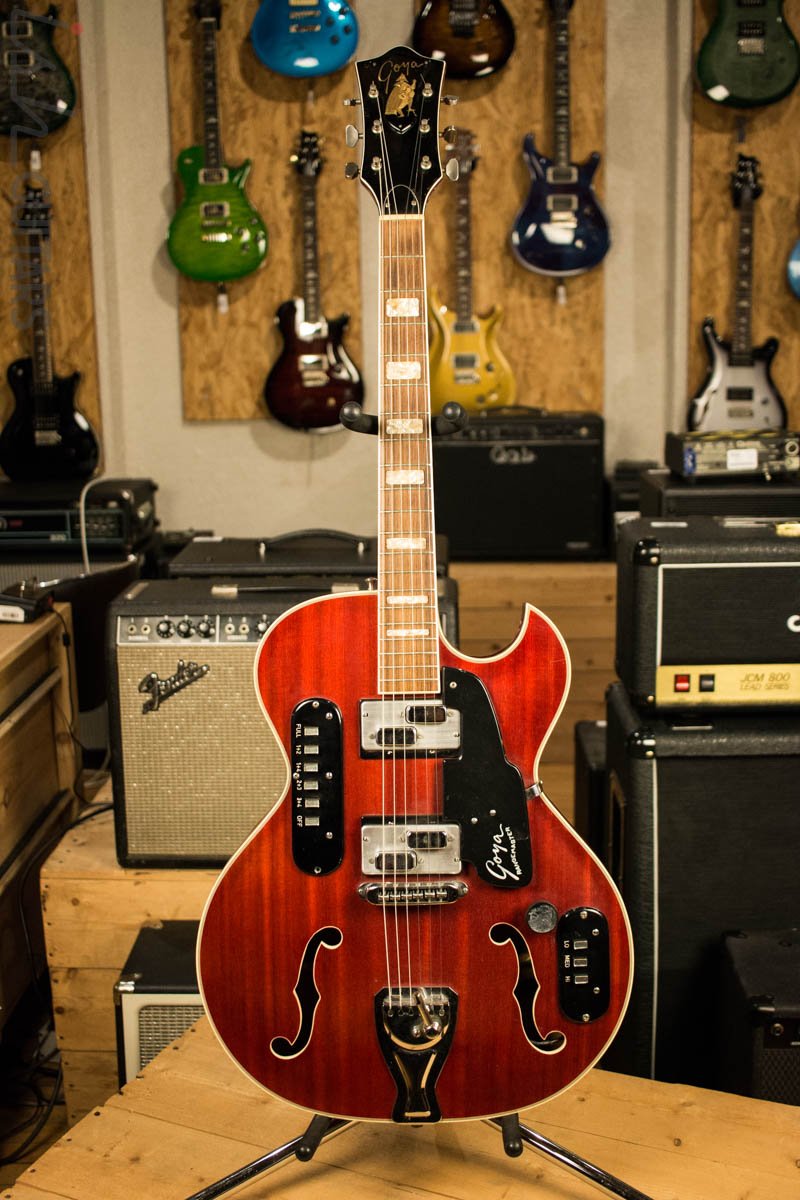 Goya Rangemaster
Right off, I bought a Goya Rangemaster for $300 at Sophocles Pappas, which I used in all my DC post-Army gigs but when I moved to NYC in August 1966 it was stolen. It was a good instrument, handmade in Italy; hollow maple body, rosewood fretboard, single cutout, cherry finish. It had a row of buttons for selecting different combinations of four split-coil pickups, plus various other controls. The futuristic hard case was shaped like a right triangle with its point lopped off, lined with bright yellow faux fur. As of 2019, this same guitar is selling for $2000.
I worked as a musician in the house band at The Brickskeller (which existed 1957-2010) at 1523 22nd Street NW, just off P Street, near Rock Creek Park in Washington DC, fronting for name acts that had records out (one I remember was the bluegrass group, Country Gentlemen), and had other gigs on the strip along M Street just east of Key Bridge in Georgetown, which was almost solid bars; this area is pretty much intact but WAY more upscale. (We used to go drinking there when I was in high school in Arlington, with our fake IDs, not just in bars but also in Greenwich-Village-like clubs like the Cellar Door on 33rd Street just off M with little-known folksingers and beatnik poets; the building is still there but the club is gone. Meanwhile just west of Key Bridge was a tiny place called Little Tavern, where you could get 20 miniature hamburgers for a dollar.) Years after I lived in DC, the Brickskeller became famous for having the largest selection of beers of any bar on earth, over 1000.
About playing in bands in Washington… Actually I was in two bands, one in the Brickskeller that played mainly bossa nova, some Charlie Byrd style jazz and Mose Allison (both Washingtonians), some German jazz that I picked up in Frankfurt, e.g. Simone 1 (Emil Mangelsdorff, Jutta Hipp); sorry, it's not on Youtbe but this one is close (more about the Frankfurt jazz scene HERE). Plus guitar adaptations of pieces like So What, Goodbye Pork Pie Hat, In Crowd, etc. And of songs that Dakota Staton sang (Late Show, When Sunny Gets Blue, ...) And some cheesy cabaret songs like The Shadow of Your Smile that the lead singer liked (can't recall his name, or his other songs). Sometimes Richie Lamborne would sit in and we would do Dave Van Ronk / John Hammond kinds of blues; he did a pretty good imitation and played blues harp too. Sometimes I'd also do some Bach riffs.
The other band played at bars on M Street and was pure rock… Songs that I remember are We Gotta Get Outa This Place (Animals), Good Lovin' (Young Rascals), She Belongs to Me (Dylan, my own arrangement), Well Respected Man (Kinks)… Nowhere Man, Michelle Ma Belle… Evening of the Day… The interesting thing about this band is that the drummer had been James Brown's drummer and left because the Godfather of Soul was such a tyrant. A third group at the same time was just me and Wendy and another girl, Tandy, and we had only one song, Catch the Wind, a little-known Dylan song that they liked that we did with weird dissonant chords. We "rehearsed" it every time we got together.
I played in bands in high school in Germany and in Arlington, and then in the Army too. In Arlington I also had two bands, one rock, the other "skiffle" (guitar, banjo, washboard, washtub bass, jug, spoons, etc, where we did songs that we copied from Library of Congress field recordings, plus some Leadbelly, some Almanac Singers, and once performed at a school-wide assembly in the auditorium). So I guess my musical career went from 1960 to 1966.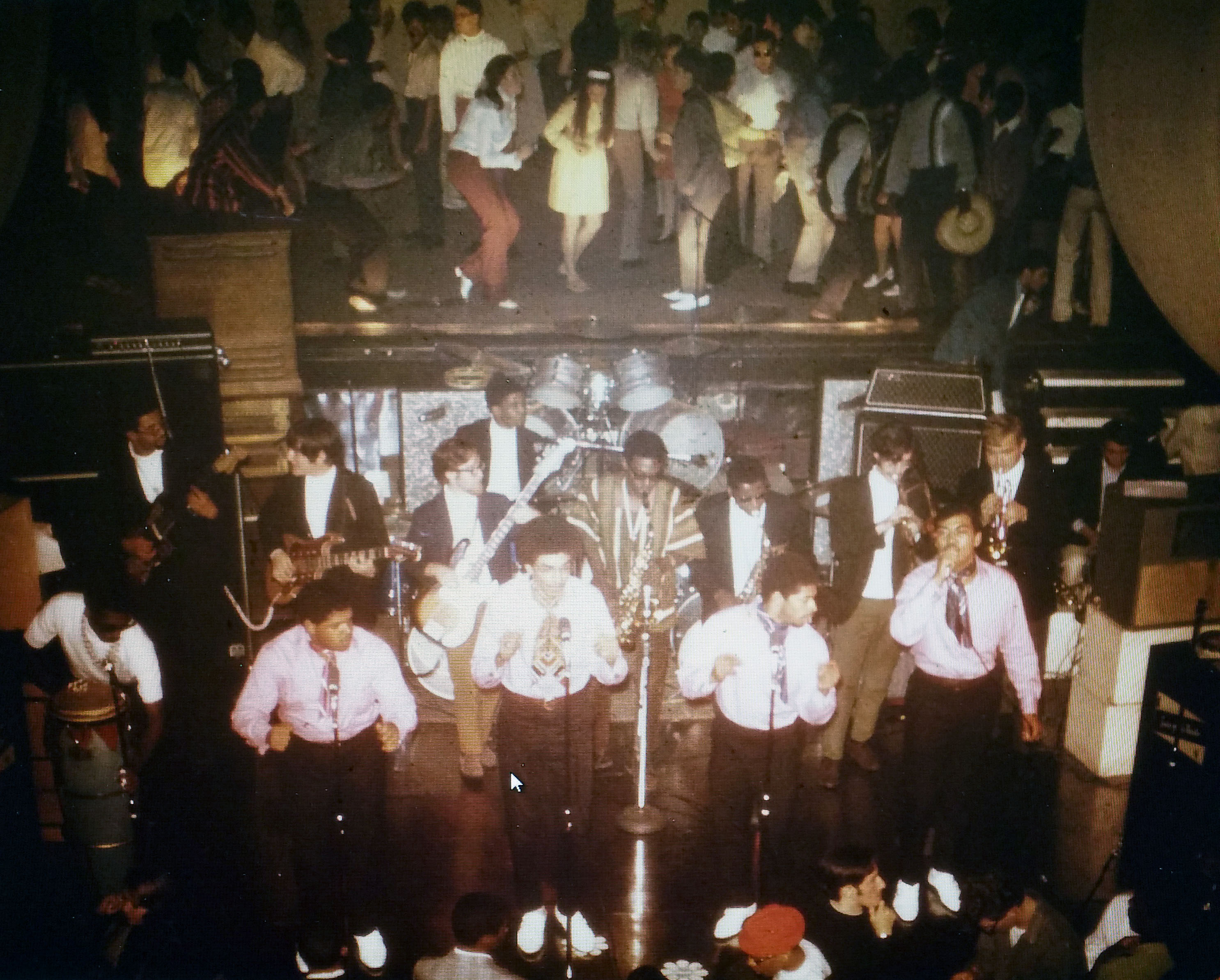 Wait, I just remembered, in the late Sixties some mainly black Columbia students had a 12-piece Motown/Stax R&B and funk band, Soul Syndicate, a large group with horns, big sound. I knew some of them from Double Discovery and they liked how I played guitar. Just before 1968 happened, they asked me to try out with them. But then things got complicated and the deal was off. (This comes up because I found out that the guy who invited me to try out, John Herbert, is at Montefiore, 3 blocks from me, and we got to reminiscing by email… And then after that I learned that John had been the anesthesiologist at my colonoscopy that Peter escorted me to!) Image at right courtesy of John, showing Soul Syndicate performing at Manhattan's Cheetah nightclub in 1968.
Anyway life in DC with Ritchie was getting too strange and eventually I realized he was stealing everything I had and selling it to support a heroin habit, and I knew I had to get out.