John Backus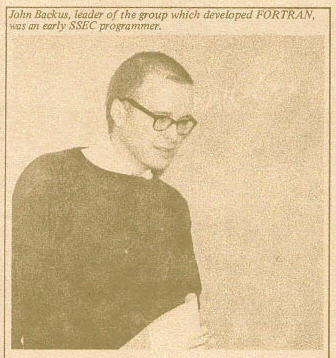 Left photo: from [9]. The caption reads: "John Backus, leader of the group which developed FORTRAN (1954-57), was an early SSEC programmer." After serving in the US Army in World War II, Backus received his BS in mathematics from Columbia's School of General Studies in 1949 (and, I believe, he also earned a Columbia Masters, year unknown). He worked at IBM Watson Lab at Columbia University from 1950 to 1952, and went on to lead IBM's Programming Research Group, and was honored as an IBM Fellow in 1963. Besides FORTRAN, Backus also developed BNF (Backus Normal Form or Backus Naur Form, an application of Noam Chomsky's generative grammar to formal computer languages), the language that is used to formally describe computer languages, and was principal author of the Algol 60 Revised Report. He retired in 1991. ACM Turing award citation:
For profound, influential, and lasting contributions to the design of practical high-level programming systems, notably through his work on FORTRAN, and for seminal publication of formal procedures for the specification of programming languages.
John Backus died at his home in Ashland, Oregon, March 17, 2007.
Selected Publications:
Backus, John W., "The IBM 701 Speedcoding System", IBM, New York (10 Sep 1953), 4pp.
Backus, John W., "The IBM Speedcoding System", The Journal of the Association for Computing Machinery, Vol.1 No.1 (Jan 1954), pp.4-6.
Backus, John W., and Harlan Herrick, "IBM 701 Speedcoding and Other Automatic Programming Systems", Symposium on Automatic Programming for Digital Computers, Office of Technical Services, US Dept of Commerce, Washington DC (May 1954), pp.106-113.
Specifications for the IBM Mathematical FORmula TRANslating System, FORTRAN, IBM Applied Science Division, New York (10 Nov 1954), 43pp.
Amdahl, G.M, and J.W. Backus, The System Design of the IBM Type 704, IBM Engineering Laboratory, Poughkeepsie NY (1955), 11pp.
Backus, J.W., et al., The FORTRAN Automatic Coding System, Proceedings of the Western Joint Computing Conference 1957, pp.188-198.
Backus, J.W., The Syntax and Semantics of the Proposed International Algebraic Language of Zürich ACM-GAMM Conference, Proceedings of the International Conference on Information Processing, UNESCO, 1959, pp.125-132.
J.W. Backus, et al., and P. Naur (ed.), Revised Report on the Algorithmic Language ALGOL 60, CACM, Vol. 6, p. 1; The Computer Journal, Vol. 9, p. 349; Num. Math., Vol. 4, p. 420. (1963)
J.W. Backus, "The History of Fortran I, II, and III", Annals of the History of Computing, Vol.1 No.1 (July-September 1979).
References:
Brennan, Jean Ford, The IBM Watson Laboratory at Columbia University - A History, IBM (1971)
Shasha, Dennis, and Cathy Lazere, Out of Their Minds: the lives and discoveries of 15 great computer scientists, Copernicus / Springer-Verlag, New York (1995), ISBN: 0-387-97992-1.
Papers of John W. Backus 1954-1994, US Library of Congress, 2,540 items.
Fortran and Algol References:
"Preliminary Report, Programming Research Group, Applied Science Division, International Busines Machines Corporation, November 10, 1954, Specifications for The IBM Mathematical FORmula TRANslating System, FORTRAN", in Carr. John W. and Norman R. Scott, editors, Notes: Special Summer Conference on Digital Computers and Data Processors, University of Michigan, College of Engineering (Summer 1955).
IBM 704 Fortran Programmer's Reference Manual (15 Oct 1956).
IBM 704 Fortran Programmer's Primer (1957)
IEEE Annals of the History of Computing, Special Issue, "FORTRAN's Twenty-Fifth Anniversay", vol.6 No.1 (January 1984).
Ekman, Torgil, and Carl-Erik Fröberg, Introduction to Algol Programming (Lärobok i ALGOL), Studentlitteratur, Lund, Sweden (1964) and Oxford University Press, London (1967).
Links (all good as of 4 September 2012):
Obituary:
Last update: Tue Sep 4 11:19:37 2012
---
Frank da Cruz / fdc@columbia.edu / Columbia University Computing History