Brand New Second Edition: Physics of the Human Body, by Irving P. Herman (Springer, 2016)
Springer Series: Biological and Medical Physics, Biomedical Engineering, ISBN: 978-3-319-23930-9 (Print), 978-3-319-23932-3 (Online), DOI 10.1007/978-3-319-23932-3
Click for the Table of Contents of the Second Edition
This second edition includes expanded and cross-referenced treatments of motion, sports, multisegment modeling, pregnancy, diseases and disorders, and aging. It builds upon the first edition from 2007 in many other areas as well, including improved treatments of muscles and the throwing, hitting, and motion of balls and additional problems and solutions. This book can be of interest to physicists, biomedical engineers, physicians, physical therapists, and others who want to learn about the overlapping worlds of physics and medicine/human biology.
First Edition: Physics of the Human Body, by Irving P. Herman (Springer, Berlin-Heidelberg-New York, 2007)
Springer Series: Biological and Medical Physics, Biomedical Engineering, 857 p., 571 illus., Hardcover ISBN: 978-3-540-29603-4
Click for the Table of Contents of the First Edition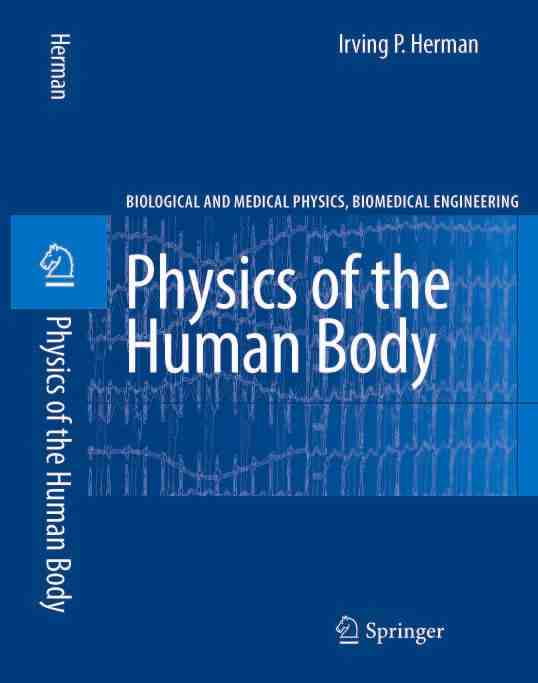 Click to
---
---
The text "Physics of the Human Body" comprehensively addresses the physical and engineering aspects of human physiology by using and building on first-year college physics and mathematics. Topics include the mechanics of the static body and the body in motion, the materials properties of the body, muscles in the body, the energetics of body metabolism, fluid flow in the cardiovascular and respiratory systems, the acoustics of sound waves in speaking and hearing, vision and the optics of the eye, the electrical properties of the body, and the basic engineering principles of feedback and control in regulating all aspects of function. The goal of this text is to understand physical issues concerning the human body, in part by developing and then using simple and subsequently more refined models of the macrophysics of the human body. Many chapters include a brief review of the necessary physical principles. There are problems at the end of each chapter; solutions to selected problems are also provided. This text is geared to undergraduates interested in physics, medical applications of physics, quantitative physiology, medicine, and biomedical engineering.