Research
Research in the Leighton group is focused on the development of stereoselective reactions with relevance to both medicinal and natural products chemistry, the development of new strategies for the efficient synthesis of polyketide natural products with a particular emphasis on tandem reactions, the application of these methods to the total synthesis of polyketide natural and unnatural products, and finally on the total synthesis of architecturally complex polycyclic natural products of biological significance. The guiding philosophy for all of these programs is that the methods we develop should be user-friendly and experimentally trivial, and environmentally and economically sound, all while providing access to otherwise inaccessible targets of structural and/or biological significance with exquisite levels of stereocontrol.
1. Development of Chiral Silane Lewis Acid Reagents and Catalysts for the Practical and Highly Enantioselective Synthesis of Structurally Complex Carbinols and Carbinamines (pubs 26, 29, 31, 35, 37, 38, 39, 40, 45). Countless chiral Lewis acid reagents and catalysts have been developed for asymmetric synthesis, but it is often the case that these involve the use of either toxic and/or precious metals, and chiral ligands whose synthesis requires multi-step procedures. We were therefore intrigued by the notion that we might develop a family of silane Lewis acid reagents and catalysts for a broad range of transformations. The advantages of using silanes in this fashion are readily apparent: silanes are inexpensive, non-toxic, and generally environmentally sound, and often are trivially prepared and shelf-stable. We have discovered that Lewis acidity sufficient for organic synthesis can be induced in silanes simply by constraining the silicon atom in a 5-membered ring. We first targeted the development of a set of reagents for enantioselective aldehyde allyl- and crotylation (Figure 1). It was quickly found that a cyclohexane-diamine-based system not only provided excellent enantioselectivities for a range of aldehydes, but also provided a family of crystalline solid reagents. These reagents may thus be readily prepared in bulk, stored for long periods of time if minimal precautions are exercised, and simply added to the aldehyde of choice at will.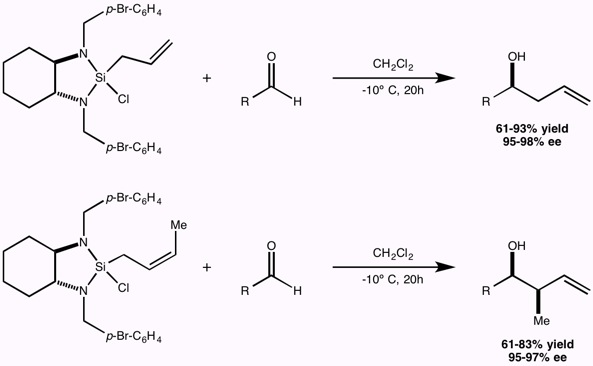 Figure 1. A new family of storable crystalline solid silane reagents for enantioselective aldehyde allyl- and crotylation.
Chiral carbinamines play an extremely important role in both natural products and medicinal chemistry. And yet the development of general methods for the highly enantioselective synthesis of a wide structural variety of such compounds has lagged behind the development of such methods for carbinols. We therefore turned our attention to the use of our silane reagents with imine electrophiles instead of aldehydes. After some experimentation it was discovered that a reagent derived from the inexpensive and readily available pseudoephedrine was effective not only for the enantioselective allylation of aldehyde-derived acylhydrazones, but also for ketone-derived acylhydrazones (Figure 2). This success with ketimines of this type allows one of the few general and practical methods for tertiary carbinamine synthesis and is unprecedented in the long history of Lewis acidic allylation reagents. A key mechanistic study revealed that the hydrazones operate by nucleophilic attack on the chlorosilane reagent. This not only renders the process effectively intramolecular, but also releases an equivalent of HCl, which acts to greatly increase the Lewis acidity of the silane by protonation of the amino group of the pseudoephedrine. This built in activation of the Lewis acid by the substrate is highly unusual and we expect to be able to exploit this discovery for the development of new more active and more broadly applicable reagents.
Figure 2. A reagent for enantioselective acylhydrazone allylation, and an X-ray structure that reveals mechanistic details.
We have recently shown that this chemistry can be generalized to different nucleophiles beyond simple allylation reactions. Thus, by replacing the allyl group on the pseudoephedrine-based reagent with an inert phenyl group, a general Lewis acid for the activation of hydrazones towards external nucleophiles has been achieved. The result is two new reactions, the enantioselective Friedel-Crafts-like addition of electron rich aromatics, and the enantioselective [3+2] cycloaddition with enol ethers (Figure 3). Both reactions proceed exceedingly smoothly and provide highly value-added products (unusual amino acids, and pyrazolidine rings, respectively) from simple, readily available starting materials.
Figure 3. A silane Lewis acid for enantioselective Friedel-Crafts and [3+2] cycloaddition reactions.
Future Plans. While we are highly excited about these results establishing the value of silicon as a useful Lewis acid for asymmetric synthesis, this program is nevertheless in its infancy. Certainly there are many additional transformations of hydrazones that may successfully and enantioselectively be promoted by our silane Lewis acids, and we will continue to pursue these (e.g. imine Diels-Alder reaction, aza-Darzens aziridine synthesis, imine reduction, etc.). More important, however, are the conceptual advances that will be necessary to dramatically expand the scope and effectiveness of this system. For example, while the Friedel-Crafts and [3+2] cycloaddition reactions described above are useful reactions, the Friedel-Crafts reaction is limited strictly to the use of glyoxyate-derived hydrazones, and both reactions fail with ketone-derived hydrazones. The development of a truly general enantioselective Friedel-Crafts imine addition reaction would be expected to have a major impact on medicinal chemistry, as chiral benzylic carbinamines are an extremely important sub-structure in small molecule drug development. In addition, it will be important to expand the substrate pool in a more general sense to include imine derivatives other than hydrazones. An effective, practical, and general system for ketone allylation and other ketone addition reactions is an important frontier in asymmetric synthesis as well. Finally, the most important advance of all would be to render these reactions catalytic in the silane component. Should we achieve this, the impact would be felt not only in the virtually limitless number of reactions that we might develop, but also conceptually as despite decades of effort, there has never been a highly effective chiral silane Lewis acid catalyst for any transformation.
2. Development of Tandem Reaction Strategies for the Synthesis of Polyketide Macrolide Natural Products (pubs 12, 13, 14, 16, 17, 19, 20, 21, 22, 23, 24, 25, 27, 28, 33, 34, 41, 42, 43, 44). Polyketide macrolide natural products have a long and rich history as both drugs and drug leads. Combined with the fact that such compounds are often available from natural sources in only vanishingly small quantities, it is frequently the case that total synthesis is the only available method to obtain gram-scale quantities for full biological evaluation. It is therefore highly desirable to have access to ever more efficient methods for the synthesis of such targets. Shown in Figure 4 are four natural products that our group has synthesized. It is noteworthy that in every case we have provided either the first (leucascandrolide A, dolabelide D) or the most efficient (mycoticin A, (+)-SCH 351448) synthesis as measured by step count and overall yield. For example, our very recently completed synthesis of the cytotoxic marine natural product dolabelide D entails a longest linear sequence of just 17 steps. It is, we believe strongly, within the realm of possibility to devise methods to do even better and begin to approach true practicality in the total synthesis of such targets. This is certainly a worthy goal in and of itself, but in addition has already inspired (as detailed below) and will continue to inspire new concepts in reactivity that will have applications in other arenas of chemical synthesis.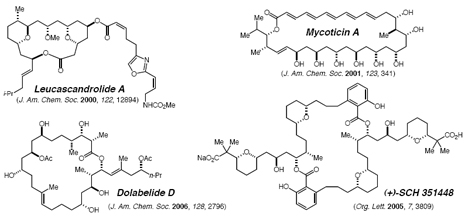 Figure 4. Polyketide macrolide natural products synthesized by the Leighton group.
Our approach to these natural products has focused on the development of tandem reactions wherein multiple bond formations and the concurrent establishment of multiple stereocenters are orchestrated in a single operationally simple reaction. We have, for example, introduced the tandem silylformylation-crotylsilylation reaction, which employs rhodium-catalyzed carbonylation chemistry to provide direct access to aldehydes, which are then engaged in spontaneous intramolecular crotylsilylation reactions (Figure 5). Two carbon-carbon bonds and three stereocenters are established in these reactions, and a second iteration of the process allows the conversion of alcohol A to triol B in just 5 steps and 30% overall yield. Even more remarkably, the reagents required to carry out this highly efficient 5 step synthesis are extraordinarily simple, and, with only one exception, commercially available at a nominal cost.
Figure 5. The tandem silylformylation-allyl(crotyl)silylation reaction allows the highly efficient synthesis of polyketide fragments.
This tandem reaction has been extended to alkyne substrates demonstrating the versatility of the method in providing access to either highly functionalized ketones or alkenes, functional groups that appear in polyketide macrolide natural products with some frequency (Figure 6). It will be noted that these reactions provide the 1,5-anti diol products with good to excellent diastereoselectivity. After establishing the origin and mechanism of this selectivity, we have also developed an unprecedented catalytic asymmetric chiral silane synthesis which allows us to access the otherwise inaccessible 1,5-syn-diol diastereomer. This latter process was a key component of our dolabelide D synthesis and also represents the first recorded example of the stereospecific transfer of chirality from silicon to carbon.

Figure 6. The tandem alkyne silylformylation-allylsilylation reaction and catalytic asymmetric silane alcoholysis.
While these reactions have provided us with highly practical tools for the synthesis of polyketide macrolide targets, they have also provided us with the conceptual framework for the development of many other new reactions. The key discovery was that silicon, when constrained in a 5-membered ring, is an effective Lewis acid. Thus, the spontaneous transfer of the crotyl group to the aldehyde products of the carbonylation reaction as described above owes its success to this phenomenon. By applying this concept to two previously attempted but unsuccessful reactions, we have now introduced the tandem aldol-allyation and aldol-aldol reactions (Figure 7). These powerful reactions provide, in truly operationally trivial processes, polyketide fragments with up to four stereocenters in a single reaction. It is especially noteworthy that the reactions are well suited to the synthesis of tertiary carbinols with high levels of diastereocontrol, an otherwise highly challenging task. From a practical point of view, it is highly significant that these silane reagents are trivially prepared in bulk, and may be stored for long periods of time. As needed, they are simply heated with the appropriate aldehyde to generate highly complex polyol fragments in a single simple reaction.

Figure 7. The tandem aldol-allylation and aldol-aldol reactions allow extraordinarily efficient access to polyketide fragments.
While this program could accurately be described as being relatively advanced, it is by no means the case that its full potential has been tapped. Indeed, our ultimate goal for this program is nothing less than the reduction of the synthesis of complex polyketide macrolide natural products and related structures to a trivial exercise that may be carried out in a matter of days and weeks instead of months and years. One direction we intend to pursue vigorously with this rather lofty goal in mind is the development of triple tandem reactions wherein perhaps as many as six (!) stereocenters may be established in a single trivial reaction. For example, it may prove possible to develop a tandem aldol-aldol-allylation reaction and a tandem silylformylation-adol-allylation reaction (Figure 8). The realization of such reactions will entail more than just the extension of already developed methods, as new concepts will almost certainly be required to achieve efficient and stereoselective and broadly applicable methods. In the case of the aldol-aldol-allylation reaction, it is noteworthy that this could be thought of as a "chain length-controlled oligomerization" approach to the synthesis of polyketides, which themselves may be thought of as biopolymers. Solutions to this problem in the polyketide area could well have implications for the broader problem of a general solution to controlled oligomerization of many different types of monomers.

Figure 8. Two proposed triple tandem reactions for the single step assemblage of complex polyketide fragments.
3. Total Synthesis of Architecturally Complex Polycyclic Natural Products (pubs 15, 18, 30). Some years ago we initiated a project to investigate an approach to the total synthesis of the phomoidrides, structurally complex polycyclic natural products that displayed activity against both farnesyl protein transferase and squalene synthase. Consistent with the theme of efficient tandem reactions, we developed a powerful entry into this ring system that involves a carbonylation reaction for the construction of a strained lactone, which in turn drives a spontaneous Cope rearrangement. It should be noted that it was predicted (and this was subsequently confirmed in other laboratories) that traditional approaches to this Cope rearrangement would fail, and this work thus represented a significant contribution to the literature of this venerable and important reaction.

Figure 9. A tandem carbonylation-Cope rearrangement strategy for the rapid construction of the phomoidrides.
4. New Ligand and Catalyst Systems for Highly Practical and Enantioselective Reactions (pubs 28, 32, 36). We have developed a new class of ligand for the copper-catalyzed enantioselective conjugate addition of alkylzinc reagents to enones (Figure 10). An important aspect of the systems we have developed, in addition to the simplicity of the ligands and the very high enantioselectivities, is the true practicality of these reactions. The extraordinarily low catalyst loading of the cyclohexenone reaction, and the fact that it is best performed in one hour at ambient temperature, render this process among the most practical of its kind. Because of this, further investigation into the utility of this ligand class is certainly warranted. Candidates for this would extend not only to other related copper-catalyzed processes, but also to a rather limitless range of rhodium- and palladium-catalyzed (for example) transformations.

Figure 10. New ligands for practical and enantioselective copper-catalyzed conjugate addition reactions.
In a different copper-catalyzed reaction discussed briefly above, we have developed a catalytic asymmetric silane alcoholysis (Figure 11). This reaction was specifically developed for use in the tandem silylformylation- allylsilylation reaction as described above, but has potential implications in a much broader range of transformations. For example, there are many examples of silicon-tethered reactions, but essentially none where the asymmetry originates from a chiral silane tether. The ability to induce high levels of enantioselection in the reaction that establishes the silane tether, and then harness effective transfer of that chirality in, for example, Diels-Alder reactions would be a potentially very powerful addition to the synthetic chemistry arsenal.

Figure 11. Catalytic asymmetric silane alcoholysis, and an example of its proposed use in organic synthesis.